For those of you that want to answer the call of adventure on a mountain bike, this is the helmet. Trail/mountain bike helmets are not as vented as road cycling helmets and for a very good reason. Trail/mountain bikes are usually ridden on very rough and uneven terrain with rocks, roots, pebbles, gravel, twigs, tree branches, thorns and steep descents. Hence, the chances of something going through the helmet's vent and injuring the rider on falling are high. Also, trail/mountain bike helmets have peaks in order to mitigate glare from sunlight.
One of the types of trail/mountain bike helmets is the XC helmet. XC is a mountain biking discipline that focuses more on speed than conquering gnarly terrain. Hence, these helmets resemble road cycling helmets and have partial coverage for the back of the head.
This is a Bell Event XC helmet with the aforementioned partial coverage of the back of the head and a peak. And with speed being a greater priority, better venting is also incorporated.
The next trail/mountain bike helmet type is the trail helmet. These helmets are ultimate in coverage and can take quite a beating and provide better protection from sunlight and also feature complete coverage of the back of the head.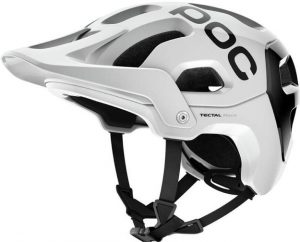 This is a POC Tectal Race trail helmet. Notice how well covered the back of the head is.
The ultimate in trail/mountain biking is the enduro/downhill discipline. As the terrain and speeds involved put the rider at a serious risk, nothing short of a full face helmet will suffice. Cyclists that participate in this discipline wear full face helmets (sometimes with a detachable chinbar) and use motocross goggles for eye protection.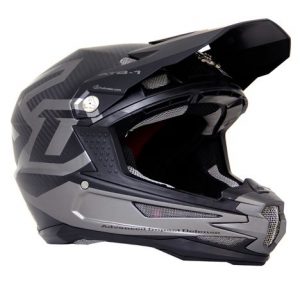 Pictured above is a 6D AB-1 downhill mountain bike helmet. This rendition is made of a proprietary blend of aerospace carbon fibre, composite fibreglass and kevlar. This is the most absolute amount of coverage a helmet can provide a downhill mountain biker.