The age of 10 to 12 is crucial, because of cognitive development and ifs and buts cloud the judgment. Thus choosing from the big online market becomes tedious and time-consuming. A fitting bike for your style and adventure means a lot to showcase in your personality. Getting to know about the roads and breaking the fear of traffic is also essential learning for this age. The confidence, cycling can teach is the foundation to ride a bike in the future. For numerous reasons, cycling is considered the best recreational activity. For the best part, it is required as parenting goals, for your child needs to go out of home and enjoy beyond digital life. Like in the era of technology where a child's obesity is synonymous with them living indoors busy on their mobile phones, it becomes imperative to guide them about the benefits of cycling.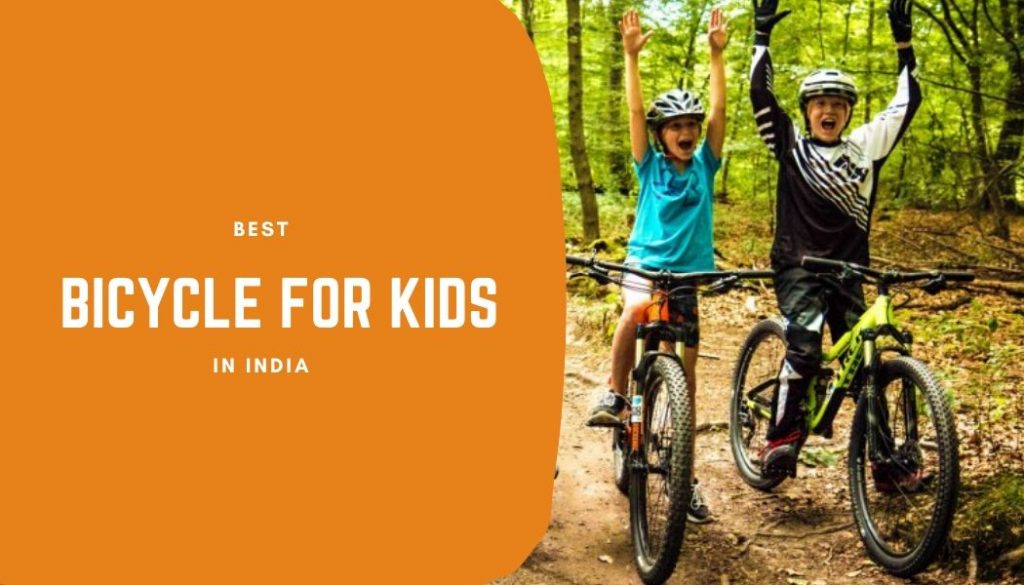 Best Bicycle For 10-12 Year Old Kids in India
So get the best cycles for your age with us. With the following list, we suggest the size best suitable is 12 inches for the frame. And as for the rider height, the cycle is proposed for a minimum of 3 feet to a maximum of 4.5 feet, in the age group 10-12 years.  Also, here we have proposed a single-speed cycle, the type favored for this age group. Cycling builds natural and instinctive capabilities in your child. They inculcate adventure and love for speed in them. Make the most of such freeness and rise high in passion by buying from the following list of best cycles available in the market.
Hero Buzz 20T
Make a buzz among your friend group with this Hero Buzz cycle from the best manufacturer of cycles in India. The white and red color combination looks great, and it is easy to keep in good condition. It has stylish handlebars to make you look cool while riding. This bicycle comes fully loaded with mudguard, carrier, stand, front reflectors, rear reflectors, chain cover, trainer wheels and is ideal for regular use. Both front and rear brakes are caliper brakes. The 12-inch steel frame is sturdy for lasting use. Cycles make for a pleasant outdoor activity that helps in the cognitive and physical development of your child.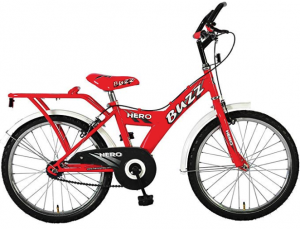 Kross Extreme Green Recreation Cycle
You will stay wowed by this bicycle's looks and features. The olive green color is a unique one. The beautifully crafted saddle is well padded for a long and comfortable cycling journey. The design of the 20-inch tire helps in better balancing and runs smoothly on harsh Indian roads. Here 14-inch steel frame is carefully wielded, and the paint also lasts long. Overall the style of this bike is excellent to make it your treasured possession. The transparent chain cover also looks cool. This single gear cycle is worth your attention and investment.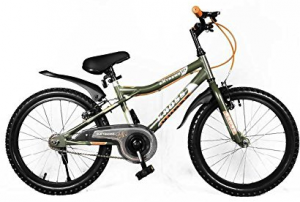 Hero Sprint Thorn 26T Green Sports Cycle
This Hero sprint single speed cycle looks like a sporty cycle or any other MTB types. It gives you some edge of riding on the ridges because the cycle has anti-skid wheels. The bright green color of the frame is eye-catchy as apart from that, all are dark black colored, which will make the cycle look appealing. The chain cover looks stylish as much as the graphic print on it, which says- Rule the Road. You can enjoy most with this cycle as its v-brakes and tires are much safer to use. The soft padded seat and rear reflectors are other better things.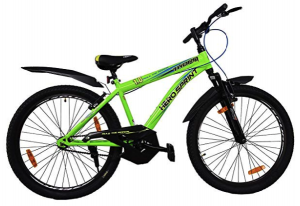 Top Star Carbon-Steel Kids Cycle
This bicycle has an attractive frame support structure. The red design on frame status as Devil, to go all out while riding this cycle. The carbon-steel frame combination makes this cycle sturdy for greater use. It has a stylish handlebar with foam grip for smooth handling. From the overall look, the cycle is covered mostly in the frame of red color as in the case with the tires and handlebars signifying horns of the red devil. That means- the cycle is for daily traveling on rough roads.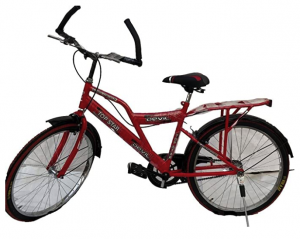 Kross Spider Single Speed Blue Bicycle 24T
Another cycle from the Kross brand made it into this list because of the crafty spider designs. The sky blue color of this cycle with black spider webs looks interesting. Both boys and girls will love using this bicycle as it is a unisex bicycle. This is a single-speed bicycle with tube tires and a steel frame that provides structural rigidity without compromising on performance. This bicycle weighs a meager 15 kg, making it easy to use a bicycle. So why wait? Order the Kross Spider Multi-Speed Bicycle on Amazon at a very reasonable price.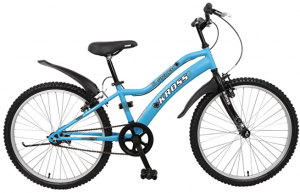 Make your teenage life racing memorable with the above recommendations on cycle. They are unique in terms of color and design. Cycling is a great sport as well as good for health. It is used as morning exercise and for your school commuting. While buying online, it surely offers a good deal or discount and lets you surf through all the better possibilities and gives the benefit of time to decide among the viable options. But little information is necessary to know before buying- that these cycles come semi-assembled. Also, the tires come in a deflated form. From the list, you have assessed the features and designs, as these are the main pointers to see before buying.