The time has come for your child to step their feet on pedals and ride on wheels. The feeling of biking is not only good for their body movement but mental health too. Bicycles are the best recreational activity for the children to get them worked up. They keep them engaged and active necessary for growth and development in the best way. As much as cycles become your child's favorite pastime, it also keeps your parenting goals in check. You know how important cycling is for your child as much as it is for you. Like it will keep them occupied on learning outside home, getting to enjoy nature you also will get nice peacetime because you don't have to put extra efforts. Just keep sight of the child while enjoying having your time too.
Best Bicycle For 3-5 Year Old Kids in India
Now that you know you are doing the right thing- let's understand the type and size to keep in check while buying. The development of height in children is gradual, so between the age of 3-5 years of you are safe to use one particular type of cycle. Since your child is still in a nascent stage of development, they have just learned walking we can not get aggressive, on choosing the type more than their age, and thus balance type cycles are an ideal type. Getting a fitting bike to your children is necessary, but with so many models available, in the market, it is confusing to decide on them. Therefore, we have filtered out the best choices to make a good selection for the 3-5 age group.
Speedbird Robust Double Seat Kid Bicycle
Make your child build confidence in riding with this likable bicycle by the Speedbird. Suitable for both boys and girls, but best to buy if they are siblings. Not just because the cycle will be the most optimal utilize, but also it has a back seat giving a feeling of being a big sister /brother and a responsible rider. The brand offers the cycle in 14 different colors, offering the choice to your child in for their first prized possession. Talking about the durability and sturdiness of the cycle, you can trust its performance. In terms of comfort-it has soft grip handles, padded seats, leaning back support. For safety- the chain is covered, anti-skid pad for non-slippage, non-slip tires with molded rims. Although the steel frame is quite sturdy, it's not the same with plastic parts like storage rack in front. But as the cycle needs to assemble, you can choose to attach or detach the parts of your liking, such as basket and training wheel, whenever your child has learned the basics.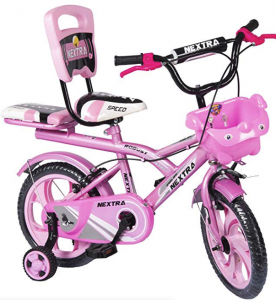 Outdoor Bikes Jaunty BMX
Every activity towards child care is to inculcate moral values in them. So while making them choose from the options or colors, it is the first step in doing so. This cycle provides quite a freedom in adjusting the seat for easy styling. The mudguard, chain cover and foam grip are essentials that are found here. The color also comes in 5 varieties in which some cycles have a bottle holder, and some have back leaning support types. Great for indoor and outdoor use. For assembling, the cycle delivery comes with the 13 key-spanner and the guidebook that is to be follow-through. It has colored plastic rims with durable tubeless rubber tires. The overall look gives a good vibe of mountain type bikes. A good cycle like this makes friends and socializing easier.  While growing up, this will help build their self-confidence too.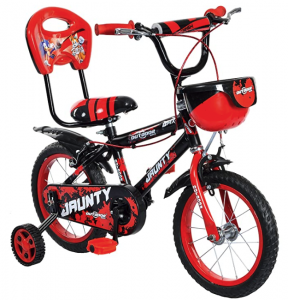 Rising India Kids Bicycle
Make your child ride comfortable with this cycle which offers great seat padding and colorful vibes to excite your child and make cycling a fun activity. It makes them informed with the learning basics for a happy and vibrant life to enjoy. We know how moody a child can be and that they get bored easily but with this cycle, you can securely handle them easily while maintaining their interest. With the pooh character at the back, you can be creative with space and can change according to your child's mood and favourite characters. The assembly kit is available with the bike as the cycle comes in the semi-assembled form. This cycle will surely attract your child. Also, this is great for gifting, a goal for the children. Get the best in the budget and buy this cycle.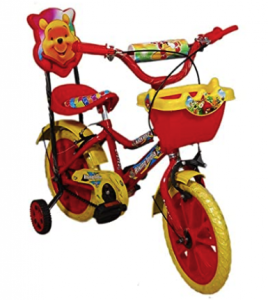 R for Rabbit Tiny Toes Rapid Bicycle
Now, we begin with a classic cycle by R for Rabbit. It is unquestionably the safest bike in terms of protective types in air wheels cycles. It has got an ISO 8098 safety certification. Safety features mean- Bicycle comes with bells, chain guard, safety grips, heavy-duty training wheel, and disk brake. The brand offers the cycle in two elegant matt colors- blue and red. Having the strength on top-notch; the frame is made in a single structure by magnesium alloy- and not wielded, making it safe and durable. It is also corrosion-free and lightweight for much longer use. These heavy-duty trainer wheels are to balance better on rough roads. The best part of this cycle is its adjustable seat and handle- which can be used, as per changes in age and height.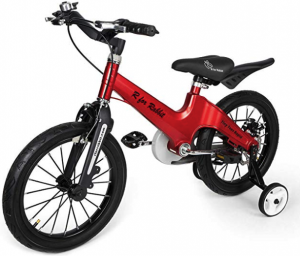 Hero Rush Steel Single Speed Bike
The most famous cycles in the market come from the Hero brand. Being the largest manufacturer of cycles, how come that we do not include it in the list. They make fine cycles for kids. So when your child has started walking steadily without falling, make him/her join the family of Hero cycles, which lets you have the fun of cycling. The first cycle should be memorable, and you can blindly trust on hero cycles. This kid cycle has a multifunction back seat that is for sitting and holding books for your kid's short trip to their friend's house. The certified European standard frame marks its sturdiness. Other features include wide trainer wheels, steel mudguards, the comfortable saddle, caliper brakes, plastic levers, and full chain cover.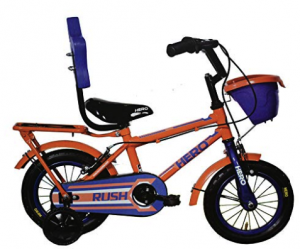 Feel like a child again before buying the cycle and avoid imposing your likes on them, but choose what your child wants. Their innocence is to be dealt with care. Cycling keeps their bodily movement in check for all-round development of the body. It also helps to build confidence, instincts in your child.  And for such a young age, the above recommendations of cycles with trainer wheels are best for essential learning, like teaching them the art of balance and control. So for the age group between 3-5 years, these are best to choose from. Also, you need to know that these cycles come semi-assembled, and you have to go to a machinist or do it yourself following the guidebook provided with the cycle.