Symbolizing fraternity of bikers in 1904 Arthur Davidson and William Harley waved at each other such etiquette shows the love, and respect they have for bikes. What started as a gesture of acknowledgment gradually, it has become a guide to fellow riders of that time. Such that in the coming years, it has shaped into rules governing the safe traveling experience, to the increasing population, and subsequently the biking community. Seeing the alarming rate of accidents, these signs become a mirror, a guide- to avoid any unforeseen events. Also, for the bikers to enjoy space and smooth ride in congested roads, these gestures (hand signals) come handy.
The strength of non-verbal communication doesn't require proof because we humans started our habitations with signs only. Its reach is wider and conveys more than what words do.
So to say that we- Indians have reached an understanding of the signs, is well, true but we often do not use it. Which leads to a decline in the usage of signs as well. There are many reasons for this, like shying away, do not know when to use it, how to use it, and most of all don't know it at all.
360ride feels your passion and thus connects the love for a bike to the responsible way of using it on Indian roads. Wave, not just because you know each other but also to guide for your turns and dangers, if any ahead.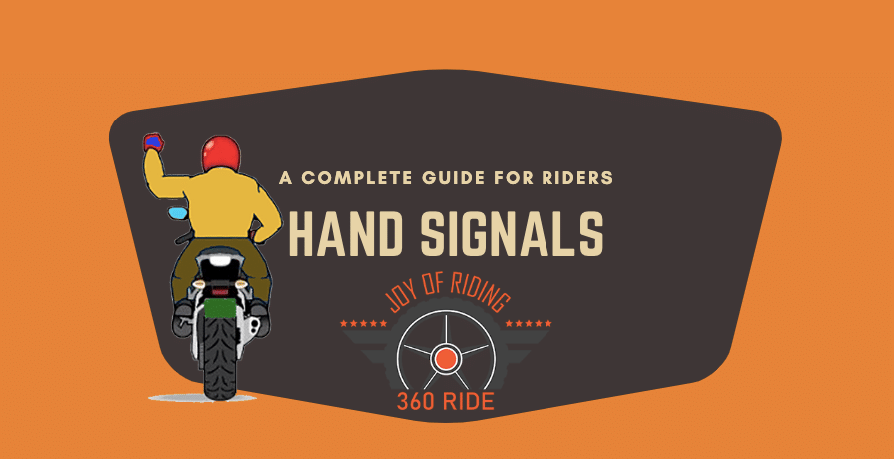 List of Hand Signals (Gestures) Every Biker Should Use While Riding
Following are the Hand Singal one must follow on Indian roads
Left turn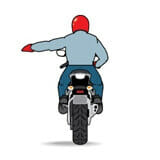 The most basic of the signs which come intuitively to us is while taking a left turn. It is one of the most used signs on the Indian roads. With your left hand stretched out and your palm facing down, it will signal the vehicles behind that you want to take a left turn. It is a ubiquitous sign for four-wheelers too. We see this sign more often, maybe because it has evolved naturally. So to avoid accidents, use the turn signal.
Right turn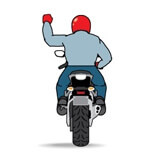 To take a right turn, you can do the opposite of the left turn sign, which is extending a right hand with the palm facing down, or you can use your left hand too. Yes, left hand for the right turn! For all the right reasons, you can also use the left-hand reason being as most people are right-handed, and they can better balance the bike while signaling. So to do this, make a fist and bent the hand halfway from the joint, making it a right angle at 90 degrees.
Stop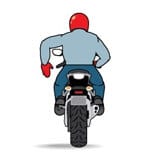 This sign is bold and clearly shows the intent that the driver is trying to convey something. Stopping cannot be casual in form, it needs to be formal, that's why it needed to be apparent. It is noticeable from behind as the posture is strict, so one must know this because the driver is doing this for fellow riders as well, that is, to be alert. To use the sign, extend your arm and bent it from the elbow downwards to make a right angle facing down. This might seem familiar to you as it is opposed to taking a right turn but with a downward 90-degree angle. But the most important thing is that you do not need to make a fist but show your palm to signal for a stop sign.
Hazard in roadway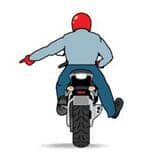 One can not deny the conditions of some roads in our country and so this sign comes handy to warn the riders behind if you see someone speeding up. While the highways are better conditioned, like from potholes, we don't need to use much signaling on such roads. But it might happen that in a repairing phase or mishaps from heavy loads of trucks going on these highways create conditions required for signs. Using the left hand with finger pointed at the hazard will warn the others for the same. Also for the right side, stretch the right foot pointing to the bad condition of the roadway or debris ahead.
Turn signal on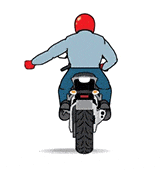 There are limitations to communicate while driving. So the signs evolved out of necessity. Just like this signal. To tell the oncoming driver about his indicators being left on stretch left hand with fingers out, then open and close the palm, imitating the blinking effect just like an indicator. This is a simple yet distinct sign- to accurately convey while driving. And in case if this might happen to you then reply with a nod to show the thankyou gesture. That being said you only have 3 seconds to do this, so if in case you don't get a nod, do not think of it is rude because a true rider does not worry about appreciation but being responsible.
Speed up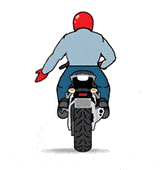 Sometimes you feel like the person behind you is in a hurry, in that case, you can politely offer him to pass by. Extending the arm in a rowing motion with the palm facing upwards, swing it for a while, enough to identify the driver behind for a pass.  A biker must keep the smooth flow of the road. Also, it is the responsibility of bikers to use hand signals, to advise the fellow rider to speed up- if you are planning to stop.
Slow down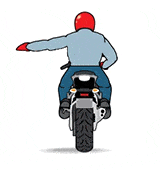 Not always you feel like giving a pass, for, in a congested place, you just can't let them override you. Also, some bikers unnecessarily speeding up, which sometimes feels like it may lead to accidents. So using this sign can save someone's life. Opposite of speed up, row down the arm that is, swing backward with the palm facing down will warn the person behind you. One can not predict what might happen in a few seconds, especially on roads, so proper protective measures need to be taken, as a driver's duty.
Follow me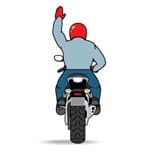 In a group ride, it becomes your duty to guide the bikers behind you. Not just to ensure a smooth ride to your group but also for the others on the road. To avoid creating traffic or panic, on the roads, it is advisable to follow the protocols that will ensure safety. Group rides are usually done for certain charitable institutions or to promote the brand of bike. Putting faith in the biking community these rides give a message of strength and solidarity to the purpose. But to make it successful it becomes essential to make the ride simpler so as to make space for other vehicles on the roads. Making a hi like gesture, extending arm guiding the back riders to follow you with the palm facing forward will signal throughout the ride while making turns.
You lead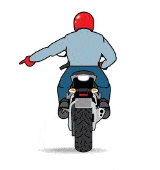 Another sign- in a group ride is to ask one of the riders to lead the rest of the ride or lead together.  As a part of the training method- of how to lead?; one can use this sign. The sign is to handle the responsibility to guide the roads or congestion ahead.  Also referred to, as, pass-me but in a group ride, its gesture changes. In this, the left arm is stretched in a downwards manner in a pointing way with the index finger. It is swung back and forth from the ground to the helmet at 45 degrees.
Single file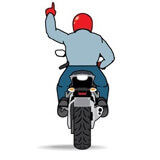 Like in a parade, we see how synchronized people move, we feel calm and proud of such formation.  It looks neat and peaceful.  So to indicate upcoming vehicles that your group is in a single-line the sign will help them to balance their vehicle's momentum on the road while keeping in mind the formation. In a group ride a neat formation is much appreciated. This not only makes your ride a success but will inspire others to follow the safety procedures. Indicated by raising the arm, a little bit bent, but pointing up with an index finger is the correct way to do it.
Double file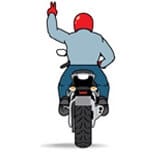 While single-file becomes necessary for narrow roads, double-file is preferred for a large group on a wide road. In a disciplined manner, the double-line becomes a point of attraction. So if you are promoting something, follow proper safety rules that not only make your event successful but become a learning experience for others. So just like a single file, in a double file arm is raised to point both an index finger and middle finger upwards- which indicate two-digit signs making others clearly understand that the two files are coming their way.
Comfort stop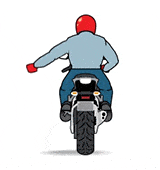 This sign is for the group rides only. As the name suggests, it indicates that the group is making a stop for rest and refreshment. So it is followed by other riders behind. Make a fist and extend downwards while swinging the arm in slow motion. You think this sign does not concern you, as you might think of not being part of a group ride. But a case may create where you can be on the other side of the road. So when seeing this sign, you can smoothly evade large gatherings in one place.
Refreshment stop
Just point your finger towards your mouth to indicate that you will stop at a nearby shop or dhaba to eat. This sign becomes useful when you plan an adventure trip with your friends. One must know this sign for proper communication while driving. In a long drive, while cruising, you feel the need to stop by. It's not like you have seen the shop, and then indicated the sign, but this is made in advance that is in prior acknowledgment to the fellow travelers is necessary. So that they can smoothly make a stop when coming closer to the desired shop.
Pull-off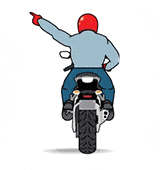 To indicate that your ride is coming to an end, or for generally stopping by, in a group ride this pull-off and stop sign is used. By extending the left arm upward and swinging it towards the right with the index finger pointing at the side of the road where vehicles may stop. It helps to avoid overriding and colliding with other vehicles on the road. Caressing about others is the sign of the true brotherhood of the biking community.
Cops ahead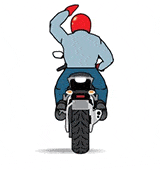 It seems funny to alert someone from the police. How can such an obvious sign exist? Well, it might happen that once a while, one of your brothers needed to be aware of the police ahead. This does not necessarily mean that you are hiding something, but it also indicates that a check might happen ahead. So when you are not updated with your bike papers, this sign comes in handy. Just tap with your palm on top of the helmet, to indicate cops ahead.
Fuel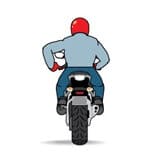 This is the real problem one can not avoid. But why use a sign for this? It is necessary to tell your other bike brothers that you need to refuel. They will thus look after the stop ahead. Signs are a better medium to express oneself. So point the finger at your tank to show your fellow mates about the need. A simple sign, it shows the language of bikers is straightforward, just like their journey.
The sign of appreciation which started as respect became:
convention to
rules to,
somewhat a manual to follow till today.
A true motorcyclist, passionate about riding, understands the importance and use hand gestures, on roads.
In earlier times, people distinguish between types of motorcycles to wave. They prefer to nod as a sign of acknowledgment- to the big tourers and cruisers. Although such a time has been long gone and the signs have now evolved. They are now considered important with an increasing number of accidents. In a two-wheeler ride, hand wave rules are de rigueur. These are the signs of a true biker. In every way, these signs are very proper to follow. Over the years, it has become ubiquitous among riders. In heavy traffic, when you are too busy staying alive, you forgot about the existence of signs. Mostly you feel shy to express it. Even, at times, you feel like warning others of the bad road, you are unable to do so. Either because you lack practice or have forgotten the hidden meaning of biking- that is, to honor the position you are in. Therefore, use gestures and overcome hesitation.
Let's start with you!
Image Credit – motorcyclelegalfoundation.com
Written By – Rachna Mishra