Are long motorcycle rides is a pain in the butt for you?
Everyone loves a long motorcycle ride. Imagine yourself riding in the countryside.
'Warm sun shining on your head, beautiful trees crossing you, no traffic and noise! '
Everything in this scene is perfect, except the fact that your butt and lower back begin to pain from riding for a long time. The pain from riding for long intervals of time can be one of the worst experiences for a rider. Not only does a hard bike seat, make the riding experience unpleasant for you, it can also result in serious lower back and tail bone injuries.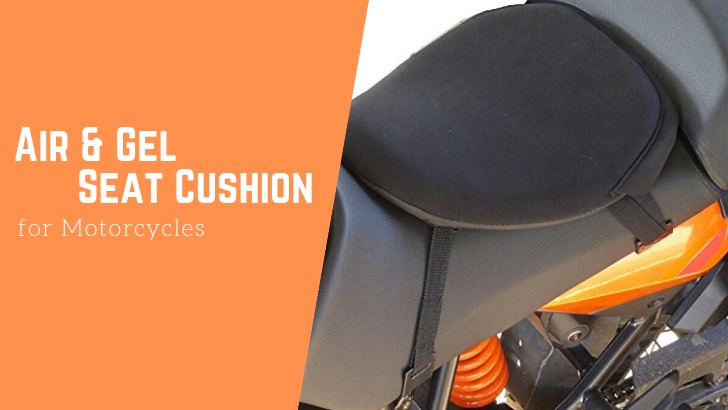 If you are a long distance rider and suffer from these issues then you should not ignore them any further. Instead, you should invest in a good seat cushion that can prevent discomfort and pain. We have put together our reviews for some air and gel cushions for your bike, which are easily available in the market today. Please have a look and go buy one for yourself before you suffer from any serious injuries or longtime ailments due to bad posture and uncomfortable seats!
Air Seat Cushions  For Bike Reviews
airseat.in Air Cushion Seat
The AirSeat.in air cushion cover is made up of fine heat absorbent material. This makes it easier for you to use the cushion in any type of weather and not feel uneasy while riding the bike. The seat cushion is equipped with mesh on the sides so that the hot air produced by sitting for too long, gets recycled and doesn't get trapped in the cover.
The design and size is uniquely designed to match most motorcycles in the market. There are two adjustable straps on each side of the seat cover to fix it on the motorcycle or scooter of your choice. The seat cover can be used by both, the rider as well as the pillion rider.
The back of the cover comes in an anti-skid finish. Even though the back comes in an anti-skid finish, the rider may experience some slipping in city driving because of applying the brakes too often. In our opinion, the AirSeat.in air cushion seat is ideal for highways and long rides, where you do not end up applying the break too often. Regular city roads with speed breakers and potholes, etc may result in slipping.
The seat cushion weighs 422 grams and can be bought for an approximate price of Rs 2,500.
FEGO Leather Air Suspension Seat Add-on
The FEGO air suspension offers great comfort even on the worst of roads.  The company claims to reduce the harsh impact from bumps, breaks and potholes by 46%. The seat cushion acts like an air suspension float, giving you an elevated and comfortable ride.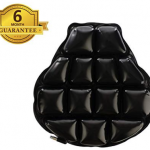 You do not need a special pump to blow air in it and can simply use your mouth. Once fully blown, the seat cushion can be attached to the bike with a simple strap. The drawback of a simple strap is that anybody can steal it so make sure you take it off and keep it with your helmet whenever you leave your bike alone.
The special technology used to make FEGO air suspension cushion distributes pressure evenly so you do not feel pain in a particular area of your body. The cushion also has a rain cover, a mesh and an anti-skid bottom surface. The cushion can be used for cruiser bikes, touring bikes and scooters. It is also great for the pillion rider. In fact, the air suspension technology is ideal for pregnant ladies and people suffering from back injuries. The FEGO Air Suspension Seat is priced at Rs 2000 approximately and is good for city commutes as well as long rides and highway riding.
Ride on Air ADV Sports Alpha Motorcycle Air Seat Cushion
The Ride on Air ADV Air seat is specifically designed for the sports bikes. It is perfectly crafted for a narrow front seat of a sports bike. The air seat cushion is ideal for smaller dual sport seats.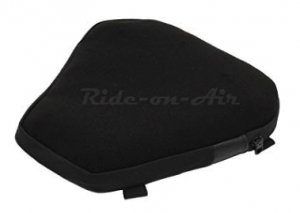 The Ride on Air ADV comes with a small pump to inflate the cushion. There are two straps that can be used to secure the cushion to your bike's seat. The air seat has been crafted with 10 interconnected air cells so that you get a uniform pressure distribution. The tapered cells reduce contact with the scrotum so the rider does not experience any pressure or pain. The air seat also boasts of relief from tailbone pain. You will not experience any numbness on this air seat. The air seat also does not lock in any heat and moisture.
You can get your Ride on Air seat cushion customized as per your size. The air seat also comes with one year warranty and lifetime repair support.
You may not feel any relief from back pain by using this seat cushion, but you will surely get relief from butt numbness. If you are riding all day long, then keep the air pump with you, as you may have to re-pump the cushion a few times.
This product is also the most expensive air cushion in this segment, priced at approximately Rs 4,000 or more depending on the size.
TREK 'N' RIDE SoreBuster Air Cushion Saddle Cover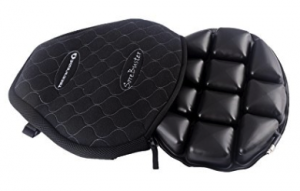 The Trek N Ride air cushion saddle cover is ideal for large sized cruiser bikes or medium-sized sports bikes. As the name suggests, the product does not let your butt get sore from riding for long durations. The saddle cover comes with an anti-slip seat cover that fits onto your bike's seat perfectly. There are two straps with velcro on either side of the saddle to secure the cover to the bike. There is a premium quality mesh on either side of the saddle to ensure recycling of air. The mesh keeps heat and moisture away so that the rider feels comfortable throughout the ride.
You get an air pump along with the saddle cover. You can use it to inflate the cover. The pump is portable and can be carried along on the ride. You can also inflate the cover by simply blowing into it with your mouth.
The saddle cover is affordable and can be bought for an approximate price of Rs 2500. A drawback of the cover is that it is made up of foam and is not waterproof.
Best Get Seat Cushion
Sahara Large Gel Pad
If you prefer using a gel pad instead of an air cushion, then the Sahara Large Gel pad is a good product. The gel pad offers increased comfort and ease to your rides. The super shock absorption technology, reduces pressure from speed breakers, bumps etc.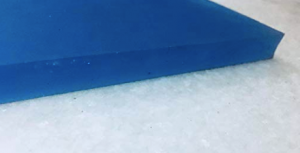 The good thing about this gel pad is that it can be customized as per the shape of your bike. You can cut it and resize it to cover the area of the bike that you want. Moreover, unlike an air cushion, a gel pad does not require you to inflate the cover from time to time. In fact, the gel pad will not bottom out or deflate even after repeated use. You can use the pad for practically any motorcycle or scooter.
The Sahara Large Gel pad is made up of hybrid polyurethane elastomers specifically designed to reduce fatigue from high vibrations. It is priced at approximately Rs 2000 and is a good alternative to air cushions.
Gears X Tender Motorcycle Snowmobile ATV Gel Seat Cushion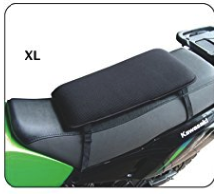 The X Tender ATV Gel seat cushion has been crafted with X Gel and Visco-Elastic foam for ultimate riding experience. The unique design keeps the pressure from building on specific areas like your tail bone, spine, and scrotum. The gel cushion is made up from a climate control gel polymer to regulate the flow of heat and moisture into the seat. The mesh on the top helps in recycling the air and keeping the seat cool and dry. The bottom portion of the cushion is anti-skid so the cushion stays intact on the seat.
This seat cushion is not just limited to bikes. You can use it on a snowmobile, ATV or even use when traveling in buses or planes. It is lightweight and can be carried wherever you go. The gel cushion comes with a lifetime warranty. It will never crack, leak or melt under pressure. It is available in four major sizes ranging from small to extra large. The gel cover is 1.5 inches elevated.
The X Tender ATV Gel seat cushion is priced higher than the Sahara Gel Pad at Rs 3500 approximately.
Why do you need a seat cushion?  
You may wonder why it is necessary to use a seat cushion. Well, different people may have different reasons for using them.
The most obvious reason is to fight butt numbness and tail bone pain. Constant ridding can lead to pain and numbness on certain parts of your body. It can also lead to bigger and more permanent injuries and ailments. Ideally, bike seats are engineered only for their looks and not for comfort. Bike companies do not spend much thought into making a seat that is comfortable. They focus more on how the seat looks in regard to the bike. A seat cushion makes your ride more comfortable by absorbing shock, vibrations and pressure from bumps, potholes etc. They also increase the blood flow to the tissues surrounding your butt so your butt feels less pressure and pain.
When you feel no pain and pressure, you do not keep fiddling and maintain a good posture. This ensures that you do not suffer from back injuries in the long run. It is very critical to invest in a good seat cushion, especially for those of you who often go for long rides or spend a considerable amount of time on your bike.
Additionally, pregnant ladies, elderly people and people already suffering from back injuries should use seat cushions regardless of the time spent on a bike.