Have you ever gotten up on a winter morning and realized that your bike's battery is dead from the cold? If your answer is yes, then you need to continue reading this article.
For optimum performance, it is very important to choose a good battery for your motorcycle. A good battery will increase your bike's life no matter what time of the year it is.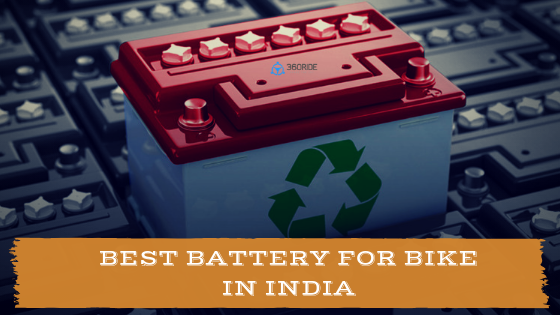 It is essential to choose a battery that is low on maintenance, offers resistance from high vibrations and does not cause any leakage. All these qualities make a battery ideal for any bike. It is also important to choose a battery that is environment-friendly and does not contribute to any pollution. Depending on whether you have an electric bike or a regular bike, your choice of the battery can be crucial for your bike's performance. In fact, purchasing the ideal bike battery can be a difficult thing to do. Most people find it tricky to find good battery reviews online.
Best Battery For Bike in India 2019
We have put together some of the best bike batteries in the market today. These batteries are a perfect companion to your bike. They will increase your bike's performance and make sure that you enjoy a hassle-free and easy experience. Let us go ahead and review each one of them.
Amaron 5 AH Sealed Battery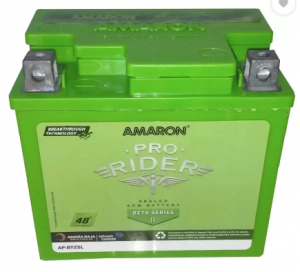 The Amaron Pro Rider Beta 5 AH battery is exclusively sold by Amaron. The battery weighs 2 kg and can be used with any two wheeler available in the Indian market today. The battery works on the oxygen recombination principle which prevents water loss. In fact, you do not need to add any water to the battery. This also makes the battery easy to maintain and lets you enjoy your bike rides to the fullest.
The Amaron 5 AH box comes with a pair of nut bolts to fix the battery to the motorcycle. You also get a two year warranty by the manufacturer. The Amaron Pro Rider has been made with state of the art VRLA technology that provides your engine with great power every time you turn the ignition on.
The 5 AH Sealed battery offers a high cranking power and high resistance to corrosion. It is also resistant to high vibrations and is spill proof. Moreover, Amaron is a reliable and reasonable brand. You can purchase the Amaron 5 AH Pro Rider battery for an approximate price of Rs 1300.
A good tip to increase your battery life is to charge the battery externally for half an hour to 1 hr, every three months.
Exide Honda, Hero Motors Bike Sealed Battery Xltz4
The Exide Honda Hero Motors Sealed Battery Xltz4 is a zero maintenance motorcycle battery. The battery is equipped with gas recombination system that eliminates water loss. This makes the battery completely maintenance free. The battery is made with world class calcium effects technology and VRLA technology, which deliver a power packed performance to your motorcycle. They also ensure that the battery offers enough power on uneven and bumpy Indian roads and terrains. The battery is designed in a manner that leaves no room for any leakage even if it is mounted in an inclined position. Moreover, the lead calcium technology does not allow the battery to self discharge.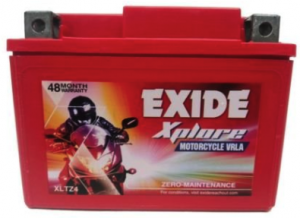 The AGM construction provides great vibration resistance and finer cranking power. You do not need to refill the battery with electrolyte or water as it is already factory charged.
The battery weighs 1.5 kg and comes with a one-year pro rata warranty including a one year free replacement warranty. The Exide Xltz4 battery is very affordable too. You can purchase it from any bike accessories store in the market or from any online store for less than Rs 1,000.
The brand reputation and the affordable price make the EXIDE Xltz4, one of the best batteries in the market these days. this battery is very suitable for your any Hero, Honda and Bajaj bike like spender Plus, pulsar.
BOSS 2.5 LC Sealed Bike Battery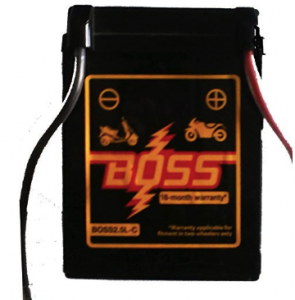 The BOSS 2.5 LC Sealed Bike Battery comes with a zero maintenance guarantee. It is extremely easy to install and offers a long lasting and value for money performance.
You can purchase this battery with an 18 months manufacturer's guaranty. The AGM construction provides cranking power to the engine that is specially designed for Indian roads. You will not require any additional servicing for this battery. No matter how tough the terrain, this battery will never give up!
The advanced spill-proof design promises zero leakage regardless of the angle the battery is installed in. You can install the battery at an inclined angle and expect absolutely no spill or leakage. The lead calcium technology offers low self discharge. The BOSS 2.5 LC also comes with an exceptional flame arrestor that is perfect for use with any motorcycle available in India.
The BOSS 2.5 LC battery weighs 2 kg. It is commonly available and you can buy it at an approximate price of Rs 500 to Rs 600 from any market or online store.
The BOSS 2.5 LC Sealed battery is the cheapest battery in this edition. For those of you who are not looking to spend a lot of money on your bike's battery, the BOSS 2.5 LC is a great option that will always deliver high-class performance!
Amardeep and Co 12V 24Ah Electric Bike Battery 
Amardeep is a popular battery company that is a leading supplier of 6V 4.5AH SMF Batteries. These types of batteries are usually used in electronic children's bikes, weighing machines, and emergency lights, etc. The Amardeep and Co 12V 24Ah electric bike battery is particularly for electric motorcycles. The battery weighs 8 kg and is made up of lead and plastic. It is light weight and offers high capacity and density. You should expect absolutely no risk of burning or unexpected explosions while using it.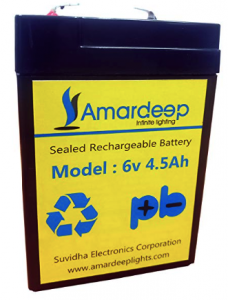 All Amardeep products are tested by international standards of safety. The Amardeep and Co 12V 24Ah battery is a highly durable battery. It offers a very low self discharging rate of 3% per month. This is one of the lowest in electric bike batteries. It is specifically designed for uneven and rough Indian roads and streets. The Amardeep and Co 12V 24Ah is a rechargeable battery. It is also environment-friendly.
The brand Amardeep is known for delivering pocket-friendly products that are durable and long lasting. You can purchase the 12V 24Ah battery for an approximate price of Rs 800.
You should consider buying this battery if you have an electric bike. Keep in mind that electric bike batteries are usually bought in sets of four.
How to choose a good Motorcycle Battery?
There are several factors that play an important role in deciding the right battery for your bike. A good battery is like a vital organ of your bike's body, without which it will fail. With several choices of batteries available in the market, sometimes it can get difficult to choose the right battery. Regardless of the type of bike you own, here are some factors you must always consider before buying your bike's battery.
​Maintenance: The topmost quality to look for in a motorcycle battery is low maintenance. Always look for a battery that is spill proof and requires zero to no maintenance.
Type of Battery: It is important to be able to choose and differentiate between the types of batteries available in the market today. For example an AGM or Absorbed Glass Mat battery or a gel type battery. Ideally, if you should go for an AGM battery if you do not want to charge the battery too often.
Warranty: You should look for brands and manufacturers that offer longer warranty periods. Many brands offer 24 months of free replacement warranty these days. Look for such options, so that you have the option to leverage the offer in the future.
Size of the Battery: You can check the size and dimensions of your current bike's battery before you go ahead and buy a new one. Select a battery that will fit into your bike.
Longevity: An ideal battery should last for 3 to 5 years. This means that you should aim at changing your battery every 3 years. Maintain your bike and battery well and consult a professional garage if your battery is older than 3 years as it may be time to buy a new one.
Compatibility: Not every battery can be installed in your bike. Some batteries are specifically made for electric bikes while some are made for fuel bikes. Batteries may also differ based on the size of your bike, the engine of your bike etc. Look for a battery that is compatible with your bike for optimum performance.
We hope you find these tips practical and you keep them in mind when you purchase a battery for your bike!