All you Royal Enfield enthusiasts and owners will be happy to know that amidst the list of accessories available for your Royal Enfield, the digital speedometer has made an entry too! You can now fit an entirely digital speedometer console on your bike to map your bike's speed. A digital speedometer was perhaps of the most wanted features that were previously unavailable for Royal Enfield.
Installing a speedometer is easy as it requires no special procedure. By simply opening the headlight, you can remove the older analog console and fit in the new digital speedometer.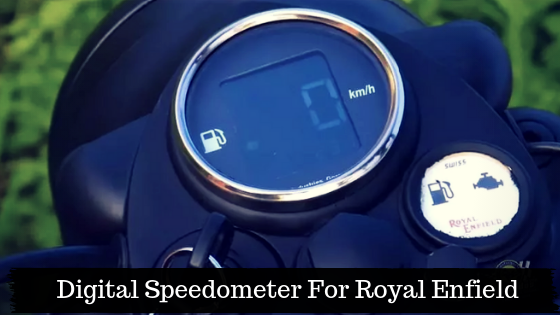 Why a digital Speedometer necessary?
A speedometer brings in ease while keeping a track of your speed. You can keep a record of your rides, which is essential for any frequent rider.  An analogue speedometer can only give you accuracy of up to one or two kilometers. If you are looking straight ahead while riding and not looking at the dashboard, you will not be able to fathom the correct speed of the bike. This is where a digital speedometer comes in handier. Especially for frequent riders who like to catalogue their ride data.
Best Digital Speedometer for Royal Enfield
The classic Royal Enfield only offers an analogue speedometer without a fuel meter. This is when Bandidos – Pit Stop was launched to overcome the shortcomings of the traditional speedometer of the bike. While the Bandidos – Pit Stop digital speedometer was a wholesome purchase with a digital speedometer, odometer, tripmeter and fuel indicator but unfortunately, it is no longer available in the market.
Instead, the R V Speedoz Digital Speedometer is a great buy if you are looking to buy a digital speedometer for your Royal Enfield. The RV Speedoz Dogital Speedometer is the perfect replacement for the Bandidos – Pit Stop speedometer.
The R V Speedoz Digital Speedometer
The R V Speedoz Digital Speedometer is ideal for Classic, Electra and Bullet 350 and Classic, Electra and Bullet 500. In the R V Speedoz Digital Speedometer, you get a speedometer, odometer, fuel indicator, trip meter, high beam indicator and hazard indicators.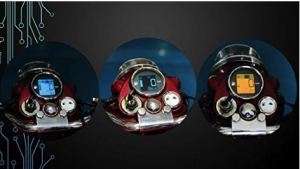 This digital speedometer is chic and attractive.  The background light available in black, white/bluish and orange colors. I would prefer black color. It is a great accessory for your Royal Enfield and will surely add to the look. It is a round speedometer that can be simply put in place of the analogue meter. You do not need any special drilling or tools. You can simply take out the headlight, replace the speedometer and put the headlight back on. The RV Speedoz Digital Speedometer has on screen indicators. The screen offers a clear and bright display. Even with a helmet on, visibility remains unaffected. The screen is bright and legible both during the day and at night.
The R V Speedoz Digital Speedometer is water resistant and comes with a 6 months replacement warranty. Priced similar to the Bandidos – Pit Stop, the RV Speedoz Digital Speedometer is available and can be bought at Rs 3,500 approximately. (Price may vary)
The RV Speedoz Digital Speedometer offers great performance and is a reliable product. It will surely add value to your bike and your rides. Go ahead and get it for your bike today!
We will Update the article once we find more good Digital Speedometer offered by other companies.