Hitting a gym with fit people around you flexing their muscles can be a bit intimidating, especially for beginners. If you're too self-conscious of working out with others and in open, we recommend you start with the indoor cycling machine, best-fit to create endurance, build stamina, and boost confidence.
In this tech-savvy world, we are becoming less mobile, which in due time has adverse effects on health. Exercise bicycle seeks to gain physiological balance. Before you take a seat and ramp up your workout intensity, it is paramount to know the must-have features such as bike resistance levels, stability, adjustable seat, the flywheel apparatus, etc. for a smooth and seamless ride.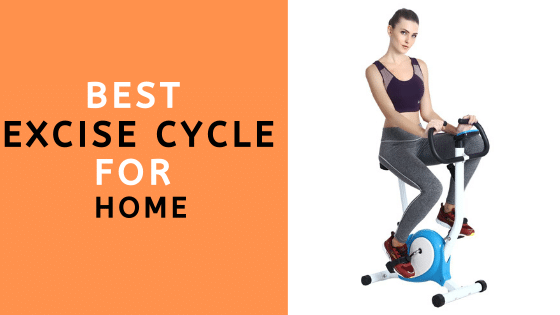 Best Exercise Cycles in India 2021
Keeping your comfort level and fitness in mind, we have curated the best of indoor exercise cycles that will help you maintain the momentum for longer periods, and you'll never feel like pedaling away from it.
WELCARE WC1588- BEST RECUMBENT BIKE
When comfort meets cardio, you get a Welcare recumbent bike. This is a type of stationary bike which puts less stress on joints and yet provide for rich aerobic exercise. This exercise is widely advised by doctors for their patients suffering from spinal injury or pain in the back and is helpful in the treatment of joints.
This fitness cycle gives a scope to stay fit and lead an active and healthy life. It comes with an adjustable seat. Welcare's two way 5 kg flywheel weight gives way to the momentum of speed. The most appealing feature of this bike is its magnetic resistance. This brand offers 8 levels of magnetic resistance for smooth pedaling. One can see the progress in the LCD, which not only has the basic functions like time, speed, distance, calorie burned data but also monitor the sweat through odometer. Two AAAcells are required to power the display on the console. The company is responsible for the installation of the cycle of buying the product.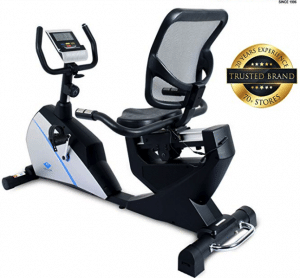 | | |
| --- | --- |
| Brand | Welcare |
| Color | Black-grey |
| Handle | Cushioned grip |
| User weight | 110kg |
| Intensity | Moderate |
| Style Name | Recumbent bike |
DOMYOS SELF-POWERED- BEST CREATIVE CYCLE
New generation bike like the DOMYOS Bike500 is designed to make cycling a rich experience. An ingenious way to save power, this bike is powered by your legs alone. Thus the display screen is self-powered, and no external battery is needed. Sometimes we like to modify our surroundings, giving it a makeover, and such is the benefit these styled bikes give. Not only it creates a statement, but it is portable too. You need to pull the handle inwards that activate the wheel system for easy maneuverability. The two stabilizer systems cover the wobbling effect. This is a high tech bike as it keeps track of your progress while using the e-connected app. You need to download the app and need to self-set weekly targets. It is in the form of the 4 functions displayed on console- time, speed, distance, calorie burn. The app is available both on iOS and Android. It also monitors the heart rate through the sensors integrated into the handlebar. CAUTION- the hand-pulse function is not for the people with a pacemaker. The console also comes with  7 training sessions. A creative way to enjoy exercise and stay motivated.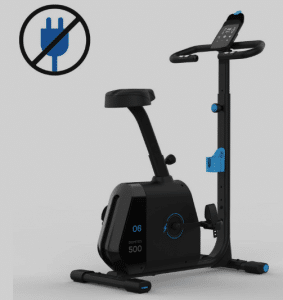 | | |
| --- | --- |
| Brand | DOMYOS/ ID: 8503088 |
| Color | Black |
| Handle | Steel/ foam grip |
| User weight | 110kg |
| Intensity | High |
| Style Name | Upright bike |
ENDLESS SPINNING BIKE- BEST AIR BIKE
If you're looking for a high-intensity workout, air bike is your ideal ride. An air bike charm never fades away as it offers premium design in an affordable range. Performance-wise an air bike won't disappoint a bit. It helps in toning down the leg muscle like hamsters, calves, and thigh. It also has a good effect on quads and bum. Keeping a good posture one can adjust the resistance knob manually. This heavy-duty steel frame air bike is the trendy one for a unique experience. This will be the valued addition to your home it gives a rich look and is effective.
Available with 1 pc crank-5.5″ display, the technical function comes with a pulse pad to monitor your heart rate training, burns fat, and allows you to keep an eye on ODO, pulse, time, speed, and calories reading with the in-built LCD monitor.
This Sturdy bike with the heavy-duty steel frame comes with a bottle holder. It has 6 kg flywheel combined with the belt drive mechanism allows for smooth and quiet workouts. Also comes with adjustable handlebars and fully adjustable seat with high-density padding.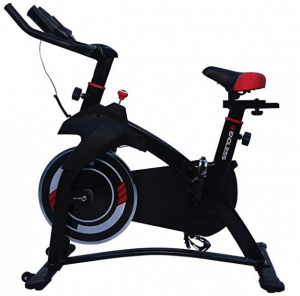 Specifications:
| | |
| --- | --- |
| Brand | Endless el-7141 |
| Color | Black |
| Handle | steel |
| User weight | 112kg |
| Intensity | High |
| Style Name | Air bike |
CARDIO MAX MAGNETIC UPRIGHT FITNESS BIKE
Are you too lazy to go out and hit the gym? Why risk your health when a viable option is just around the corner wherever you like it to be. Exclusively for lower body muscles toning such as thighs, glutes, calves, this cycle exerciser seeks to ease your way back to a fitness routine. The fitness cycle provides a good adjustable pedal strap and seat. It gives a nice paddling experience while keeping your upright posture. The battery-operated monitor shows calories burned, track distance and manage time and speed of each workout. It also has advanced features like heart rate and odometer tracker. The handlebars has pulse sensors. The flywheel machine weighs  4kg thus smooth pedaling. Keeping up with technology this brand offers magnetic flywheel system at affordable rate. The manual adjusted resistance knob works better on magnetic flywheel as they are quieter than strap resistance ones. As per your goals the resistance can be extended upto 8. The balance is maintained by the slip-resistant stand. So, you can go all out for a high-intensity workout as per preference.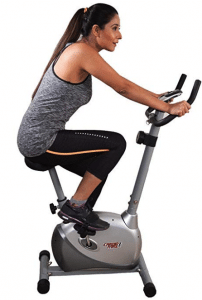 Specifications:
| | |
| --- | --- |
| Brand | Cardio Max – JSB HF73 |
| Color | Grey |
| Handle | Steel /foam grip |
| Intensity | High  intensity |
| User weight | 100kg |
| Style Name | Upright bike |
KOBO EXERCISE SPIN BIKE- BEST DANCE BIKE
This bike from KOBO can make your soul cycling possible in India. It allows for a rhythmic exercise that has therapeutic benefits. I know we Indians are 'jugadu' and can mend ways just to get the feel of it right. The astounding features of this exercise cycle are:
The bike has an excellent weight carrying capacity up to 120kg. Needless to say, you can perform several dance movements and squats while doing exercises. It provides ample space to keep a mobile phone that makes it better to follow instructions. Just like a soul cycle has a resistance knob in between the legs, this design allows for the same feature. This enriches mobility while following steps. Other essential features include an adjustable seat, 6kg metal flywheel for a smooth pedal, and a well-cushioned seat.
The robust design suits the needs and requirements of people of all ages, shapes, and sizes. A user can regulate the pressure according to their preference.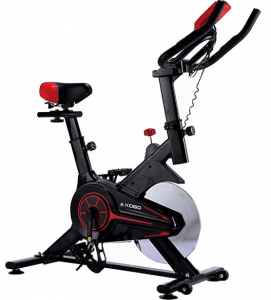 Specifications:
| | |
| --- | --- |
| Brand | Kobo /SB-5 |
| Color | Black |
| Handle | Steel /foam grip |
| User weight | 120kg |
| Intensity | low-High |
| Style Name | Air bike |
BU 200- BEST UPRIGHT BIKE
Doesn't it feel great to stay in shape all the time? Ideal for apartment, studios, and even home, now you can exercise at the expense of your own comfort. It comes with a fully adjustable handlebar and comfy seats. This bicycle is preferred for a personal gym and is named after the upright posture of the rider. The LCD console keeps track of your workout routine with its enabling feature to measure distance, calories burned and tracking time and speed rate. This well-built sturdy cycle acquires only a small portion of space and has a pulse system for heart rate monitoring. No screeching noises can be heard while pedaling. Textured pedals for anti-slip can be either used with straps given in pedals or without it. These are most popular for its comfort, stability, ergonomic seat, and durability. If you are concerned about its load-carrying capacity, don't be worried as it has a leveling stabilizer at back. It is modest enough to carry a weight of up to 100 kg.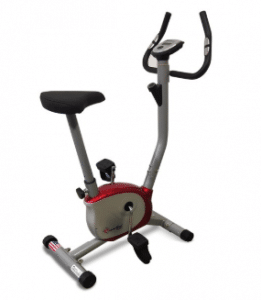 Specifications:
| | |
| --- | --- |
| Brand | Powermax/ Product ID.: 8904335100508 |
| Color | Grey |
| Handle | PU foam grip |
| User weight | 100kg |
| Intensity | Low |
| Style Name | Upright bike |
Reach Air Bike Exercise Cycle
Equip your home with the stylish Air Bike by REACH. Not only does it take less space, but it can be used by anyone. It is a fun exercise, to begin with. This Air wheeled cycle is the most desired indoor cycling for Indian homes.
Air bike are considered best for their resistance. The machine comes with hand levers to move hands in push-pull motion. This allows the whole body movement and results in a high-calorie burn rate. This variant has dual workout options of stationary hand railing and hand levers. These stationary rails are there for balanced support. This feature will help in toning both the upper and lower body. It has a nice built to keep your weight balanced up to 100kg. It comes with a smart tracker that records your data regarding time duration, speed, calorie burn, and distance covered. The Exercise Fitness Bike is ergonomically made for seating with large adjustable seat cushion. Its handlebars are packed with high-density foam, which will prevent you from experiencing stiffness of the back, strains, and muscle aches as you work out. The flywheel system has belt drive resistance for smooth pedaling. The bike also give a high-low resistance control knob for longer workouts. The company itself provides for installation service.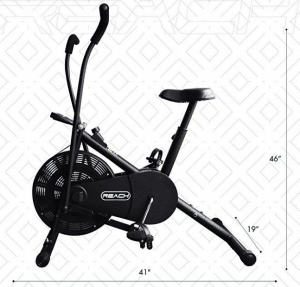 Specifications:
| | |
| --- | --- |
| Brand | Reach |
| Color | Black |
| Handle | Steel/ foam grip |
| User weight | 100Kg |
| Intensity | Moderate |
| Style Name | Air bike |
VISSCO NEW CYCLE- MINI PEDAL EXERCISER
Finding it hard to spare some time amidst household chores and office workloads? Excuses, no more. We found just the right equipment to solve the common problem of 'time nahi hai.'  With this mini pedal exerciser, you need not worry about your busy schedule, as it is best for creating endurance. This bike help in cutting down your weight and successfully strengthen leg muscles.
Get rid of unnecessary fat and overweight problems. The basic exercise starts from the legs. This is a perfect buy for married women experiencing weight gain and people who feel a little obese from eating outdoor foods. With no hassle of installation, this ready-to-use mini pedal machine can be used anytime, anywhere: from understudy table or office table, while watching TV or talking on phones and is a must for Indian homes as its mobility allows you to exercise as per your work needs.
The whole body is steel made, except for the pedal, which is plastic. It has an elastic band, an anti-slip measure which allows your leg to fit properly for a good movement. You can also use this for upper body workout, that is to say, keeping hand movement via pedaling.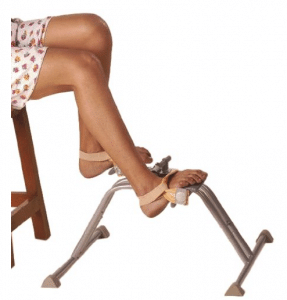 Specifications:
| | |
| --- | --- |
| Brand | Vissco |
| Color | Grey |
| Handle | Metal |
| User weight | 110kg |
| Intensity | Low |
| Style Name | Pedal exerciser |
I hope to bring you one step closer in deciding which exercise cycle to buy. These bikes define your personality. It takes less space and having them in your gym is a must-have. These are cardio-based and not strength-based bikes. It prevents blood pressure problems and keeps the heart healthy. These bikes are safe and easy to use. There is no limit to these machines in the market. I have attempted to refine the best of these in an affordable range. Brand, reliability, sturdiness, features, portability, the above list of bikes will never disappoint you on these fronts. These bikes don't require high maintenance. These bikes have the potential to be used in a creative way like while reading, doing dance steps. Move forward with the same dedication and keep this a fun activity. So, you need to maintain regularity at a moderate pace. Happy investing!
Also, for a better understanding refer to these points –
By the standard definition, the bike should interpret as an exercise cycle.
We have mentioned different variants of bikes. One should buy as per their individual needs. Briefly discussing – an upright bike has pedal below the legs and is a stationary type. It gives an upright position to the body. Another stationary type is a recumbent bike and is preferred for seating features. It has pedals in front. An air bike gives good resistance from other bikes. Cross trainers provide movement of hands in push-pull motion. Heavier the weight of the flywheel, smoother the pedal will be.
High and low-intensity workout depends on resistance levels.
Maintaining your posture in every exercise is a must. To ensure this, adjust the saddle height to hip height. Similarly, to keep your back straight higher handlebar is suggested. For a leaning posture, prefer lower handlebar.
It is advisable to retighten the screws every 6 months by the technicians.