we spend more money on our bike so that can get a comfortable ride.
Right?
And sometime handlebar creates a lot of issues Especially in Royal Enfield. there can be many reasons that you want to change your handlebar. it can be your height, hand position, feeling shoulder pain or back pain due to current handle.
Don't worry In this guide we will review 5 best Handlebar for your Royal Enfield classic 350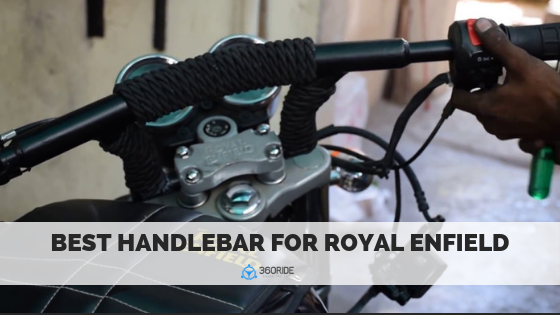 Best Handlebars for Royal Enfield Classic 350
AR Skyline Royal Enfield HandleBar Review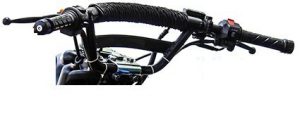 Butterfly Shaped Handlebar from AR Skyline made with premium quality metal. the company took every aspect to make the product best quality.
Build Quality
Handlebar Made from Premium Quality stainless steel. and the pipe thickness is enough to bear heavy weight too.
Design & Comfort
AR Skyline made sure that design also looks good. Handlebar shape is like a butterfly and a rubber cover is added in the center on the bar to make it or stylish and comfortable. Also, it can fit into any kind of Royal Enfield model.
Cost 
Cost is a bit higher considering other handlebar but if you compare with design and build quality then its a reasonable price.
Dhe Best HB02 Bike Handle Bar with Dual Triple Curved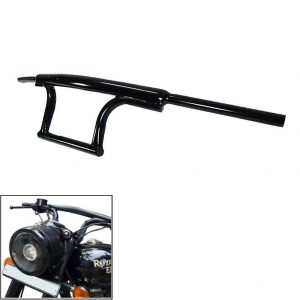 DHE HB02 Handlebar gives an effective look to your Royal Enfield. and help you to control vibration with triple curves design.
Build Quality
HB02 built with heavy premium metal and weigh around 1.2kg. The thickness of the pine is more in middle but in corners its medium size. weight distribution is perfect for a comfortable ride. But doesn't fit to all type on Royal Enfield model. it is compatible with Royal Enfield Classic Desert Storm.
Design & Confort
Handlebar comes with Black color and triple curves shape look very simple and stylish.
Price 
Price is very normal it cost only a few bucks to change your bike look. and get rid of old handlebar.
Hmra Power WV001RCA0136 Handle Bar (Budget-Friendly)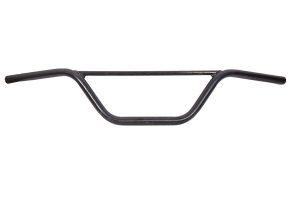 if you don't want to spend much money on your handlebar and want a simple look HMRA Power handlebar is a perfect fit for you.
Build Quality 
it doesn't come with premium quality metal but it is coated with stainless paint. According to some customers, the Bar alignment doesn't fit perfectly on Royal Enfield 350.
Design and Comfort
the design is very simple. if you want not very much fond of handlebar design then HMRA power might be a good choice.
Cost
if you ask me then I would say its the cheapest handlebar you can replace on your Royal Enfield. but the cheap product there is some drawback too. but for a short-term, this product is perfect for you.
Expellant Auto Handle Bar V curved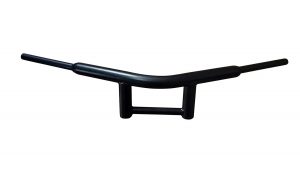 if you like the V-curved shape handlebar then you can add this handlebar in your favorites list.
Build Quality
This handle made with heavy metal and curves perfectly in V-shaped. V-shaped handlebar has a very big advantage that it reduced so much vibration while riding and gives you a comfortable ride. the weight of handlebar is approx 1.kg that is an average weight of any handlebar.
Design
it is available in black color only. and shape is v-curved that helps you to control more vibration during ride on street road.
Cost 
Cost is more because the look is not much attractive but it focuses more on comfortable riding.
Why You Should Upgrade Your Handlebar?
Riding Comfort
A perfect shaped handlebar bar helps you to ride for a longer duration. you old handlebar might be short and you tired too soon after riding a few kilometers. you should upgrade your handle for more comfortable riding. using short handlebar or default handlebar gives you so many vibrations on around road but this can be reduced with a long or v-shaped handlebar.
New Stylish Look for motorcycle
if you are comfordable with your current handlebar while riding then also you can upgrade it to give your bike a new stylish look. there are a different type of shape available in handlebars.
Height and Sitting posture
sometimes default handlebar doesn't fit based on your height and sitting posture. In that scenario, you will end up with shoulder pain or backpain. So you should upgrade your handlebar that fit as per your sitting posture and riding comfort.