Royal Enfield is a bike that everyone wants to have. There is no denying that this bike has its own aura, style and the ability to make heads turn while on the road. But even a bike as special as Royal Enfield is incomplete without the right helmet to compliment it. Here are some of our favorite picks that we think can contribute to you and your bike's overall personality.
Perfect Helmets for your Royal Enfield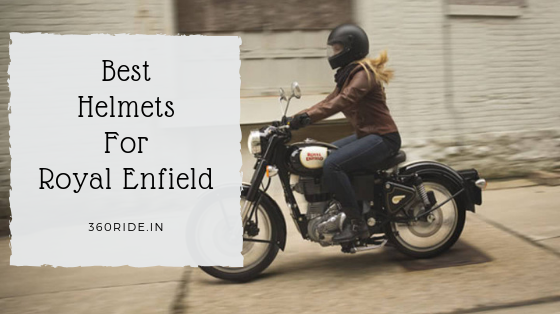 Royal Enfield HEA150005 Street Nimbus Full Face Helmet
The Royal Enfield HEA150005 Street Nimbus Full Face Helmet is a classic helmet with a full face fiberglass design weighing about 1.84 kgs. The fiberglass makes it a lightweight helmet and hence easy to wear and carry for longer rides. It comes with UV ray protection and is scratch resistance guaranteeing you longevity and endurance. The Nimbus full face helmet is equipped with a multi density Expanded Polystyrene Liner that is shock resistant providing you with utmost comfort. The comfort liner is completely removable and washable that makes it easy to maintain and clean. The full face helmet also has adjustable EPS vents to keep your head well ventilated and avoid suffocation in any kind of weather.
Royal Enfield HEAW17032 Classic Stripes Drifter Helmet
The second helmet in our list is the Royal Enfield HEAW17032 Classic Stripes Drifter Helmet. Weighing about 1.45 kgs, this helmet comes with a heat molded outer shell that is made from high quality acrylonitrile butadiene styrene. The inner liner of the helmet is made from expanded polystyrene foam. The helmet also has an EOS jaw protector that protects you from shocks and extreme force in case of sudden pressure. The outer shell is equipped with UV rays protection keeping you safe from riding in the sun. The visor is scratch resistant with a hard coated surface made from polycarbonate materials.
The great thing that sets this helmet apart is that is comes with 6 vents. In total this helmet has 5 vents including one on the chin and 1 exhaust. The helmet is designed to give you a wide eye port vent for better visibility and overall ventilation.
The drifter helmet is a comfortable bike accessory with cushioned liners that are removable and washable and offer a chin strap retention system that are made from soft nylon straps for your ease. The helmet also has a 360 degrees hard-wearing rubber gasket covering the periphery of the helmet making it sturdy and strong.
Royal Enfield Spirit HESS18004 Open Face Helmet
The Royal Enfield Spirit HESS18004 Open Face Helmet is an open face helmet unlike the others in this range. For those who prefer this design in helmets, this is the perfect purchase. Weighing 1.46 kgs, the open face helmet comes with a Chin Strap Retention that is made from nylon straps and provides good padding to your face and chin. It is also integrated with d-ring lock for safety.
The straps can be adjusted as per your convenience. The EPS inner liner is made from Expanded Polystyrene foam. The hard coated visor is UV resistant and made from polycarbonate material. The liner in this helmet too is removable and washable which means that you can wash off those sweat stains whenever you want.
Vega Crux CRX-B-L Flip-up Helmet
Unlike the other helmets in this range, the Vega Crux CRX-B-L Flip-up Helmet ranks high in the looks department. The flip-up helmet gives you a nice Leather finish body with a matte finish. The helmet is well ventilated and weighs 1.5 kgs. The outer shell is made of Acrylonitrile Butadiene Styrene Shell and the inner shell is made of multi-density EPS liner. The liners are detachable and washable. Interestingly the visor too is detachable and can be replaced with another. Furthermore, the scratch resistant visor gives you protection from UV rays making your ride a pleasant experience.
Priced between Rs 1000 to Rs 5000, these helmets offer different looks and comfort. They all come with an ISI certification ensuring endurance and durability. With comfortable liners and vents, they make a great companion for your rides whether in the city or a long distance bike ride.