In this highly technological era, mobile phones have become something that you cannot go a day living without. It has almost become part of human life. Mobile phones have become like a Doraemon's pocket, completing our wishes with just one single click, whether its food ordering, bill payments, shopping, navigating, and so on. In fact, you carry your bank in your pocket.
However, using your phone to call, text, or listen to music while riding is distracting and unsafe. But what if you want to navigate while riding your motorcycle? You can't ride with one hand and navigate through the other which will not only be unsafe but also stupid. Indian roads are more prone to accidents and studies have shown that the majority of accidents occur because people are busy with their phones while riding/driving on the road. For the safety of people as well as their phones, a variety of phone holders are available in the market to choose from.
Types of Mobile Phone Holders For Motorcycle
Mobile Holder: Is just a simple mobile holder that will help you to adjust angles properly for better vlogging and GPS navigation on your smartphones.
Mobile Holder with Charger: These are like mobile holders only with an extra feature of a built-in charger within them and lets you never run out the battery.
Also, these mobile holders are offered in various styles and shapes built either from plastic or metal only.

Best 5 Mobile Holders For Bike in India 2021 (With Charger)
CHEVIK Get Addicted X-Grip Bike Mobile Holder with Charger
Chevik addicted X-grip is a remarkable mobile holder which offers impenetrable mount to hold your mobile without the cutter-cookie shape which could risk your phones safety. The X-grip mount can almost fit a wide range of mobile phones while allowing the buttons of the mobile phone are easily accessible to the rider. The mount weighs around only 299 grams and the material used in its making is a high-strength composite and stainless steel, with rubber tips for the corners to hold your device firmly. In addition, it's smooth and expert design with a satisfying four-legged holding power to grip your device safely without hiding your phone behind the plastic and foam pads. Chevik X-grip also offers 5A 2A charger output to with fast charging speed guaranteeing that you never run out of battery. The manufacturer offers a six-month replacement warranty to its consumers to test and use their product properly. The overall product is very good and reliable for the safety of your device.
The Chevik X-grip holder comes with a gripper, spare tips, and cushion pads.
Other Highlights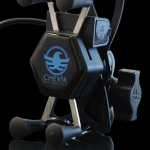 Firm hold to carry your device
5A 2A Output charger for fast charging
Expert four-legged model for extra protection
Offers six-month warranty on the product.
Things we like
GREAT and firm grip
Shockproof and waterproof
Reliable
CHEVIK GET ADDICTED Claw-Grip Aluminium Waterproof Mobile Holder
This is one of the incredible mobile holders available in the market. Offers a claw grip with compactly designed mount to proper grip. The mount covers a wide range of phones (60cm-10cm) and gives access to all the buttons. The material used to make this product is a high strength 7075 T6 aluminum alloy with attached silicone tips to carry the device firmly. The material used is purely shockproof, water resistant, and vibration free. Moreover, the 12. 24v input and 5v.2.5a output charger charge your phone at a rapid speed. Its secure and safe design claw design gives a great holding power like a lion's claw. The cradle of the mobile phone holder can be expanded and contracted according to the different sizes of the phones. The overall all product is just 240 grams and comes with a 360-degree rotation, which allows you to navigate your way through with any problems.
Other Highlights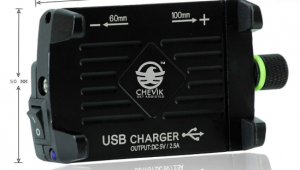 Claw grip design for better grip
Shockproof, water resistant and vibration free
360-degree rotation for easy angle adjustment
Aluminium alloy for sturdy form
Things we like
360 Rotation
Vibration Free
Claw Design
Zayke Mobile Phone Holder for Bike with USB Charger Motorcycle
The Zayke mobile phone holder only weighs 449 grams and is one of the most economical mobile phone holders available in the market. It comes with 360-degrees rotation, offering you a more flexible navigation system. The tips of the holder are made of rubber to provide your device extra protection. Along with the silicone strengthen strap offers complete protection to your device even on bumpy roads and during high-speed. It comes with another unique feature i.e. 5V.2A charge in port through which any USB device such as your phone, GPS, power bank, etc can be attached. The material used to make the Zayke X-grip holder is completely dust and water resistant and comes with a USB cover to save it from worse weather condition such as rain, fog and storm making riding a wonderful experience through all of it. The auto power on/off helps to turn off the phone charging exceeds 30V. The holder comes with a USB charger, one rear-view mirror fixed base, one handlebar fixed base, one safety band, two frosted rubber tips, and two stickers in the box.
Other Highlights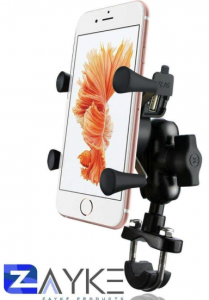 Flexible navigation system with 360-degree rotation
Silicone strap with extra-protection
Auto switch when the power exceeds
USB port cover for protection against the weather
Only fit for 12-30 V motorcycle, cycle and bike
Things we like
Auto-power button
Silicone Strap for extra protection
Two installation options
Autofy A-12 X-Grip Premium Bike Mobile Charger & Phone Holder
The Autofy A-12 X-grip Premium bike holder is just amazing at such a cheap cost with all the features it offers. Autofy A-12 can be easily installed and uninstalled within a few seconds as its ergonomic design allows you to attach/detach according to your own preferences. The holder is universal in nature and can be attached on all the bikes, scooters, and cycle as well. The holder comes with a very sturdy but stretchable holder which can carry 3.5-6.5 inches screens with a firm lock.
Furthermore, it comes with a unique double ball design to allow 360-degree rotation for adjusting your phone in a portrait or landscape mode for a better view or angle for GPS navigation. The 5V 2A USB port comes with a rubber cover to protect it against the dust and rain.
Other Highlights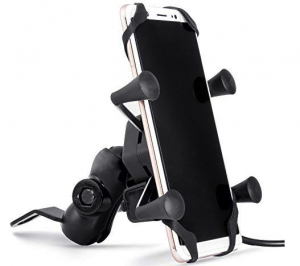 Universal and compatible for all bikes and scooters
360 Degree rotation for a flexible navigating
On/off switch with LED indicator
Anti-skid and grippers
Things we like
On//off switch
Rubber cover for USB port for weather protection
Easy Installation.
Things we don't like
Not shock-free or vibration free.
Blackcat Bike Mobile Charger with Holder – Spyder 2.4A 360'° Rotation Universal
Blackcat bike and motorcycle mobile charger holder is another very economical product with various features. It comes with two models one for a bike and another for scooters giving people option to choose from.  Blackcat holder comes with rubber tips for an anchored hold for your device's safety and protection. The 360-degree rotation allows a flexible and easy angle adjustment for hassle-free GPS navigation. Moreover, it comes with an easy installation feature for all the bikes and scooters. In addition, extra protection against over-heating, short circuit, and over-voltage. The manufacturer offers a full-on year guarantee of the product, which is pretty amazing at this price.
Other Highlights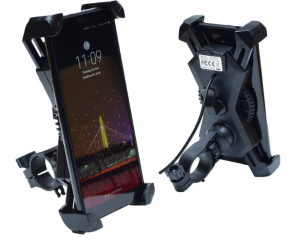 Rubber tips for device safety
360-Degree rotation
Extra protection against over-heating and short-circuit.
Adjustable grip with 360° rotation

1 Year warranty.
Things we like
Cheap
Easy Installation
Offers two choices- for bikes and scooters
Protection and safety anchor.
Best Bike Mobile Holder Without Charger
BOKA, Bike Phone Mount and Motorcycle Cell Phone Holder Bracket
Boka bike and phone mount is universal and can be attached to various things such as bikes, shopping carts, baby carriage and so on. Its 360-degree rotation feature helps to make adjusting angles for easy and better navigation while riding on the road. Boka Holder comes with soft, but anti-slip rubber feature that covers all sides of holder that helps to firmly good hold for the device's full protection on the road. Its compact design gives access to all the buttons and phone screens with any hurdle in between making riding very easy. Boka mobile phone holder offers 3 elastic bands (1 green glow and 2 black) for back-up bands if you need them in time of an emergency for extra protection of your smartphone. The product is pretty simple, offering just the necessary features. If you're looking for just a mobile holder, then this is one of the best products you can lean onto.
Other Highlights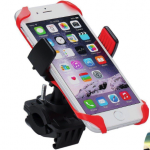 Creative design for safety and protection.
Three elastic bands for extra protection.
Rubber silicone gripper for safe carrying of the device.
Things we like
Innovative and creative layout
Universal
Super-cheap
Elastic wrap for all sizes of phone
Things we don't like
Not waterproof and shockproof.
Doesn't offer reduced vibrations.
Benefits of Bike Mobile Holders With Charger
Increased productivity and convenience
While riding on the road, it could be pretty inconvenient and distracting to navigate GPS. But if you have a good mobile mount on your motorcycle, it will conveniently allow navigate through and never get lost.
Battery always up
Mobile holders with USB chargers will not only help you navigate properly but also charge your phone side by side.
Safety feature
It could be pretty distracting to have your phone in your pocket, which suddenly vibrates, making you jump on your seat and causing an accident. But the mobile mount will keep your phone in front of you, with reduced vibrations and better protection.
Things to Consider while buying a Mobile Phone Holder For Bike
Universal in nature: It should be universal in nature fitting a wide range of mobile phones. Because you wouldn't want to buy a new mount every time you change your phone.
Waterproof, shock resistant and vibration free: Make sure the material used in the making of the mobile mount for your bike should be waterproof, shockproof, and vibration free, for not only your phone's safety, but for also your own safety and protection.
360 Rotation: A mount with a 360- Degree rotation will allow you to navigate hassle-free with any kinds of obstacles in between you easily adjusting the angles while navigating the GPS on the road.
Charger: There are mobile holders available without a charging feature. But, if you do have a mobile phone holder with a USB charging port, then your device's battery can never run out.
Compact Design: A mount with a compact and sturdy design will mark your device's safety with a firm and tight hold on your device even on bumpy roads and during high-speed riding on the road.