Vehicles and especially motorcycles are a very important aspect of our lives in today's time. They are bridging the gap between locations and people. As per a study conducted in 2018, more than 20 million motorcycles were sold in 2017 and 2018 alone. With so many motorcycles on the road, the need for good bike parts and accessories has also risen. One of the most important parts of a bike is the tyre.
With the state of roads in our country, it is very important to choose sturdy and tough tyres for your bike. Riding on old or worn out tyres is extremely unsafe and you must keep a check on the condition of your tyres and replace them whenever needed.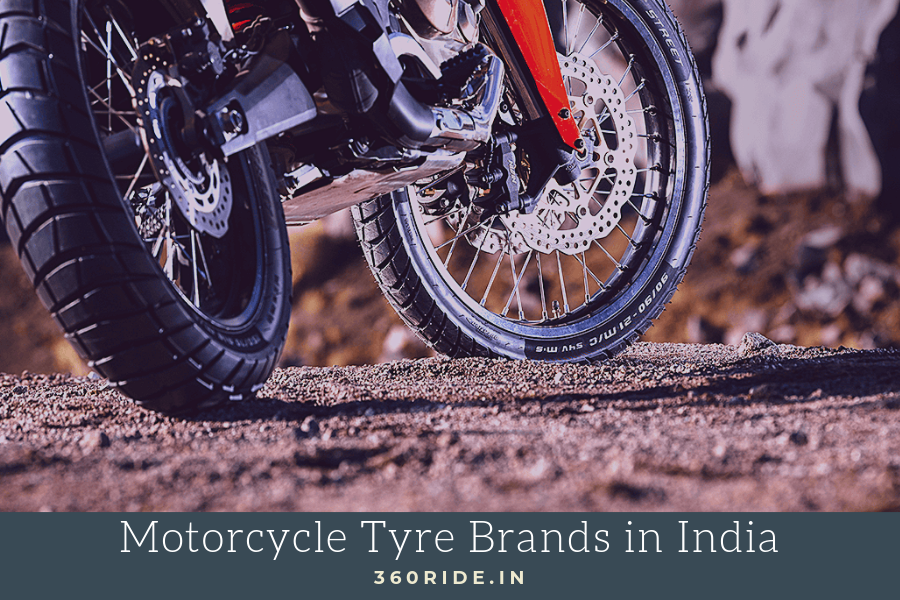 Top 10 Motorcycle Tyre Brands in India
The tyre industry in India is huge today. There are approximately 60 tyre manufacturing companies in the country right now. With so many options to buy from, many of us get intimidated and may not know what to buy. In this article, we have put together ten best motorcycle tyres available in India, so you can make a well-informed purchase.
MRF Tyres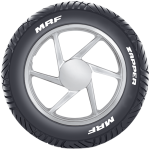 MRF is one of the oldest and most popular tyre brands in the country. Whether you own a bike or not, you must have definitely heard the name of this brand! MRF or Madras Rubber Factory was established in 1946. This multinational company is the largest manufacturer of tyres in India. The company is headquartered in Chennai and has been ranked as India's No 1 tyre brand 12 times in the JD Power Asia Pacific Tyre Satisfaction Study. They make tyres for SUVs, passenger cars as well as motorcycles. In fact, MRF also offers tyres for formula racing in India. The company is known to use hard latex in their tyres that prolong its life in comparison to other brands. The price range of MRF tyres ranges between Rs 950 and Rs 28,000. You can choose a tyre that is appropriate for the size and make of your bike!
CEAT Tyres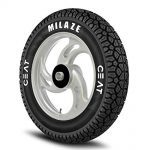 CEAT or Cavi Elettrici e Affini Torino is originally an Italian company. This Italian tyre giant has made a huge presence for themselves in the Indian market. The company was established in 1958 under the flagship of RPG enterprises in India. Today, it is one of the leading tyre manufacturing brands in India, with 95,000 tyres being manufactured every day. CEAT tyres are best for heavyweight bikes. They offer good grip and are anti skid. Their prices range between Rs 1,085 and Rs 8,000.
Balakrishna Industries Ltd.
Balakrishna Industries or BKT tyres is another pioneering brand for motorcycle tyres in India. The company enjoys 6% market share in India currently. In 2013, Balakrishna Industries was ranked as the 41th best tyre manufacturer in the world. The company makes durable tyres equipped with directional grooves and firm on road contact for a safe ride. BKT tyres start at a price range of Rs 950.
Apollo Tyres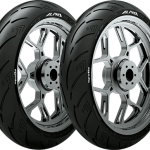 Another popular tyre brand in the country that needs no introduction is Apollo tyres.
Apollo Tyres was established in Gurgaon in 1976 and is the 17th largest tyre producing company in the world. Apollo tyres offer excellent comfort, stability and grip. The 'Apollo Acti' range is specifically designed for motorcycles. Apollo Actizip R3 tyre is one of the most popular two wheeler tyre from this range.  The range comprises of Apollo Actizip F2, Apollo Actisteer F1, Apollo Actizip S2, Apollo Actigrip R2, Apollo Actizip F2, Apollo Actizip S1, Apollo Actigrip S4, Apollo Actizip R3, Apollo Actigrip S3, Apollo Actigrip R1 and Apollo Actizip F3.
Apollo tyres can be purchased within a price range of Rs 1200 and Rs 18,000.
Pirelli Tyres
Pirelli is a tyre company from Milan established in 1872. This is the second Italian tyre company in this segment. Pirelli is the fifth largest tyre producer in the world and has made a very strong presence in more than 160 countries including India. It is known for its high quality tyres.
Pirelli has 19 manufacturing sites in India. Just like MRF, it is one of the tyre manufacturers for Formula One cars in India. The price range for Pirelli Tyres falls between Rs 3, 000 and Rs 20,700.
Metzeler
Metzeler is a German tyre manufacturing company. It was established in 1863 and enjoys a global presence today. Metzeler specializes in motorcycle tyres and offers a wide range of tyres for two wheelers. Their tyres are made with special cross fly construction, and are steel and bias belted, which gives their tyres the ability to adapt to all kinds of riding styles and roads. Metzeler also gives a 30 day returnable guarantee for all there tyres. So if you are not happy with the product, you can go back and return it! Metzeler tyres are comparatively costly and start from a price range of Rs 7,000.
JK Tyres 
JK tyres is an Indian tyre company founded in 1974 in Delhi. The company has manufacturing units in Mysore, Chennai, Kankroli and Banmore. JK tyres is the only company that offers an entire range of 4-wheeler radials for buses, trucks and cars. JK tyres offer higher mileage and lesser slippage. Their Challenger series is especially designed for motorcycles and other two wheelers.
The range of motorcycle tyres are priced between Rs 1,800 and Rs 13,500. 
Bridgestone Tyres
Bridgestone Tyres is a Japanese tyre company established in 1931. The company is based out of Kurume in Japan and is a globally recognized tyre manufacturing company. The company is located in 24 countries and also makes automotive parts along with making radicals. Bridgestone Tyres are made from GP belt for better gripping and reduced ground contact to avoid slipping. In addition to this, Bridgestone tyres use silica as opposed to silica rich in there tyres. This gives Bridgestone higher durability in wet conditions. Bridgestone Tyres start at Rs 2,500.
Michelin Tyres
Michelin tyres is a famous French company that manufactures high quality and high-speed tyres and radicals. Michelin tyres was established in 1889 and is headquartered in France. Since its launch, the company remains a trusted tyre brand across the globe. Michelin is of the leading tyre manufacturing brands in India. They are known to manufacture soft and compound tyres for better grip and control. Michelin offers tyres for every type of biker. From sports biking to endurance riding, cruisers, etc, you can select a Michelin tyre as per the motorcycle you own.
The price range of Michelin tyres ranges between Rs.1, 600- Rs.18, 800.
Goodyear Tyres
The last tyre brand to feature in this segment is Goodyear Tyres. Goodyear is a tyre manufacturing company from the United States of America. It was established in the year 1898. The company is popular all around the world for producing world-class tyres. It also supplies radicals to Formula One cars. Goodyear also manufactures tyres for trucks, SUVs and airplanes. In India, Goodyear has been operating for the last 90 years. The company has two plants in Ballabgarh and Aurangabad. In fact, Goodyear was one of the first brands to introduce tubeless radical tyres in India.
Goodyear tyres start from a price range of Rs 2,000.
Things to consider while buying a tyre for your motorcycle
Even with so many brands and choices available in the market, buying a tyre is a tricky business. You may have the best tyre in the market, but if it doesn't match with your motorcycle or your purpose of riding, then you will not be able to leverage the maximum use of the tyre. Let us discuss some important factors that you should keep in mind while buying a tyre for your motorcycle.
The first and most important thing to consider when buying a tyre for your motorcycle is the size. The size of the tyre that you choose will ultimately affect the mileage of your bike. For example, if you choose a bigger tyre, it may cause more resistance while rolling that will further put stress on the engine and give you a reduced mileage. You must always buy a tyre that is appropriate for the size of your bike. If you are not sure of the right size, you can consult a mechanic. All motorcycles also have a tyre code that is mentioned on the side wall of the tyre. This three-digit code will tell the appropriate size for your motorcycle. Before replacing your tyres, check for the tyre code on your own tyres.
Apart from the size, you must also pay attention to the type of tyre you want. You can choose between tubeless tyres, tube tyres or bias ply tyres.
In addition to this, if you are using your motorcycle for track racing etc, then it is advisable to use a soft compound tyre. Soft compound tyres work best with high-performance motorcycles like the Yamaha R1.  For long distance motorcycle rides, you should consider using hard compound tyres as they offer better resistance with rain, dirt and uneven roads.