If you like going on long or short adventures on a Bike, then this blog is right for you. Because you will need a saddle bag for your long journey to load and carry things on it while making long and tiring journeys.
Saddlebags are pair of bags attached behind the saddle on the horse, bicycle or motorbike. In old times, camels used to carry these saddlebags for long journeys, but as the technology developed their usage and also has been upgraded with it. Today, we will discuss about the meaning, benefits, and review of the best saddlebags available in the market for motorcycles.
Saddlebags are the very significant and essential extension to a bike acting as a storage solution for the riders. Unlike Cars, they don't have trunks to store things but infact motorcycles run short on storage. Then, comes saddlebags to their rescue, as every rider requires space to store his or her important items on their journey such as papers of the bike, necessary tools, flashlights etc. You can store products and items according to your journey, and other preferable things to it. Saddle-bags are easily removable if you decide no longer need them. But that is hardly a possibility because you will be so charmed by stashing and storing stuff that you would not want to remove them at all.
BENEFITS OF INSTALLING A SADDLE BAG ON BIKE
Saddle-bags increase your storage capacity: You can easily take short, and long journeys on your motorcycle after upgrading a it with a saddlebag, which will provide you enough space to carry your traveling needs, and gives you shoulder free of carrying heavy backpacks.
Adds looks and flair to your Motorcycle: A good quality, and smoothly finished saddle bag will make your motorcycle look more elegant, and also provides you with enough space to carry stuff around with you.
Best 6 Saddle Bags in India 2021
Rynox Nomad v2.1 Saddle Bag with Rain Covers
Golden Riders Black Saddlebags Mini48 Double-Side Motorbike Saddlebag (48 Liters)
GODS Triton X Nylon Saddle Bag for Bike, 75 L, Black
Rynox Navigator V3.0 Tank Bag
Trek 'N' Ride 201726 Polyester Saddle Bag (Black)
Royal Erado RGSB-37 Two-Wheeler Hanging Saddlebag for Bikes (Set of 2, Black)
Rynox Nomad v2.1 Saddle Bag with Rain Covers
Rynox Nomad V2.1 is a saddle bag that comes with total capacity of sixty-four Liters (thirty-two Liters on each side), with easily expandable main compartments on both sides. The material used to make the bag is high- grade EVA Laminated Industrial Polyester with PU Coating, making it stronger and durable. The Rynox Nomad v2.1 saddle bag comes with rain covers (for worse weather condition) with quick and effortless access top with the loaded main compartments. It comes with two softly padded shoulder straps for the comfort of the Rider, In case he has to carry it on his back. Rynox Nomad V21, saddle bag offers two-internal pockets for extra space to store essential documents, tool-kits for the emergency cases. And, strong belts to carry heavy luggage such as tents, sleeping bags, tripods, and so on. And, long pockets in the front to keep water bottles for long journeys.
Alongside, a new three-point double D-ring mounting mechanism for quick and hassle-free installation and removal of the bag. It has 3M scotch lite for more & clear visibility and safety with heavy-duty YKK zippers. Alongside with a secure mount using wide and strong Velcro straps, quick release buckle, and waterproof rain-storm cover. And, the overall bag only weighs 2.4 KG.
Other Highlights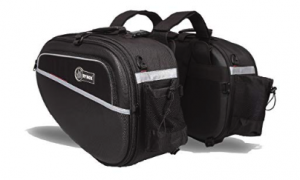 Made of top-grade EVA laminated industrial polyester with PU coating
Outer pocket for quick and easy access
Wide top opening to gulp in a full-face helmet (With specific sizes only)
Includes super-strong PE sheet for stiff bas
Pros
Durable
Easy Installation and removal
Waterproof rain-storm covers
Golden Riders Black Saddlebags Mini48 Double-Side Motorbike Saddlebag (48 Liters)
Golden Rider Mini 48 is very compact as well as lightweight, along with attached double-sided bags. The saddle bag has been fabricated with heavy-duty ballistic fabric especially coated to enhance its longevity and durability. Keeping in mind the long process of mounting a saddle bag, it has been designed with mount well straight, or up-swift pipes on the bikes with multi straps/belts on the back side of each bag to get firm gripping over a bike.
The double-sided bags overall can only accommodate only forty-eight Liters of the storage capacity even after its compact shape and design. The one side compartment of the bag has a laptop cushioned-pocket, a folder pocket, and pet-bottle pockets with a dog hook under-flap to hold and carry essentials. The ballistic-coated nylon fabric used in making of the bag is water repellent and resistance along with an abrasion resistance rubber fabric on the back for the protection against the shockers. They used bright colour inner linings for better and clearer visibility, even during low light.
Furthermore, it also comes with florescent-orange colored highly visible dry covers for bad weather conditions and 3M reflective taping for rider's safety during poor visibility conditions. The Golden rider's black rider saddlebag is considered compatible with most of the cruiser as well sports-bikes. It comes with the warranty cover for 12 months, which is pretty good.
Other Highlights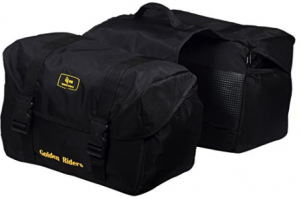 Made of top-grade EVA laminated industrial polyester with PU coating
Outer pocket for quick and easy access
Wide top opening to gulp in a full-face helmet (With specific sizes only)
Includes super-strong PE sheet for stiff bas
Pros
Made with Denier Ballistic Fabric that is very durable for the long term.
Storage capacity 48 Ltr
For better visibility and protection, it comes with 3 backside strap
Waterproof
GODS Triton X Nylon Saddle Bag for Bike, 75 L, Black
The Gods Triton X has been given a patent pending design, which makes it not just a sturdy saddle bag for your motorcycle, but it is convertible into a unified Backpack which you can easily carry after you get down from your bike. Furthermore, it can be easily separated into twin sling bags which you can use for your short outings after you complete your journey successfully. You will not have to worry about carrying other small backpacks and hurt your back carrying them on long journeys when Triton X can do it for you and aid you all the way long.
The material used is highly rugged nylon, with 1000D making it both water repellent and resistance at the same time. It can hold up to a capacity of seventy-five Liters meaning 37.5 Liters on each side. The main compartments of the bag have a place for laptops and tablets. also, zipped pockets bottle holders on each side of the bag and a tools kit for holding tools, utilities, cables etc in an organized way.
The Triton X has been bar-tacked, stitched twice for extra toughness, and given super-smooth zippers for rider's convenience. Moreover, the product also offers military-grade ruggedness. The materials and workmanship for Triton are also Military grades, following the standards used by the Military for its equipment. The abrasion pyramid sheet on the bottom and back of the bag is used to block and resist wear & tear. Also, it has been embedded with unbreakable fiber and rubber sheet. alongside, a quality foam padding is sewn together for extra ruggedness and protection.
For easy mounting of the bag, it comes with nylon straps and buckles for safe attachment to the bike, including special straps for carrying tripods and sleeping bags. And the very helpful capsule shaped rain covers to save your stuff from rainy-stormy weather. The manufacturer gives a complete one-year warranty for the product (which doesn't include wear and tear, ironically). The Triton X is available in two different sizes i.e. 50 Liters and 75 Liters to choose from.
Other Highlights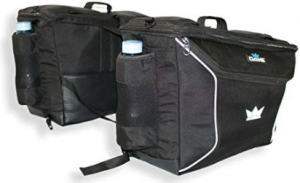 Triton is a 3-in-1. A Saddle bag, a unified backpack, and twin sling bags.
Highly rugged Nylon 1000 D water repellent, water-resistant material.
Abrasion-resistant pyramid sheet on the bottom and back side of the embedded unbreakable fibre sheet, rubber sheet, and quality foam padding is sewn together for protection and resistance.
Tool and Utility kit under the hood and Compartment for laptops and tablets inside the bag.
Patent pending convertible design.
Pros
Convertible design
Huge storage capacity
Military Grade Equipment
 Compact Design
The Rynox Navigator V3.0 Tank bag weighs only 998 Grams and comes with a very compact and light-weight design. To provide easy mounting, the bag comes with three magnets to secure the bag to the metallic tanks of the bike. The capacity of the bag is only 15 Liters, overall with the main compartment which has enough space to keep documents, mobile phones, wallet, a water bottle, and essential things.
Talking about Inside, the bag there is a net pocket for keeping pen holder and loops to store earphones and wires in an organized way. It also provides a different compartment for keeping sunglasses and other fragile things. The straps and the handle of the bag are nicely padded for easy carrying the bag around the shoulders, after reaching your destination. Furthermore, the strip on the top handle and the side markings of the bag acts as good reflective material for poor light-conditions, or night-riding. The Rynox Tank bag has been given rain covers, protecting it against the rain. And, a transparent pocket to keep a map, or your phone to navigate to your final destination.
Other Highlights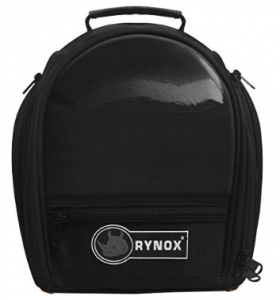 Bag maintains its shape even when empty holds 15 Liters.
Convenient GPS/Mobile phone transparent map pocket.
Includes a shoulder strap, so that you can also use your bag as a sling bag. External side pockets to store wallets.
Compact and easy internal organizer to store headphones, chargers, and essentials.
Magnet hideout construction for ease of use as an everyday sling bag. Includes a 100% waterproof seamless rain cover.
Pros
Transparent map pocket
Waterproof
Organized Pockets.
Cons
Small, not spacious enough.
Trek 'N' Ride 201726 Polyester Saddle Bag (Black)
Track and Tide Saddle bags for motorcycle are considered as a quintessential choice for bike trips. It offers two compact bags, which are big enough to carry and store your stuff providing you with a long comfortable ride. The reflective stripes on the bag ensure visibility during poor night conditions and at night. Additionally, with four external pouches and pockets to hold water bottles, food, and tools etc. Alongside, the safety belts on both sides of the bags with metal hooks to securely clamp them to the motorcycle to ensure it doesn't fall out while riding on the road. The material used in the making of the bag is 1000D pure Polyester, making the bag water resistance. And, it also comes with a rain cover for weather protection.
Other Highlights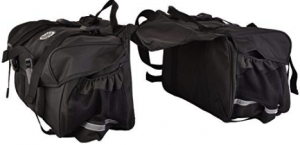 Material: 1000D Polyester, Water resistant material, Additional rain cover. Reflective strips on 4 places for high night-time visibility
Main compartments and 4 external pouches for water bottles/tools/spares. 2 straps on both the sides to tie the bag to the foot peg. Rain cover for complete waterproofing solution.
Dimensions (each side): Length 38cm, Height 25 cm, width: 20cm, Weight: 1600gm
If needed bungee cords need to be used to ensure the bag stays free.
Pros
External Pouches, along with the main compartment.
Water Resistance.
Cons
Not Waterproof (but comes with rain cover).
Royal Erado RGSB-37 Two-Wheeler Hanging Saddlebag for Bikes (Set of 2, Black)
The Royal Erado RGSB-37 saddlebag is a very simple and light-weight bag weighing about only 499 Grams. The saddle bags are compatible for all kinds of bikes which can hold and carry stuff up to around twenty Liters only (Around 10-12 Liters each bag). The bag is made up of leatherette material, meaning not of pure leather, but other fibres combined along with it. The two-saddle bags of Royal Erado RGSB-37 cannot be separated as they are connected to each other. The manufacturer doesn't give information about inside pockets and studs of the back. Also, the bag doesn't have reflective bands for night visibility and is not water resistant. It is a simple saddle bag which can contain tons of products of yours, and is good at this price with quality and features it offers.
Other Highlights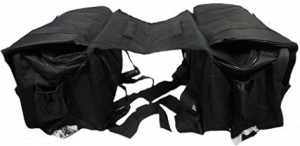 Vehicle Compatibility: All Bikes
Style your ride bag
Carry your essentials
Easy to install
Good quality
Leatherette material
Pros
Cheap Price
Easy installation
Cons
Doesn't come with night Visibility.
No Rain covers.
Not Water Resistance.
Types of Saddle Bags
There are types of saddle bags available in the market, for you to choose from.
Hard Mount Saddlebags
Throw-Over Saddle Bags
Plastic Saddle Bags
Leather Saddle Bags
Studs, or pockets saddlebags
HARD-MOUNT SADDLEBAGS
The hard saddlebags are available in the market which is designed for some extra storage on your motorcycle. The hard saddlebags are different from other kinds of saddlebags available in the market. Hard saddlebags are attached and screwed with bolts to your motorcycle, without you being worried about them dropping off easily while riding on the road. Hard-Mount saddle bags are more durable than other saddle bags and are known for its usage to carry heavy luggage.
THROW-OVER SADDLEBAGS
Throw-over saddlebags were designed even before hard-mount saddle bags. But unlike hard-mount saddlebags, these are not very durable. Furthermore, these types of saddlebags are very easy to move, and portable in nature.
LEATHER SADDLE BAGS
Another material used in the making of saddle bags is leather. It is considered and strongly believed that leather saddle bags are very advantageous and efficient in use. Leather saddles have been highly versatile, and smooth with quick productiveness. Along with being versatile, they are also light in weight, as compared many other types of saddle bags available in the market. Moreover, a good quality leather is waterproof, and dust resistance. But, if it gets a stain, it needs to be attended immediately and requires regular basis maintenance. Leather saddle bags can be very durable if only they are properly taken care of, and maintained properly every now and then.
PLASTIC SADDLEBAGS
Another type of saddle-bags is plastic saddle-bags, which are very heavy. They are less versatile than the leather bags but in the case of perseverance and stability, they are more advantageous. In comparison with leather bags which are quite light, these can be heavy. In addition, they are more waterproof than the leather and are stain resistant, saving you a lot of energy in cleaning and maintenance time, whereas leather bags would need time for maintenance. Overall, plastic saddlebags have a long-lasting life, doesn't need much maintenance, and can be easily cleaned up.  If you give priority to sturdiness and needless time-consuming saddlebags then plastic saddle bags are your best option.
STUDS, AND POCKETS
Along with deciding the what type of saddle bag is the right option for your motorcycle. You also want to look for bags which have studs and pockets on it, (after analyzing their sizes, and use for you) making it more spacious to hold and carry things. With easy and quick access to things. Nevertheless, these are just for exterior decoration and style which would make your saddle bags look great.
Things to Consider while buying a Saddlebag for your bike
Right Size of the Saddle Bag
The first thing you should keep in mind while buying a saddle bag for your motorcycle is the size of the saddle bag you want to buy. which will be determined by your needs, whether do you need a large, medium, or small saddle bag. There is no point buying a bag which will not be able to suffice your needs and preferences.
Safety and Security of the Rider's Luggage
Secondly, you should also look if the saddle bag is safe and secure enough to hold and carry your luggage without falling out on the road. Keep into consideration while buying a bag it has a very secure mount and can be locked properly. The lock feature will give a peace of mind while you're away from your bike.
Easy Installation
Thirdly, the saddle bag should have easy installation and removal function which will make it more portable and easily movable. For example, you want to remove the saddle bag or suppose install it on your other motorcycle, this function will make it easy and less time-consuming.
Should Have Reflective Features
Fourthly, the saddle bags should have bright colours or reflective bands on them to increase their visibility at night or under poor light conditions.
Easy Access
The fifth point, you should check whether the saddle bag provides easy accessibility or not.  Meaning giving you a quick and easy buckle opening and closing without any kind of complexities which are time-consuming.
Quality of Saddlebag
The most important thing to consider is the quality of the saddle bag because you would want to buy a strong and durable bag. It will be holding and carrying tons of weight for you. Investing in a good quality bag would be a wise decision. Also, the bag should be water resistance and repellent against the bad weather.
Color Combination
Also, along with the quality of the bag, you should choose the colour of the saddle bag. combining or contrasting colours with your bike and to give a greater look according to your own preferences.
Design & Look
No doubt a properly designed bag will look good as well as stylish on your motorcycle. But this is an option only, when you're able to find a bag with all of the above-mentioned factors. Because, safety & quality is more important than the style of the saddle bag
Budget
Investing in a pricey but a good quality saddle bag is a long-term investment. After spending once on it you don't have to worry for a few years about it and use the bag efficiently. But, analyze before buying the product, read reviews about it, as many manufacturers just offer features to lure into buying their products.
Warrenty of the Product
A good quality product on which you will be spending a huge amount of money, Should at least give some kind of warranty. A good deal with warranty will allow you to use the product and see for yourself the features of the bag.