Once you start your cycling journey, you often go visiting places, having an adventure or fun of your life, and while you are at it, you face the problem of deflating tires. You might get lucky in finding a shop nearby. However, more often than not, chances are you won't find one in time and feel stuck in between nowhere. Moreover, you cannot overlook this problem because it will reduce the bike performance. So, one of the important investments in cycling is air pumps. Just like buying helmet and knee cap is necessary for safe cycling, air pumps are must-haves.
One of the things that will constantly demand your attention is wheels. Prerequisite for going on an adventure trip are tools like air pumps for keeping your cycle in perfect shape. Tire puncture can spoil the ride and your mood. You will feel putting more force while pedaling. Even uphill will become a daunting task. A bicycle pump is an essential tool for proper maintenance.  You will need an air pump every two weeks of cycling.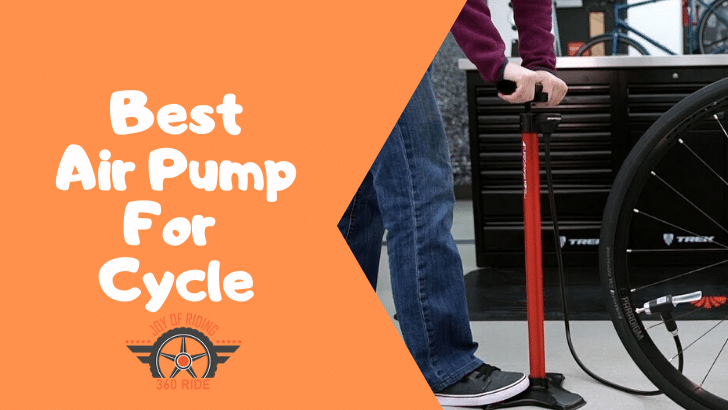 Know that tires get deflated even when they are not in use. Due to temperature difference, air seeps out from the tube. This, in turn, could also take a toll on the tires of the bike. A quality and effective air pump guarantees your safety. These are light-weighted tools that can come in handy anytime and do not take much of your space.
Best Cycle Air Pump in India
TOPEAK MINI MORPH BIKE PUMP
Best for traveling, this mini pump gives you a high-pressure air filling. Weighing about 1kg, the handle provides support to all types of valves. A good pump is necessary for a good ride. This pump offers a long performance, which makes it suitable to carry. It can be attached to the bike with a velcro strap.
SHIRIH FOOT PUMP
With a sturdy iron base and capacity to keep the weight balance of about 1 kg, you are advised not to overlook this pump. The aluminum made tube has Presta and Schrader valve for comfortable use. You do not need to change the valve as the smart fit provided in one tube can be used accordingly. The gauge indicates the accuracy of the air needed in the tire and accounts for high-pressure inflation.  It can also inflate sports balls through a needle provided in the kit. The maximum pressure that can be brought out is 160PSI/ 14bar. Since you are using it via foot, an anti-slip pad is given for a comfortable push.
VIBRELLI MINI PUMP
Deciding on an air pump is a tough choice, given its numerous models in the market. If you don't want to go into its type and technicalities, then choose for universal use.
If you want an air pump for a tour, then this is the one for you. This high-performance pump automatically connects to the valve and hence is made fit to work on both Presta and Schrader types. The super-fit valve is leak-proof and pumps at a high pressure of 120PSI. It has a strong aluminum alloy barrel that will not break. Not only this air pump is handy to keep but also easy to use. Its dual telescope feature can be twisted in either way for low-high air pressure. The pump is lightweight and sturdy as it is made from 6061 Aluminum Alloy. The same material used in making stuff for airplanes. It comes with a toolkit that contains a velcro fastener and can be attached to a bike for easy carrying. Also, a needle to inflate toys like a sports ball.
PROBIKE MINI PUMP
Are you searching for a pocket-size pump? Now, you have got your perfect air pump. Stylish and handy, this is not only a lightweight pump but also a dual valve one. You also need not compromise on performance as this is suitable for both Presta and Schrader valve. Best for hybrid and mountain bikes, you will have a trouble-free ride with this pump. The black color gives it a premium look. It might become tiring to use it with hands but will save space in carrying for an adventurous ride. It has dirt plugs to keep it safe from any dust. The velcro strap can be used to stick the pump on the cycle. It is 8.875 inches long.
KREVIA FOOT PUMP
This pump by KREVIA inflates the tire accurately, smoothly, and fast.
The iron made frame provides a strong base to pump. Also, aluminum made piston make it lighter and easy to carry around. Pistons come in a pair size of 4.2cm x 12 cm. This high-pressure air pump inflates faster than other pumps there are and can deliver up to 200psi or 14bar of air. As this is foot type, anti-slip padding is given for safety. It has an analog pressure gauge for an accurate reading. Not only it is fast in pumping, but it is also a multipurpose one. The smart valve head is suitable for Presta, Schrader valves. It is perfect for Bicycles, Motorcycles, Cars, and Electro Mobiles tires. The body of the pump has a nice look with a yellow color. The sturdy iron base overall gives it a premium look.
BTWIN PUMP
Getting a mini pump with a pressure gauge is the best thing to have. You will surely be satisfied with this mini inflater. Be it weight, valve type, frame, and compatibility this air pump is the best in the market. This stick-like pump is designed to give maximum pressure of 116PSI/ 8 bar. This best-reviewed product has an automatic lock feature as a safe and good for long performance to its credit. It can reduce its size for carrying. For precision air inflation, it has a pressure gauge to refer to. This will save time and provide for optimum supply. Weighing about 147g, this one is easy to carry around. Suitable for all types of valves, you need not worry about the type of your tire in the middle of the journey. Just enjoy the ride carrying this.
HERO
Coming from the largest manufacturers of bicycles in India, the air pump is as trustworthy as the brand. It has a gauge type floor pump. This pump is suitable for different types of bikes, even mountain bikes. For a trouble-free ride, this air pump comes with both Schrader and Presta valve. Product id is HSAPUM00BK004.
The size of the pump is 32×580 mm with 2-tone plastic handle high-pressure durable hose. The head of the air pump fits Schrader, Presta. Gauge diameter is 60mm, and the steel base has an anti-slip foot pad that provides ease of using it.
Since your new bike will come with deflated tires, you will need to purchase an air pump sooner.
These are some of the best products available. This is because the above list will get rid of the valve problem due to its universal use. However, you need to realize the pressure required in the tire. Like thinner tires requires higher pressure. Also, which type is suitable for your use is important to keep in mind before buying. For example, a mini pump for traveling, foot pump for non-tiring use, gauge for accuracy of air pressure, etc. There are some other types which are not mentioned in the article like carbon cartridges and electrical one, as these are costly. So invest accordingly and choose wisely!
Written By – Surbhi Mishra