Knowing the essentials of keeping a cycle in the best condition is important for all cyclists. And if you are using it daily, you can not overlook the maintenance side. While you must be knowing the important parts which need much attention like drive train, gears, tires, etc. Another equally important thing is about knowing the right tool or material to be used in safeguarding the cycle. The dirt and grease on-chain and mud on tires are troublesome to clean. Be it your regular single speed cycle or a MTB or geared one, dust doesn't discriminate.
Everyone recognizes the fact that cycles can be easily maintained. But the role of service providers for typical work like repairing a flat tire can not go unnoticed. Having said that, you also don't get flat tires often. It is henceforth, advised to do the needful to keep your cycle in the best condition possible. Such self-maintenance helps in understanding when it is most needed to visit the mechanic. Also, because in the cycle most of the parts are exposed it becomes necessary to look after its part comprehensively.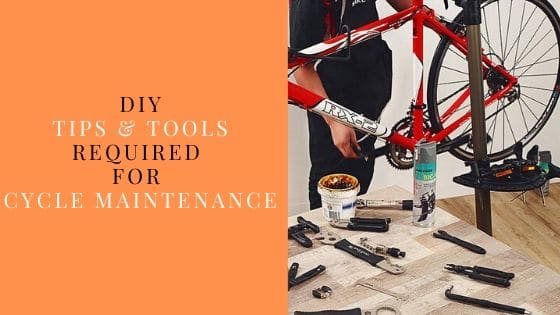 It is emphasized here in the article why you should not be lenient with the basics of cleaning. Because while cleanliness may come to us as second nature, knowing the important part is a matter of education. Like the fact that we should, degrease the parts and then only should apply lubricant is not known to many. Hence, at 360ride, we simplify the need for such cycle enthusiasts.  We have culminated in the article, tools required for the easy maintenance of your cycle.
Essential Tools Required For Cycle Maintenance
Degreaser
One of the persistent dirt that settles on the chain is grease. Grease is a sticky black material difficult to remove. I can relate how frustrating it can be to clean, each section of the chain with a brush, it takes a hell lot of time. Since the grease stuck in the chain and gear parts increases the weight of the cycle, it becomes mandatory to clean at some point in time. Furthermore, it also hampers the performance of the bike. A good degreaser like WD-40 is much needed. Well, you might have heard of this name, but it comes in different types and purposes. The link below for the product is advised, for fast penetration in cycle parts for better performance. It has a foamy effect for smooth cleaning.
The use of a degreaser is the first step in the cleaning process. Now with the help of the YOTINO bike chain cleaner, it becomes easy to clean the parts without getting your hands dirty. This tool kit not only comes with four different types of brushes to clean different parts like gear and pedals but also specifically made chain cleaner. The task of cleaning the drivetrain becomes easy with this. Because the kit provides a spot to fill oil for cleaning specific areas.
Check price on AMAZON for kit and  degreaser.
Lubricant
While keeping your cycle functional, the most important thing is to use a lubricant. Remember to degrease it first and then apply the lube, as there is no point using it on the dirty chains and gears. Keep the cycle on the stand and target for each link possible. Also, to ensure it reaches in every part, move the pedals and change gears and apply accordingly. You can use either wet or dry lube it doesn't make much of a difference. The wet lube does come out running, but the excess can be easily wiped with a cloth. It is generally advised to use it once a month.
Keeping the chain lubricated is important too, to avoid the squeaking sound and smooth ride. After removing the dirt and degreasing, wipe the excess water with the cloth and let the cycle dry. There are numerous products available as lube but it is necessary to use cycle-specific. As most of its parts are exposed to dust and rays which leads to rusting. The mentioned product, by NANOPROTECH, looks after each part from seat post to derailleur, chain and rope switching. This high-performance lubricant is reliable to use. It completely displaces the moisture, which helps in preventing corrosion.
Check price on AMAZON
Air pumps
One of the good things about cycle maintenance is that its needs are easily identifiable that is to mention, the parts are visible. One such part that needed attention is wheels. A well-inflated tire is necessary for a smooth ride. It's natural to get the tires deflated after use. Also when you keep cycling unused for quite a while the temperature difference will seep out the air out of wheels. Thus, keeping an air pump is necessary for timely attention and maintenance. While these come in variants, with or without gauge and other essential features. You should buy as per the need for durability and pump pressure etc. Air pumps are must have maintenance tools. You can save time going to a mechanic shop and other emergency needs.
For a long and sturdy wheel, you should check for tires and inflate accordingly. With a deflated tire, you will have to put more force, and it will put more strain on leg muscles. There is a good list of air pumps to choose from. Click here to visit the page for a detailed list.
Tighten bolts
Remember the time when you first buy the cycle and its parts needed assembly. Like the pedals, saddle, handlebars, etc. These with due time gets loose and hence needs to be tightened. The need arises when you listen to rattling sound due to loose bolts. These are not only essential for the bolts holding gears and pedals but also for additional things added to bikes like mud gears and bottle holders in some cases. You do not want to feel embarrassed sliding the sound while riding with friends. Keeping a tab on these basic things will save you from injury. Also, the loose bolts have an effect on gear change in utilizing its full potential. It not only harms the cycle but will put you on risk too.
The fact that after every 6 months, one should retighten the nuts and bolts is not known to many. Hence, it is important to keep a safety kit that is easy to carry. Such is the WOTOW bicycle multifunction 16 in 1 toolkit. It comes with tools like a wrench, screwdriver, socket extension to be used in different parts. With this tool, you need to test and tighten the tightness of moving and connecting parts for a safer ride.
Check price on AMAZON
Bike stand
Much of the wear and tear of cycle parts are from the exposure to the outside environment like dirt, sunlight, rain, etc. Things you treasure be kept properly. Precautionary measures like keeping the bikes in shaded places help in avoiding the sun's rays. There is a way to keep things in good condition as naturally as possible. The rust occurs when steel gets oxidized. So, rather than using anti-rust products like sprays later, it is advisable to keep the cycle safe from such exposure as much as possible.
Keeping things in order is another form of maintenance. This can be achieved with the right kind of bike stand, which can not only save space but from the exposure of dust too. This Wall Mount stand is a must-have to keep your cycle safe and wall stylish. This bicycle stand can be used either way horizontally or vertically to save space. It is easy to install. The stand can keep only one wheel but balances the whole cycle. There is no heavy lifting required. It is compatible with any type of bike, be it geared or gearless. Having the maximum weight lifting limit of 35kg vertically, the rack is durable. This type of stand helps in preventing theft as one can use the chain to bind it.
Check price on AMAZON
This is a DIY maintenance tip to keep your favorite cycle clean. Undermining these will hamper the longevity of bike and performance. One should keep in mind that you cannot avoid long the necessity for these at some point in time. The possible effects of not cleaning a bike will result in breaking of chain, more force needed in pedaling, wearing off of paint, etc. Timely attention on these fronts will save you time and money. Like for example if you pay attention you will have to visit the mechanic for serious problems like that of changing a tire.
The importance of maintenance can not be emphasized more. It's a once in a month thing. But if you are a clean freak, there is no such rule to cleanliness. While everything has an expiry date but if we can increase its date, we should do it. Cycling is a fun and enriching experience. It keeps one disciplined, looks after health needs and keeps away from heart disease. Henceforth keep your cycle neat, and the cycle will keep you fit!
Written By – Surbhi Mishra