Are you a newbie to the world of cycling and finding it hard to establish the difference between its terminology or stuck between gear and gearless cycle? Well, you have arrived at the right place. Here we will discuss in detail not just the difference but which one is best as per your needs and goals so that you can make an informed decision in investing.
Choosing the right bicycle from numerous options is itself a daunting task. Terms like cogs, derailleurs, shifters are tough to figure out. Although information dissemination is made easy by globalization, however, too much information means no information. Nevertheless, here we help you figure out the difference.
To put it simply, a geared cycle has multiple gears. Gears that give speed and power to the bike while gearless cycle has only one gear.
Cycling as a hobby sure is trending. And why shouldn't it be? From keeping you active, it mitigates the risk of heart diseases. Being an environmental activist it serves as the best alternative means of transport, going green, shifting from fuels, etc. or simply put you are one of those who have realized early the benefits of cycling and want to upgrade to gear one to develop an understanding that different types of bikes offer different features? Depending on your needs, we can identify the one for you. Knowing your bike is also essential if it needs any maintenance in some parts.
Rest assured, at 360ride, we help you sort out the difference between the two. Giving you expertise clarity on which one to buy from is our motto.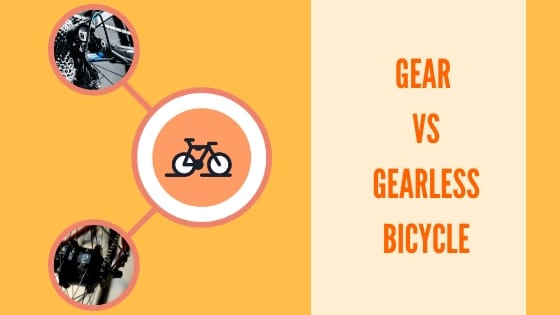 Non-Geared Bicycle
These are the traditional type cycles, we commonly see on Indian roads.it has only one gear. And thus rightly referred to as a single gear cycle. They come in two variants.
Free Wheel Cycle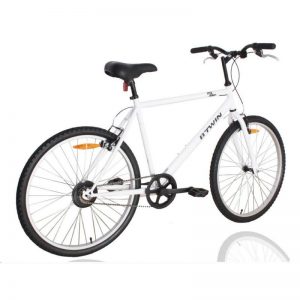 The word free means functioning independently without being dependent on others for anything. Here wheel is free from the movement of the cog. As the cog is attached to the rear wheel through a set of bearing tools, it will move independently of the cog. So when you pedal, the cog will put forward the wheel in the same direction. But when you stop pedaling, the wheel will not stop, and you keep moving forward. Thus you will need to use brakes to slow down. To control your cadence, both rear and front brakes are present.
You get to coast/ move freely without the need to pedal constantly as the bicycle has a free rear cassette. These bikes make the downhill ride easier as you do not have to pedal. The wheel spin freely, unfixed of the pedal.
Fixed Wheel Cycle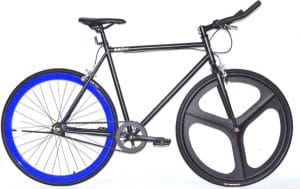 In contrast, fixed wheel cycles have rear cassette fixed by a lockring. This allows the movement of wheels dependent on how fast or slow you pedal. In these wheels and cog are dependent on each other. As you pedal forward, the wheel moves forward and vice versa. Thus you can even go backward (from a standstill position). These bikes show off the user's control and talent. It lets you do tricks while moving backward and forward on your control. These bikes are essentially an extension of the person riding it.
These type of bikes has no coasting. One can easily maintain good speed control with cadence. The bikes offer a great connection with nature too. As you go for a city ride, you can stop smoothly for sightseeing. Also, in traffic jams, you don't have to bother about changing gear or speed control.
Geared Bicycle
These are relatively modern cycle with innovative cogs to cover long distances in less time. Gear bicycle is a substantial choice for a smart and updated lifestyle. The premise is that you can change between gears on how fast and slow you want to go. Another feature of these bikes is shifters that allow shifting between gears. Speed is thus decided by changing gear while pedaling, whereas in a single gear cycle, it depends only on how fast you pedal. Also, on riding different terrain roads, these are quite helpful. Like going downhill, use a high gear and for uphill use a low gear. Medium gear is suitable for city rides that are for flat roads. Thus, shifting between gear allows for a good cadence without using much force.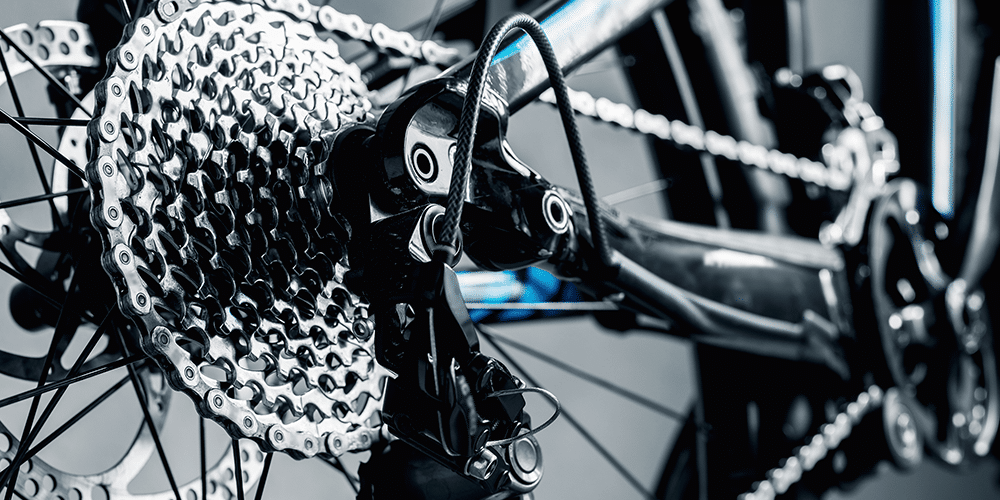 These cycles have two gear systems, crankset, and cogs, at the front and rear respectively. Their numbers vary from 2-36. How to interpret the gear numbers? The first gear is low, and with subsequent increase in numbers signify higher gears. The combination 2×12=24 gear means two crankset gear in the front and 12 cogs in the rear, which equals 24 gears in total. These gear systems are changed via shifters provided on handlebars. This shifter changes the chain in different sizes of cogs. So you shift the chain from one cog to another. Shift down refers to low gear while shift up means high gear. The shifters are there on both sides of the handlebar. The right shifter changes the cog or rear wheel. The left shifter is used for cranksets that are near to pedals. Smaller the cog more the speed will. It will put less pressure on your leg muscles for downhill rides. Larger cog means a lower gear ratio to make acceleration and uphill smoother.
Deferences Between Geared and Gearless Bicycle
Now, that we have understood the concept, let's move to its difference:
Gear system: Gears are speed mechanisms, so both cycles have gear present in it. But gearless has only one gear while geared cycle has multiple combinations of gears ranging from 2-36.
Usage: Gearless cycles are relatively easy to use, while in the gear cycle, you need to learn high and low gear to ride in different terrain, and that needs to be changed accordingly.
Distance: Gearless are for commuting in cities or to a workplace that is, for covering a short distance while geared cycles we know are essentially the speed to cover long distances. Since you will be using only one gear, you are likely to get tired in less time, whereas geared cycle provides good cadence.
Maintenance: Every product depreciates, and cycles have components that rust or wear off after using for a long time. Hence maintenance is necessary for both types of cycles. However, gearless requires little maintenance, and thus it is a costless affair. On the other hand, geared cycles have high maintenance costs that can incur from changing cogs.
Terrain: Although gearless cycle can be used for bumpy and rough roads present in city but geared one is great for riding in rough terrain. Different gears present in this type of cycle are for different drivetrains.
Price: Differences in the cost of these bikes are quite evident. As gearless cost less, while geared are infused with features, thus are comparatively pricey.
Comfort: In the gearless cycle, you move forward by pedaling only, thus more pressure is put on leg muscles, whereas comfort level in geared cycles is balanced out by gear systems.
Features: Gearless are simple bike with pedals to move because it puts a strain on leg muscles and in a way strengthen them, thus favorable for exercises whereas, geared cycles come with two types of the gear system, and derailleur, which works by lifting the chain from one cog to another of different sizes.
Which One to Buy?
Everyone wants to buy the latest cycle while their preferences vary. So let's go through your possible situations.
If you are a beginner and have just developed a liking to cycling, the gearless cycle is the one for you. It gives you an edge on commuting in the city and avoiding fuel hike. Whereas if you want to change your lifestyle while creating a statement, gear bike is the one for you.
If you are planning an adventure, you may encounter hilly terrain, rough surfaces. For comfort and cadence, opt for geared cycles. However, if this is in your bucket list and you are not confident yet riding it on main roads, following rules, and feeling low on experience required on the journey, try learning basics through gearless one. This is a pocket-friendly choice too.
If you are in love with speed, geared cycles can fulfill your desire for a thrilling experience, whereas gearless is compatible with a safe morning exercise routine.
I hope you connected with the content and got some clarity. Welcome to the cycling community. Great ride ahead!
Written By – Surbhi Mishra