Royal Enfield is a very popular bike. For many of us, it is or has been a dream bike. However, the vibrations in Royal Enfield can be a put off for many people. Not only are they a put off but they can actually cause major discomfort while riding.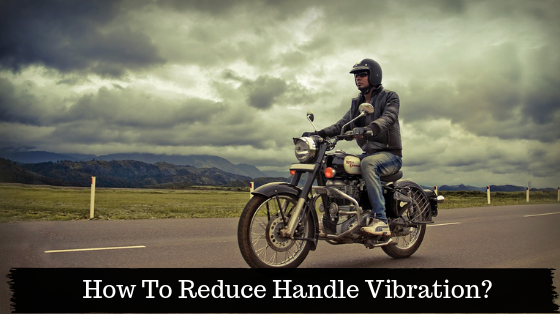 Why Does Royal Enfield Vibrate?
Many believe that if you are not riding your Royal Enfield at its optimum speed, you will experience some vibration from the handle of your bike. The engine of the Royal Enfield is very powerful however, the handles are not as heavy. This is what causes your bike handle to vibrate as they are not able to take the power. Most people experience the vibrations post hitting a speed of 80.
How can you solve this problem?
Here are some suggestions or tips that you can try to minimize the vibrations. Some of these are easy Do It Yourself ideas that are easy to follow and will hardly cost you anything.
The most obvious solution to a problem with a vibrating handle is to replace the handle. Simply changing the handle and replacing it with something heavier can reduce the vibrations and bring in more comfort for you. The good thing about Royal Enfield is that spear parts and modifications are easily available in the market and you can modify your bike as and when you want.
Putting washers for the mirrors can also reduce the vibrations. Sometimes the vibrations are also caused due to unstable or loose mirrors. Adding washers to your mirrors will make them heavier and sturdier and reduce the vibrations.
If you do not wish to go for these options, another easier solution to this problem is to add some additional weight to the handlebar yourself. You can attach some metal bars to the handle or even fill them up with some sand.
Wearing gloves while riding can be more comfortable and you might not feel the vibrations.
It is important to understand your bike and its engine. When you start your bike, let your engine gear up for a while. Increase your speed slowly and exceed 60kmph only after a minimum of 15 mins.
Maintain the front tyre pressure at 22 and the rear tyre pressure at 32.
Be regular with your bike's servicing. Regular servicing and maintenance are very important for your bike to run optimally.
Apart from these fixes, there also many companies in the market which are selling vibration reduction plates that you can purchase and attach to your bike.
We hope these tips help you solve your problem. Royal Enfield is a great bike and these simple tips can help you get rid of such problems.