A motorcycle is a long term investment. Once bought, most people use it for many many years. This means that you have to ready for some wear and tear of your beloved motorcycle along the way. While regular maintenance and servicing of your bike, can prove to be extremely beneficial in the long run, there are some abnormalities that you may face with your bike from time to time that can be treated by yourself.
One such thing is rust. Many people suffer with the problem of finding rust on their bike parts. Rust is like cancer to a machine. We have put together some ways in which you can overcome this problem and bring back the shine, keeping your bike good as new.
Important Things to Consider Before Trying These Tips
If you are restoring a vintage motorcycle then we would suggest not using these tips and consulting a proper garage with expertise in restoring bikes.
Refrain from using these Do It Yourself tips if your bike is suffering from extensive rusting and requires a heavy dose of restoration, as you may have to replace the rusted parts in such cases altogether.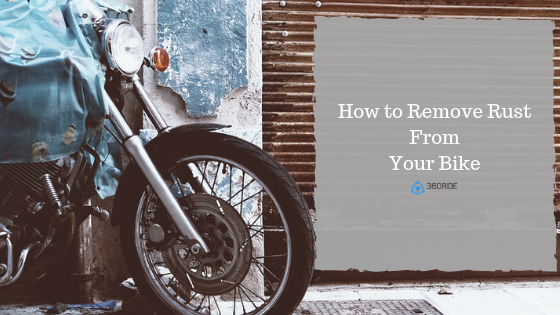 How to Remove Rust From Your Bike
Start cleaning your bike's part affected with rust with a motorcycle shampoo. Mix the motorcycle shampoo with water and wash your bike. This will remove the dirt from the surface.
Use a soft cloth or cleaning rug to wipe it dry and clean after washing.
Now use a steel wool to graze the rust from the surface where rust has accumulated.
Wait for the stubborn rust to fall off. You will still be left with some rust on the surface that you can now remove with a simple material like a scotch bright washing sponge or a sandpaper. Don't rub the surface too hard or forcefully a this may cause the paint to come off.
If you still see some rust, use some chrome polish. Chrome polish also helps in eliminating scratches on the surface.
After you have cleaned the surface and used the chrome polish, apply a coat of wax over the surface. The wax will also stop the rust from spoiling your bike again.
Another useful Do It Yourself way to remove rust is to use an aluminum foil. You can dip the shiny side of an aluminum foil in Coke or a similar soda drink and rub it on the surface with rust. This technique helps with minor rust patches.
These days there are many liquid rust removers available in the market. These rust removers are specially designed to remove rust from your bike's surface and very effective. It is also very simple to use them. You just need to affected area with the rust remover solution and rub in with a cloth. These solutions leave no residue behind and defer rust from reproducing again. They are easy to use, do not cost a lot and are readily available in the market.
We hope these tips are helpful to you in restoring your bike to its former glory.
Always remember that regular cleaning and servicing of your bike can help from rust from developing further. So make sure to clean your bike in regular intervals for a hassle-free bike always!