Of course, bike your treasured possession. It takes years of hard work, and passion to buy one. For many of the people out there especially of the younger generation, purchasing a bike on their own is one of the most treasured dreams. The dream begins at the stage of early childhood and fascination to know about them which grows on with age including the introduction of latest models, upgrades, and stats. It carries on until you reach at the point of buying one. First bike is special, overwhelming, and a dream come true. You flaunt it to your friends, take care of it like your own baby but every vehicle requires maintenance from time to time. Whether it is about getting the servicing done or overcoming tiny faults including scratches, you need to care for your vehicle to get the service done.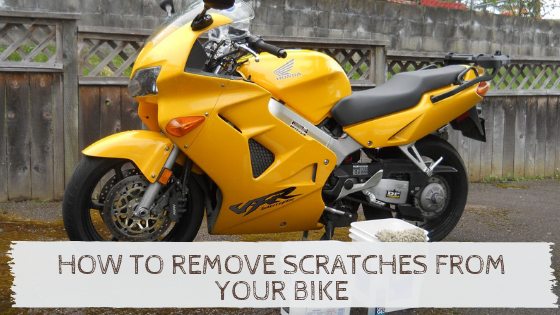 Scratches are common, isn't it?
You can observe them very frequently especially on Fuel Tank or on any of the metallic parts. The funniest thing about these scratches is that you never know where you get them from. You might discover them on your vehicle and keep on pondering over reasons without actually finding one. Scratches might not be a huge problem to address but it definitely ruins the entire look of your bike. Imagine purchasing a brand new bike and discovering a scratch on the Fuel Tank part. It will eventually look old. Thus, maintenance is the only key to get rid of such little issues related with your vehicle. Secondly, you cannot run to the garage or service centre for a regular scratch. It may take a toll on your budget as well as time. So, the best thing is to avoid them by taking simple measures and remove them from your vehicle by means of some easy DIY methods. Most of the times the solutions are right in front of our eyes at our home all we have to do is make use of them.
Now, before getting in to the solution, let us first of all discuss in brief about the problem itself; the scratch. If you might have noticed then scratches are also of three types,
Colour Coat Scratches
These can also be called the superficial scratches and are the easiest to remove. As the name suggests, this type of scratch only affects the outermost colour coat of the vehicle. It is not deeper and can be addressed quite easily.
Primer Coat Scratches
A primer coat is a second layer just beneath the colour coat. It is applied to level out the unevenness of the bike as well as protect the third coat from UV radiations. So, this type of cut is a level deeper than the former one because it goes to the paint itself. Now since, the scratch has affected the paint layer, you cannot easily remove it and so the best option is to repaint the bike.
Paint Scratches
It is the paint which gives colour to your bike. You might have noticed a silver coloured scratch on your vehicle. Well, it is nothing but a paint scratch. This type of scratch goes deeper than the primer one and actually removes the paint and primer completely from the vehicle rendering the inner metal exposed. This is certainly the worst type of scratch and it can ruin or corrode the metal if not checked earliest.
How to Remove Scratches From Your Bike
So, you are acquainted with the scratches. Now, let us know how to remove them:
Candle Wax
You might not be aware of it but a candle wax can fix a lot of things at your place including your bike scratch. However, it can only be used for the superficial scratches, that is, the colour coat scratch.
What you have to do is clean the bruised surface of your bike thoroughly, let it dry in the sun, and then rub a light coat of candle wax on the area. This candle coat will easily cover and seal the area. Let us make it quite clear here that this is still not the permanent solution to your scratch but a temporary one. You can try it to conceal the area for a time being while you think of the permanent solution. This hack can definitely save you from urgent needs.
Urethane Auto Paint
A urethane paint is basically a mixture of pigments and polyurethanes. It is quite durable than the regular acrylic paint as well as it imparts a glossiness to the surface. If you can get your hands on one then getting rid of scratches is a child's play. Follow the drill and make sure the surface is clean and dried before spraying the paint to the area.
The only thing you have to ensure is to match the colour of your bike with the paint. It can at times be difficult to find the exact palette. Also, it can sometimes be expensive. So, you can try the alternative and touch-up your bike with the regular car paint. You can visit an auto dealer in your area, find the colour matching your bike and get rid of the scratch easily.
Nail Polish
Who would have thought that a cosmetic item from your place can help you with technical problems? The good news is, YES, it can. Nail polish is not just meant for your fingernails but it also offers another horizon. It can save your day from ugly bike to a brand new one. It is cheap as well as a go-to solution to your problem. Unlike urethane auto paint, you are at high chances of finding the exact palette of your bike in the nail polish section (Surprisingly, YES). It is easy and more permanent than a candle wax.
Once you get your hands on the shade of nail polish, clean and dry the area and apply the coat evenly. You will need 2-3 coats spread evenly on the scratch to make it invisible.
Toothpaste
Surely, you might have heard about multifarious uses of toothpaste but you have no clue that it can help you with bike scratch too. A toothpaste formula consists of abrasive materials that can easily clean the surface as well as remove minor scratches from your bike. It is just like a sophisticated sanding tool.
You can get best results if you try the hack with teeth whitening formula. First of all, clean and dry the surface, take an ample amount of toothpaste on a clean paper towel and buff the area. Take another paper towel to wipe off the toothpaste and see the results. You will notice a slight change in the area. Repeat the process until the scuff is entirely erased.
Shoe Polish and Sand Paper
A weird combination, right? But it is surely an effective one. Use the shoe polish on the area and wipe it off to check the level of damage to your bike. Wipe it off with clean cloth and dry it under the sun.
Now, make sure that you are using a shoe polish with a darker palette than your bike. Spread the polish on to the area so that it fills the scuff. The properly exposed surface is now ready for the sand paper action. Rub the areas around the polish to even out the surface. Sanding will even out your paint and make the scratch invisible. Make sure you do not sand down excessively or it may cause more damage to your bike.
Super Glue
Super Glue is super for the number of reasons including even out surfaces. If your main concern is to even out your bike surface then super glue is a very handy option to do so. Apply a thin coat of super glue on the affected area and let it dry. Once it is completely dried, you can touch it up with a nail polish or auto paint.
Final Verdict
You just have to look around to find solutions. The solutions are not going to come to you unless you approach them. Make sure that you clean the surface. It is very imperative as the dust and grit might just stick to your paint and cause harm to the vehicle. Keep in mind that these hacks are just temporary solutions or permanent solutions to superficial scratches. These tricks cannot completely remove the scratch but extend the life. For more complicated and larger stuff, you will need to seek professional help. However, making use of these tricks can definitely solve the problem on minor levels and save your bucks!