Cycling is one of the best sports to remain healthy and fit for all age groups of men and women. In this article, we are presenting you the best cycles for ladies along with their price. In today's globalized world, buying a bicycle is not an easy task. We have many options available for a single product. These cycles have been analyzed on the basis of their features and quality in relation to their price.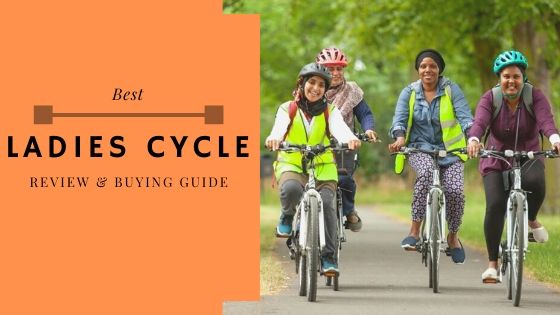 Best Ladies Cycle in India 2020
These bicycles are easily available online on Flipkart and Amazon. Read this, and we are sure you will easily be able to find the best bicycle for yourself which you are looking for. we have made a list of 6 bicycles. So here we go. We hope this list will help you to find the best bicycle for yourself.
Read Also : Best Electric Bicycle Review
BSA 7 Speed 26 T Review
This is the best brand for bicycles if you want to enjoy the best ride on a bicycle. It's not very expensive, and easily available on Flipkart. It is an ideal bicycle for the age group of 15+ years.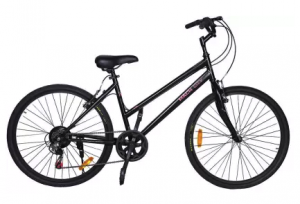 Key features of this bicycle
This bicycle is made by using a Mild steel cycle, which makes it strong and more reliable. 

Wire brake is used for front and rear brake. 

The size of the tyres is standard size i.e., 26 inches.

Available in single-speed or with 7 gears. 

The type of gears in the bicycle is Revo Shifters.

The seat of this bicycle is adjustable. You can adjust the seat of the bicycle according to your comfort. 

This cycle is available in many different colours. You have many choices available on Flipkart. You can easily get whatever you like.

The handlebar of the bicycle is adjustable. You can easily adjust it according to your comfort.
BSA Lady Bird Shine Version 26 T Review
The BSA Ladybird Shrine cycle comes to you in a new avatar and takes the meaning of Shine to a whole new level. It's your time to shine when you take this beauty for a spin. The full form of BSA is Birmingham Small Arms Company Ltd. It was a major British industrial combine. It is a group of business manufacturing military and sporting firearms; bicycles, motorcycles, cars, etc. 
This bicycle is loaded with metallic, matching and glittering components. There is no battery included. It has Caliper brakes with a PVC lever. The calliper brake is a class of cable-actuated brake in which the brake mounts to a single point above the wheel, allowing the arm to auto-center on the rim. When you squeeze the brake lever, the brake pads squeeze together and press against the rim of the bicycle wheel and uses fiction to slow the bike down.
Key Features of this bicycle are
It is a single-speed bicycle.

It has a kickstand and you also get accessories with a bicycle; front basket, dress guard and carrier.

The size of the tyres is 26inches.

The frame of this bicycle is made of low step-through steel. The height of the frame is 19 inches. 
Avon Sherry 26T
Avon cycles have emerged as one of the largest selling bicycle brands in India. Avon cycles are known for their fancy design and wide range of bicycles catering to tastes of all age groups. Manufactured using cutting edge technology and backed by continuous Research and Development, Avon cycles have reached significant expertise in delivering the best bicycles according to customer demand. The Avon cycles are sold and serviced by a network of exclusive dealerships in all major towns in India.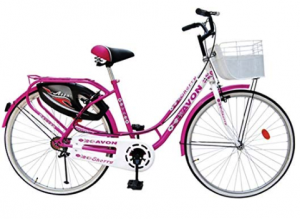 This is one of the best bicycles on this list. Avon is a leading brand in bicycles in the Indian Market. It is available in two other colours. It is easily available on Amazon. The price of this bicycle is not so high according to its features.  
Key features of this bicycle are
The accessories with the bicycle come with a front basket and plastic dress guard.

The brake of this bicycle is

Caliper Brake with Al. Alloy Levers. The basic function of the brake lever is to activate the brake mechanism which allows people to slow down or stop while they are riding a bike. 

The tyres are of standard 26 inches. You can easily get them replaced at most bicycle shops if needed. The mountain bikes are built almost in this size, so there are literally millions of bicycles out there using this size. 

This is the most reliable size around the world for several years. That goes for tubes, tyres and rims as well. Nobody wants to hit their foot with their wheel when they turn. The 26 Inches wheel size enables most of the people to run wide tyres and still have plenty of clearance for their foot when they turn.  

The cycle is made using a 45.5 cm frame with an inbuilt carrier. The frame is strong.
This is less weight cycle and also good looking.
This is a single-speed bicycle with no gears.
The suspension in the bicycle is rigid.
Btwin ELOPS 100
Decathlon is a French sporting goods retailer. With over 1,500 stores in 49 countries, it is the largest sporting goods retailer in the world. Decathlon Group also owns over 20 brands, with research and development facilities all over France to develop the latest innovative designs, registering up to 40 Patents per year. B'Twin is a trademark under which the French Decathlon Group sells bicycles. Elops is a classical city bike pedal or electric models.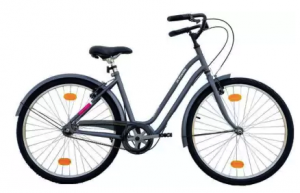 This is one of the best bicycles by Decathlon with a decent budget. The quality of Decathlon products is much better than any other brand. The drawback in this is that Decathlon stores are not easily available.
If you will face any problem in any product, the repair centre might not be easily accessible or you have to go to their workshop. But apart from that, this product is really good. This product is easily available at Flipkart.
Key features of this product are
This cycle is suitable for the age group of 15+ years. This product is ideal for girls/women.

It is a single-speed bicycle. The gears of this bicycle are easy to fire shifters/thumb shifters.

The front brake and rear brake of this bicycle are of wire brake 

This cycle is made of steel and mild steel. The tyres size of this bicycle is 700C inches. The frame size is 20 inch.

This bicycle is also available in black colour.

The dimensions of the bicycles are its width is 700cm, height is 500cm, and depth is 700cm.
Hero Fashion 26T
Hero Cycles is India's largest manufacturer of cycles: bikes for kids, mountain bikes, Bikes for all. You can easily trust this brand. Stores of this brand are easily available in India. This is one of the top-selling bicycles online in India. Hero cycle is a part of Hero Motors Company. At present Hero cycles exports to over 70 countries including Germany, Poland, UK, Europe etc. The company is ISO9001 and ISO14001 certified from BVC of UK and recognized by the R&D department by the Indian government. Hero Cycles Ltd. has acquired a majority stake in Avocet Sports Limited, to mark its entry into the high-value cycle market in Europe as part of its aggressive growth plans in Europe.  Hero's has found itself a place in the Guinness Book of World Records for being the single largest producer of bicycles.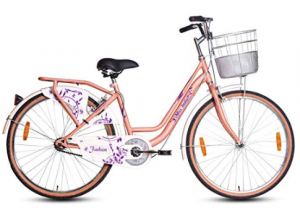 This bicycle by Hero is best for the age group if 9 to11 years. The bicycle has all the important features which make it come in our list. The build quality of this bicycle is really good. This bicycle is also available in many different colors. 
Key features of this bicycle are
The material used in the manufacturing of this bicycle is steel. The quality 16.5-inch steel frame promises long term quality run. 
The dual brakes ensure maximum safety. The brakes go easy on the hand and with slight pressure, it works properly. The double calliper brakes give safe and secure riding experience.

This bicycle comes with dual-storage space, you can easily put your stuff here. 

It comes with a high-quality comfortable seat which is easily adjustable according to the height of the user. The cycle comes with a toolkit for easy assembly and seat height adjustment.

The size of tyres is 26inches which is a standard size of tyres. 

The suspension in the bicycle is rigid. 
BSA Hercules ladyBird 26S
Hercules is the brand of TI cycles. With over six decades of experience in offering consumers a range of bicycles and fitness equipment. BSA Ladybird Breeze defines the ease of Riding with a low step-through frame. This is one of the best bicycles for girls. This product is easily available at Amazon. This cycle is available in purple, which is mostly liked by girls.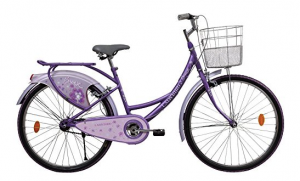 Key features of this bicycle are
This bicycle is ideal for the age group of 12 years and above.

The size of the tyres is standard size i.e., 26 inches.

The brakes are calliper brakes.

The wheel size of the bicycle is 26inches which is a standard size of the tyres of bicycle and the most comfortable one 

The suspension in the bicycle is rigid.
We hope this helps you select the right bicycle for yourself. We have tried our best to bring you out of the confusion regarding the best bicycles for girls. The list is based on the different aspects of the bicycle. We have also mentioned the history of the companies which is an important aspect of buying any product. If you like this list, do let us know. Your reviews would help us to do work more efficiently in the future. Do let us know your views on our list and give your feedback in the comment section. Please share your choice too.