If you are looking to buy a helmet, we suggest you look no further as your quest for the perfect helmet ends here. The new SMK Glide Flip-Up Helmet is a high-quality U.V resistant helmet perfect for any weather condition.
Designed and developed in Europe by proficient and skilled designers, the pioneering SMK helmets are produced by a Delhi based company, Studds. You will be surprised that Studds produces almost 4 million helmets annually.
Now let's get to the details for this beautiful helmet.
SMK Glide Flip-Up Helmet Review
Basic structure
The new SMK Glide Flip-Up Helmet comes with an aerodynamic external shell that is molded in EIRT (Energy Impact Resistant Thermoplastic). The internal shell is further molded in differentiated density EPS.
The great thing for you here is that the inner shell can be completely removed. With washable hypoallergenic liners, this helmet is easily breathable so you experience utmost comfort while wearing it. The removable and washable liners also make it is easy for you to maintain the helmet and keep it clean.
The Polyurethane paints and the matte black color make the SMK Glide Flip-Up helmet a very attractive helmet that in turn makes you stand out from the crowd.
Specifications
Speaking of product specifications, the SMK Glide Flip-Up helmet weighs close to 1.45 KGs and comes in a box of 32x27x26cm. We know that everyone of us is different and may require a different size, which is why this helmet is a good choice as the brand gives you an option to choose from sizes varying from small to 4XL.
Just like we are all different, so are the weather conditions of where we might live. The SMK Glide Flip Up helmet is packaged with twin visors. The outer visor comes with a pin lock technology that is 100% fog free while the inner visor comes with U.V rays protection. This flip up helmet is ideal to use in any kind of weather. You needn't be worried about scratches either as the company promises a scratch resistant, rapid release visor.
For the music lovers out there, the SMK Glide Flip helmet is Bluetooth compatible, with ear pads slots on either side on the inside.
Comfort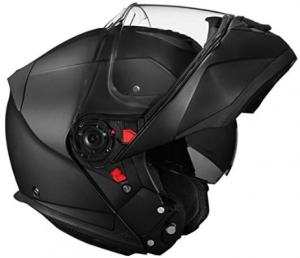 The SMK Glide Flip helmet is one of the most comfortable helmets in the market in this price range. As the name suggests, the flip up model is great for long distance rides as the flip up system gives you the ease of not taking off your helmet to drink or eat on the road. You can simply flip up the visor and enjoy your rides. Moreover, from the point of safety, the helmet has a great lock that is sturdy and stays put. The helmet also has two vents, one on top one at the front, on the chin. There are two exhausts at the back of the helmet so you don't feel suffocated.
In addition to this, the inside of the helmet is lined with soft inner foam enhancing the overall experience and comfort of your ride.
Certification
We understand that a helmet for you is a long term purchase and not something you would like to buy every day. A certified product gives you the promise of quality and endurance. Designed for both men and women, the SMK Glide Flip Up Helmet comes with an ISI certification and is ECE approved. (Homologation: ECE 22-05)
Verdict
The SMK Glide Flip helmet certainly gets a thumbs-up from us.
It is a reasonably priced helmet at range of  Rs 5500 and a complete value for money. It is perfect for any rider. Whether you are commuting to work every day or going on a road trip. With the latest technology and design, it has been crafted to provide you with ultimate comfort in any kind of weather.