Cycling is an experience that not only gives us a sense of accomplishment as well as a physically healthy and fit body. Someone has very well said that "a healthy mind lives in a healthy body." The cycle was earlier developed as a means of transport, but now it has become a style statement with stylish bicycle designs available in the market. There are multiple benefits of cycling apart from the fact that it keeps us fit i.e. it saves the environment.
The long-distance cycling race and sportive are therefore conducted at various places to promote the use of cycles. If you too love cycling but have never ridden a bicycle for a long time, then you don't need to worry anymore because we are here to help you. Cycling for a while and participating in long-distance cycling event are two completely separate things. There is a vast difference between the two. A person needs specific training to become a professional cyclist. However, if you determined to participate in such an event, then this article will offer beginner tips for long-distance cycling. In this article, we will suggest you the best way to select the best bicycle, and how to cycle without getting tired and exhausted.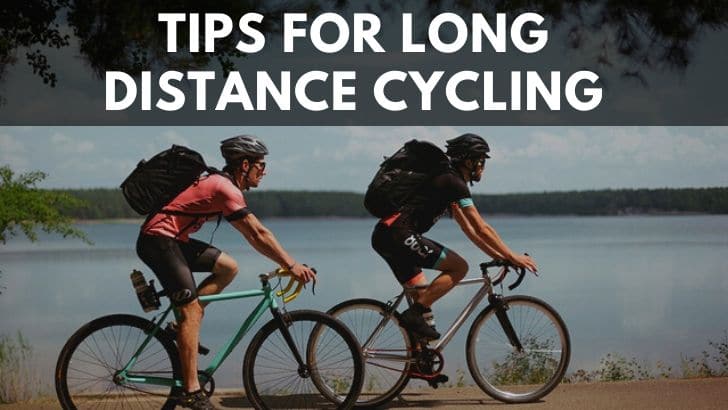 Things to Consider Before start cycling
Before that, we would like to share some information that you must know before starting. You must remember the below points if you want to continue cycling for the long term.
Avoid Distractions
The first and foremost thing that you must know is that cycling is more a mental process and less a physical one. It might look like a physical activity at the start, but it is not the case. It is quite natural and obvious to feel frustrated after some 20-25 miles of cycling. So, you also require preparing your mind for the worse. You should be able to face negative thoughts of giving up, and also the abilities to motivate yourself at such times. We would advise you to enjoy and appreciate the scenery out there and have your attention to towards the fellow riders to make sure you are not losing the game. You can try anything that would distract you from negative thoughts.
Energy Requirements
There is no doubt that cycling requires physical strength and cyclists need to refuel themselves at the required time intervals. If you have been cycling for some 4-5 hours, then you definitely require taking energy drink if it is not possible to take something solid. Apart from simple water and beverages, you can take easily digestible energy gels.
Don't Avoid the Breakfast
The breakfast you take on the ride day is as important as the energy drink because it impacts your digestive system and reduces your performance on the bike. We would advise you to avoid heavy breakfast containing protein and fat, which take time to digest. Make sure you eat toasts with almond butter.
Shoulders Hurt the Most 
Yes! It might sound weird, but it is true. Most of us think that it is only the legs that would hurt while we ride for the long term, but the shoulders, neck, hands, neck and butt would hurt the most after riding for more than 40-50 miles. So, you have to acknowledge the importance of posture and movements. It would be better to change your position after some time to remove the pressure from your body weight.
You Can't Avoid the Hurdles 
A smooth track does not ensure that you won't have to face obstacles during the ride. Most of the Indian roads are no less than an obstacle for cyclists. Even if you choose the well-maintained tracks, the air might create trouble for you. So, what you can do at such times is to drop the gears.
Things to Consider While Cycling
These were some facts that no one would tell you about long-distance cycling sportive. However, there are some tips that you can follow to ride your bicycle without getting tired. The below tips will help out on the final day.
Keep your seat high– most of us feel that our feet should touch the ground while cycling, but it is not correct. For the long-distance cycling, it would result in the knee pain, shoulders and back pain. It is therefore advised that you keep your seat high if you wish to avoid knee injury or any other accident.
Avoid too much stress about Gears– While it is quite interesting to think about bikers' clothes, accessories, and other types of equipment to look stylish while riding, they are not requirements as such. People might buy an expensive bike with extraordinary features, but riders who use inexpensive bikes can also win the race with proper strategy and endurance power. The must-have things while cycling is not expensive clothes but a bike and a helmet.
Your Bike Must Fit You– Being comfortable on your bike is one of the significant aspects of cycling, and it, therefore, becomes necessary to get a bike fit. You must ensure two things: a high seat, and reach. By reach, we mean that your arms and torso must make a 45-degree angle over the bike. You must take a test ride to ensure that the bicycle is perfect for you.
Don't overlook the maintenance– Maintaining the bike is not everyone's cup of tea. You must be regular with the oiling and should be able to understand what your cycle requires. Be it lubing the chain or keeping the required air in the tires, it keeps the bike perfectly fit and ready for the long-distance cycling event.
Save your energy for later– Now it can prove to be the make or break type of decision. What most people do is that they spent too much of their energy at the very start of the race. You must remember that spending too much energy at the start, and it makes you tired at the end. Rather than that, you can drive normally at the start and use your power when others get tired at the end. This strategy can make you win the event.
Change the gears – It is quite normal that you would have to cross the hills during your ride, and gears will help you cross these hills and other hurdles such as air, broken roads, hills etc. It is essential to dropping the gears at such times. You must be well acquainted with the gears and must be aware of when and how to change, drop or use or shift them.
Know your fellows– Be it a race or a sportive, the fact is you are not riding alone. It is better to have a sportsman spirit; you must know your fellows, especially when you are riding in a group. There are different rules and etiquettes for a group cycle ride. You require thinking about yours as well as everyone's safety.
Don't forget to refuel– You don't need anything but water if it is not long-distance cycling. On the other hand, it is essential to refuel yourself at correct intervals. You might need to take small amounts at every 20 or 25 minutes depending on your strength. Avoiding the requirements of fuel would make you feel tired, dizzy, and get you into a hypoglycemic state.
Divide the journey into three sections– Professional cyclists call it the rule of thirds. What you have to do is to divide the entire tour into three equal or different intervals. In the first section, you only have to paddle to stay with the team. In the second section, your muscles should start working a little more. In the third and final section, you should use the entire energy you have.
Take a patch kit with you– Although everyone makes sure to have a fit and fine cycle, but carrying a patch kit is an unwritten law for cyclists. No one can fight destiny, and we must not challenge it. At such times, nothing is better than carrying a patch kit or spare tube.