If you are thinking of transporting a bike/two wheeler by train, you can through this blog to understand the entire procedure. Indian Railways have made the procedure rather simple and you can simply start by going to the station a day before you need to send your two-wheeler.
There are two ways of transporting a bike by train
As a parcel:
If you are not travelling to the same destination, then you can book your bike/two wheeler as a parcel and let the railway authorities decide the train that will be transporting your bike.
As luggage:
As luggage, you can book your bike/two wheeler in the same train as you. This is for people who are also traveling themselves.
Let's discuss these two options in detail:
Booking Your Bike as Parcel
Simply pay a visit to the booking office at your closest railway station one day before you need to send your bike/ two-wheeler, for general information.
On the day of the journey, you need to carry some photocopies of your bike's registration (RC book) and insurance documents for submission. Please also carry the original documents as proof.
Contact a packing service to have your bike securely packed.  You can pack your bike yourself as well.
Keep in mind to empty the petrol tank before you start packing.
There will be an inspection of your bike and its documents, after which you will be given a parcel form where you can enter the recipient's name and address and information about the bike's engine and the chassis number. The cost of the transport will also be mentioned here.
You will also be asked to create a cardboard identification plate for your bike with the originating and destination stations mentioned on it clearly. Also, mention clearly that it has no fuel.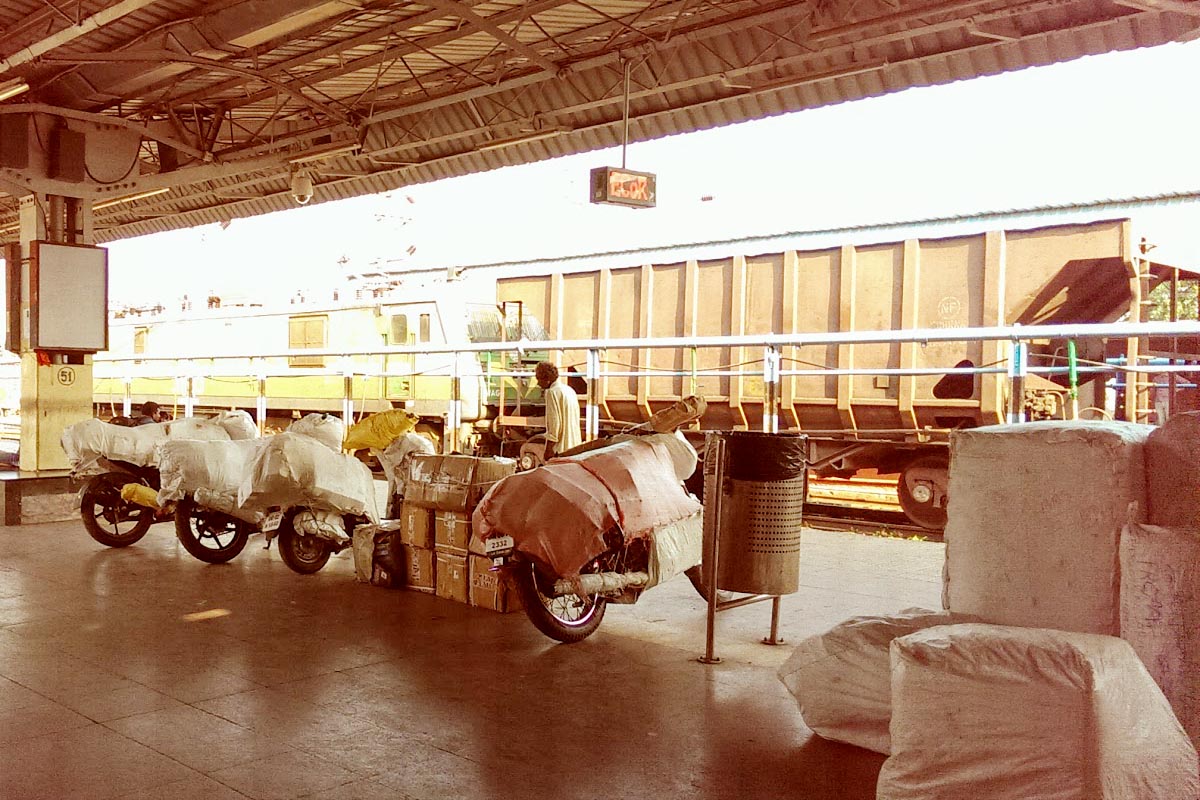 Booking as a Luggage
As in the case of a parcel, you must visit the booking office a day before along with original and photocopied copies of your bike's registration (RC Book) and insurance.
Pack the bike in the same manner as explained above.
When you book your bike as luggage, you will be given a luggage receipt and an endorsement of the train ticket. Keep these two documents very carefully. You will not be able to receive your bike at the destination unless you can produce them there.
Make sure your bike is moved to the right platform where the train is stationed and make sure that it is loaded on to the correct train.
At the destination station, go to the luggage counter and show them your luggage receipt other documents. Once they have given you a clearance, you can go to the platform to claim your bike.
What are the Fees/Charges for transporting a bike?
Packing or porter charges are between Rs.150 to Rs. 300.
The total cost of transporting a bike will depend on the distance and its weight.
You can refer to the Indian Railways website for more information on the charges as per the weight of your bike here :
http://www.indianrailways.gov.in/railwayboard/view_section.jsp?lang=0&id=0,6,335
If you forget to empty your fuel tank, you will be fined with Rs.1000 over and above all other costs. In certain cases, the railway police may also term you to a period of 6 months to 2 years in jail.
What are the Charges for Insurance?
A nominal insurance charge will be included in the parcel cost based on the value of your bike.
If the value of your bike is high so will the insurance fee for it, so be mindful while declaring the value of your bike.
There are no extra charges for up to Rs 10,000, beyond which, the insurance charges are levied at an extra 1% of the declared value.
In circumstances where the train meets with an accident or if your bike is lost in transit the Indian Railways will repay you the declared value of the bike.
What are the Booking Timings?
For booking your bike as a parcel: 10 am to 5pm
For booking your bike as luggage: 24/7 open
NOTE: In cases where you are not able to receive your bike directly from the train at the destination, you can also choose to book your parcel to the nearest station. You can collect your bike within 24-48 hours of delivery with no extra charges as long as you have a copy of the booking receipt. You will be charged extra if you collect it after 48 hours.