Thinking of buying new tyres for your vehicle, but confused between the right type? Many people get stuck on this question! The battle between tubeless and tube tyres has been ongoing for a while now. In this article, we have put together a list of advantages and disadvantages of tubeless and tube tyres. Have a read and see which type is ideal for your vehicle!
But, let us first understand what are tube and tubeless tyres.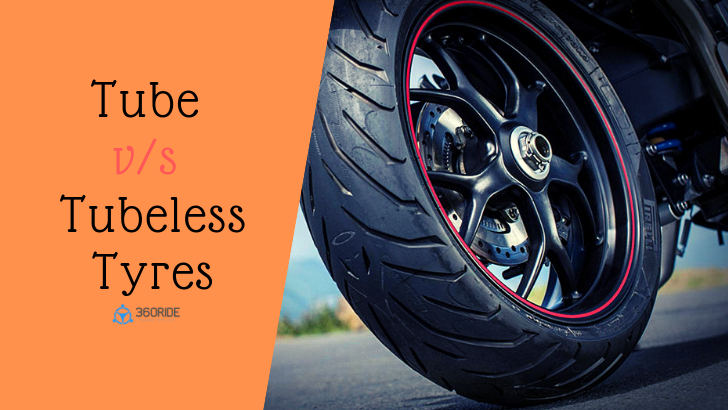 Tube Tyre
Tube tyres has an inner tube that is present inside the tyre. This separate tube, if punctured, renders your tyre useless. In simple words, if you puncture the tube, the tyre will instantly deflate and you will not be able to drive the vehicle any further.
Tubeless Tyre
As the name suggests, tubeless tyres do not have a separate inner tube. Even if you end up puncturing the tubeless tyre, you will still be able to drive your vehicle for a few more days. Tubeless tyres do not flatten immediately on puncturing.
It is a myth that tubeless tyres don't get punctured at all! They do get punctured, however, they just do not lose their air in one go and can therefore be used for a few more days.
Tubeless v/s Tube Tyres
Cost
Tube Tyre: Tube tyres are comparatively cheaper then tubeless tyres. They can be easily bought in different sizes for any vehicle.
Tubeless Tyre: Tubeless tyres cost more than tube tyres and may not be available for all types of vehicles.
Puncture
Tube Tyre: Because of the tube present inside the tyre, tube tyres are more prone to punctures. In case of a puncture, a tube tyre will explode instantly and may make it difficult to control the vehicle.
Tubeless Tyre: Tubeless tyres are less likely to get punctured because of the presence of liquid sealants. If a sharp object hits the tyre, these liquid sealants drain out and create a seal on the cut which helps in retaining the air pressure. Tubeless tyres are also safer to maneuver in case of an accident.
Friction
Tube Tyre: You are likely to experience some friction while driving with tube tyres. This friction can also increase the temperature of the engine and cause it to explode.
Tubeless Tyre: Tubeless tyres do not experience any friction. They also do not cause unnecessary pressure on the engine.
Repairs
Tube Tyre: Repairing a tube tyre is comparatively cheaper. But the process is more tedious. You need to first remove the tyre from the vehicle and then take out the tube from the tyre.
Tubeless Tyre: It costs a lot more to repair a tubeless tyre, but it can be done without removing the tyre from the vehicle. The repair process is hassle free and more convenient. 
Weight and Fuel Efficiency
Tube Tyre: The separate tube increases the weight of a tube tyre. This is also one of the reasons why they are not so fuel efficient.
Tubeless Tyre: Tubeless tyres are lightweight and more fuel-efficient. They offer better mileage to your vehicle and demand less from the engine.
Final Verdict
Buying a tyre can highly depend on the budget you have in mind. While tube tyres are affordable and easily available for all vehicle types and sizes, they are not as safe. Driving a vehicle comes with its share of risks. While cost is a major deterrent in buying a product, it is not more important than your safety. It is wiser to go in for a product that only ensures your safety but also offers better mileage and companionship to your vehicle. We give Tubeless tyres a thumbs up from our end! Tyres are a long term investment for your vehicle and it's better to go in for a tubeless tyre that will offer you optimum performance for a longer time!