Vega Crux Flip-Up helmet is a perfect choice if you are looking for a helmet to use it for your day to day commute. Notably, in India, Vega Cruz modular helmet is the best option to consider as it fulfills your safety needs as well as fit the budget of almost everyone. It comes with some fantastic features at a reasonable price. It is a versatile helmet fit for both, long and short rides. Well, there is a lot to talk about the features of this helmet, so without wasting any more time, let's see each component and aspect of this helmet.
Vega Crux Flip-Up Helmet Review
Shell Design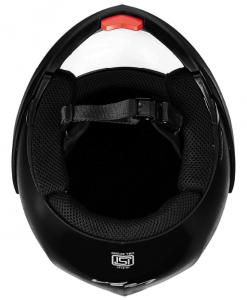 Vega Crux ensures proper safety to the rider while wearing the helmet. It comes with an outer shell made of Acrylonitrile Butadiene Styrene Shell which provides extra protection to the head. The durable and sturdy nature of the outer shell outstands other helmets of the similar price range. The inner material of the shell features a multi-density EPS liner. Vega Crux is a size-fit helmet as it comes in a standard size. However, the foam takes a week or two to adjust according to the size of your head. Well, there is no need to worry as the chin strap mechanism ensures the stability of the helmet while riding. It means that your helmet will not shake or move from its place while you are riding your bike.
Visor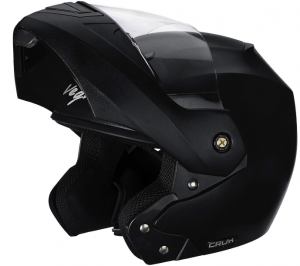 Vega Crux Flip-Up helmet comes with a detachable visor. You can easily detach this visor and replace it without facing any difficulty. If you want, you can keep an extra visor with yourself on a long ride. You can change it whenever you want as it is effortless to remove and replace it. The visor does not hinder the visibility of the road ahead for the rider. Even during the night time, it provides the clear vision to the rider. If the weather is cool, you can flip up your helmet and relax while enjoying your ride. Also, the visor comes with resistance to scratches and protects your eyes from the UV rays coming from the Sun. The visor also keeps you away from dirt and dust particles while riding.
Ventilation System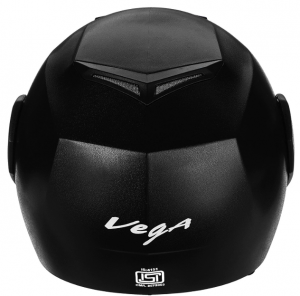 The helmet comes with a proper ventilation system which ensures regular air flow while driving a two-wheeler. Vega Crux Flip-Up Helmet comes with soft cushioning from inside to provide comfort to the rider. Also, it consists of the liners which are easily detachable, and you can wash them when you feel. There are no special instructions regarding the washing of these liners, so you can wash them normally, and make sure that they are properly dried out before using them. Besides, you can manually ensure the proper airflow while riding. There is a button on the side of the helmet's body. This button is used to flip up the helmet. You can conveniently open and close the bottom of the helmet and let the fresh air pass through it.
Looks and Finish
The Vega Crux Flip-Up Helmet comes up with a leather touch finish which makes the helmet look stylish. This leather finish touch of the helmet provides a proper off-road look. Every time you wear this helmet, it gives a premium feel. The design and look of the helmet are quite appealing. The aesthetic design with a matte finish of the helmet enhances the demand for this particular model. Also, there are various color options available for Vega Crux Flip-Up Helmet such as Black, Red, and White. You can pick the color of your choice. There are no gender specifications for this helmet and both, males and females can wear the helmet while riding.
Overall, it is an excellent choice if you ride your bike daily. We do not recommend this helmet for off-road riding. It is only suitable for the rides which do not exceed the speed limit of 60 kmph. So, basically, such helmets are fit for riding around the local area of a city of India. As Vega Crux is a Flip-Up helmet, you can use it as an open face or close face helmet depending upon the situation and your requirement. It is advisable to properly maintain the helmet to ensure its durability and longer life.