If you own a two-wheeler, wearing a helmet is very important. It protects you from the sun, the rain and is of course a must for one's safety. The Vega Verve open face helmet is a great choice for all women out there. This ISI certified helmet comes in different shells and ups your style quotient every time you set out wearing it.
Let's discuss everything this helmet has to offer.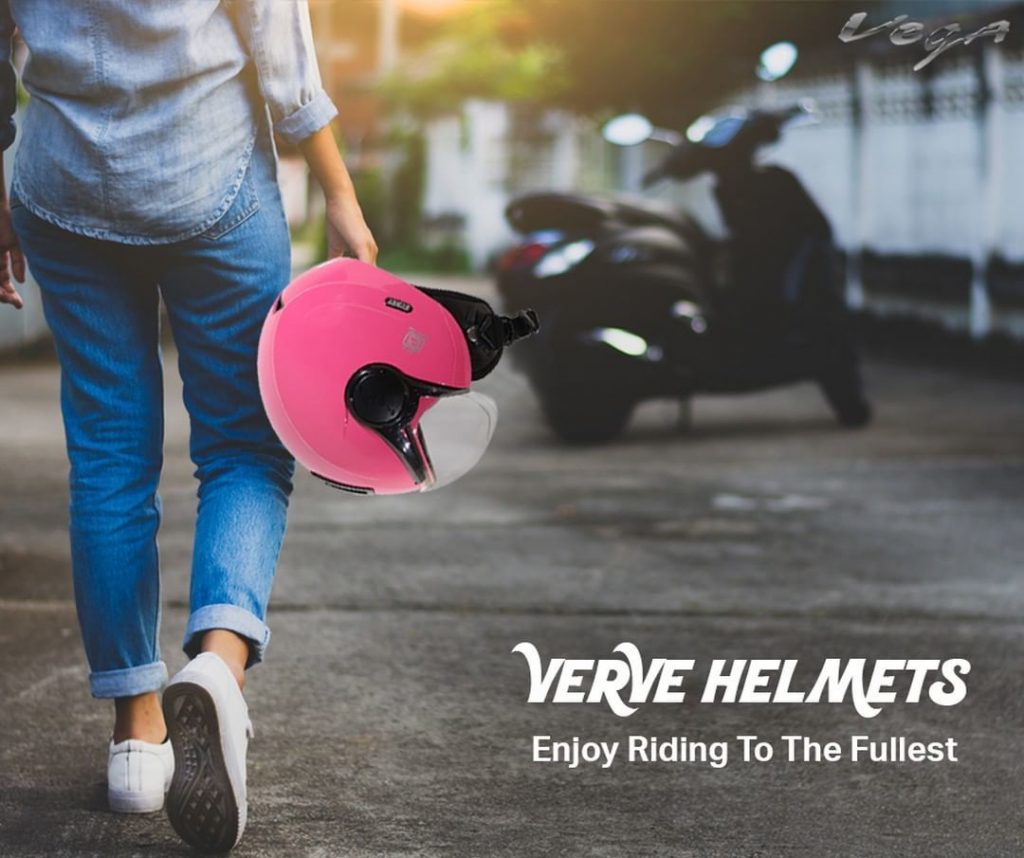 Vega Verve Open Face Helmet Review
Basics 
The Vega Verve Open Face helmet is lightweight and can fit into your two wheeler's helmet compartment easily. It is easy to carry, provides great visibility and is ultra stylish. Though this is a helmet made especially for women, but the open face helmet offers a unisex look and can be used by both men and women.
Specifications
Speaking of product specifications, the Vega Verve Open Face helmet weighs 1.24 kilograms. This helmet has been specifically designed for women. Being an open face helmet, the front glass flap can be adjusted as you want. The chin lock is easy to operate and the nylon straps are comfortable on your skin. The glass covers your face and offers good visibility and protection from the heat, rain, cold or pollution. The glass is scratch proof so you do not have to worry about its maintenance. The helmet sports a stylish look and is available in different sizes. Here are the size specifications:
Small (55- 56 cm)
Medium (56- 58 cm)
Large (58- 59 cm)
Extra Large (59- 60 cm)
The helmet also comes in the following shells color so you can choose the one that suits your personality the best.
Black
Pink
Purple
Army Green
Dull Desert Storm
Yellow
Mint
Silver
White
Dull Red
Cherry Red
Comfort
The Vega Verve open face helmet is one of the most comfortable helmets in the market in this price range. The open face design gives lets you enjoy a drink or snack without having to take it off. The helmet is equipped with a great ventilation system with two vents, one on top and the other at the back. The back vents are stylishly designed in the shape of eyes providing a chic edge to the look of the helmet.
The inside of the helmet is lined with soft cushioning for a comfortable ride. This cushion can be easily removed and washed separately. There is also a side lock that can be used to safely strap the helmet to your bike.
The helmet also has a separate slot for your hair. You can tie up your hair in a pony and let it out the vent and enjoy a hassle free ride.
Certification
We understand that a helmet is a promise for your safety. And therefore it is necessary to always buy a certified product. The Vega Verve open face helmet comes with an ISI certification giving you the assurance of quality and endurance.
Verdict
The Vega Verve open face helmet is reasonably priced and can be bought for an approximate price of Rs 1000 (the price may vary from place to place). It is perfect for women and has been crafted to give you the best possible riding experience.
We would definitely consider this a must have for all you ladies out there!