Our safety is in no one's hands but ours only. Wearing a helmet is not a question of option, but it is the only option. Whenever, you are going on a journey, while driving a two-wheeler such as a bike or a scooter then Apart from driving safely, the helmets are the only other option to save yourself from an unforeseen accident. In such a situation the helmet will help protect you and your head from any kind of injury and brain damage.
Many studies around the world had shown that, if a person wearing a helmet during an accident, there are 90 percent chances that he will survive it.  So, picking the right size and the best quality helmet should be your first choice if you're a motorcycle rider. There are varieties of helmets are available in the market to choose from. There are many types of helmets available in the market, for example, half face, full face, open face or three-quarter type helmets and so on. No doubt all these kinds of the helmet will protect you if you're in a crash. But a full-face helmet is your safest option because it provides full protection. And, would also keep the dust and insects from founding a way into your mouth, or getting into your eyes. It can also blocks ultra-violet rays, wind, rain etc. Before picking a helmet for yourself, you should go through its reviews, quality, and safety standards i.e. how much safety it is offering because nothing could be more precious than your own life.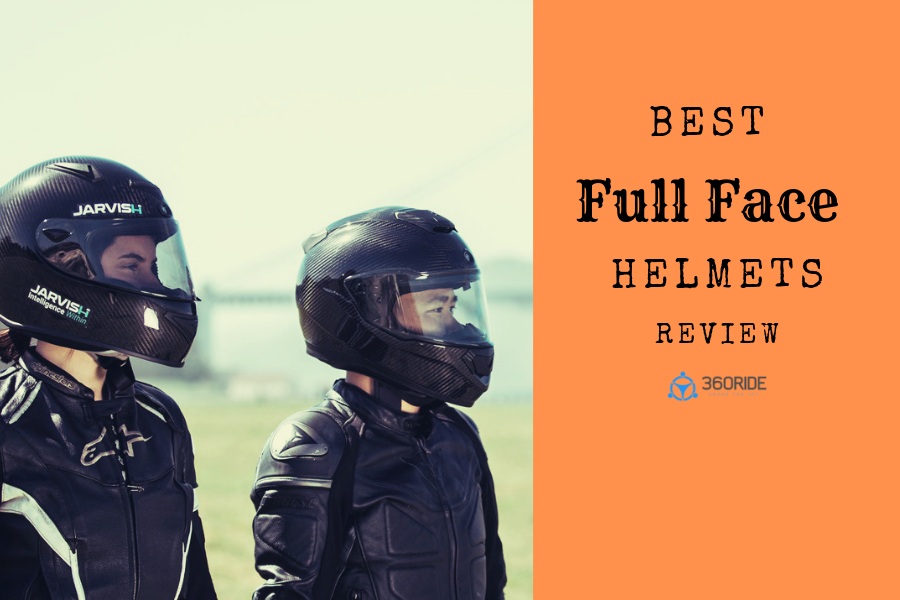 Best 6 Full Face Helmets In India
We will review the best full face helmets available in the Indian market to make it easy for you to choose and keep yourself safe and alive.
STEELBIRD SBA-2 TANK FULL-FACE HELMET IN MATT WITH SILVER VISOR
Steelbird SBA-2 Tank is a quality helmet offered by a very well-known and established brand. and is offering a whole new range of all kind of helmets such a half-face, open face, flip-up, off-road and many other varieties. Steelbird SBA-2 TANK is a full-face helmet which weighs 1.4kg and comes in only two sizes that are large (580 MM) and medium (600 MM). It's matt smooth finishing adds to its style and makes it even more unique. It also offers diverse color shades to choose from. It is an ISI certified helmet known for its quality & performance and considered as one best helmet in the market.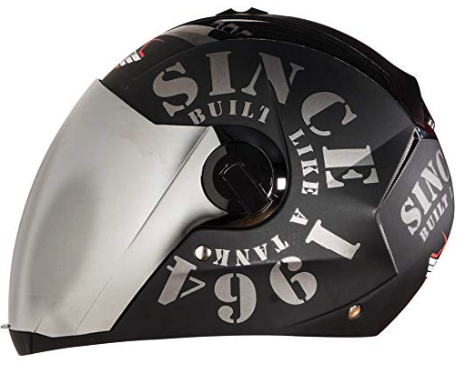 SHELL DESIGN (Outer and interior framework)
Steelbird SBA-2 Tank is designed with high-quality ABS (Acrylonitrile Butadiene Styrene) that is a thermoplastic polymer. ABS thermoplastic polymer makes it protective headgear and comes with a number of benefits such as strong impact & heat resistance, immense tensile strength, shock absorbance, and scratch resistance. The can easily prevent penetration of sharp things and the impact of the hit.
Face Shield & Visor
To be able to see with clarity and good visibility without any complication is another relevant factor while choosing a good helmet. The helmet comes two visors, first the silver visor(can choose another type too while buying) and another free night vision visor that comes along. The silver visor offers a clear vision without any kind of distortion or wrap. The visor is anti-fog and anti-smoke giving a clear view even in a misty and foggy weather condition. the visor is made of high-quality glass fiber making it scratch and scrape resistance.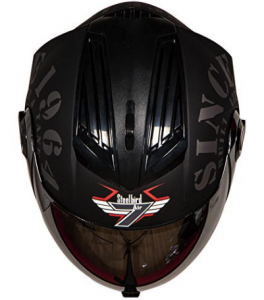 VENTILATION SYSTEM
A Good helmet should offer proper ventilation ports and ways around for a person to be able to breathe easily and doesn't feel suffocated inside while wearing the helmet. It offers an air booster system used by the upper vents, which boasts the air for easy breathing. The Steelbird SBA-2 Tank's system is equipped with an air intake in the chin guard, an air intake in the front and top area. and also, with two rear retractors recycling air inside. The air vents can be manually opened and closed for safety with air channels.
COMFORT LEVEL
The interior of the helmet should be of good quality to maintain the comfort level of the rider. Steelbird helmet comes with comfortable padding of good quality polycarbonate. and for extra comfort, it provides multipored breathable padding, a neck protector and an odorless mouth guard.
The helmet comes with all the necessary feature of high quality and is famous for its performance. I think that at this price with all these features, this helmet is a real steal.
STUDDS NINJA ELITE FULL-FACE HELMET WITH CARBON CENTER STRIP
Studds Ninja Elite full-face helmet comes in only black color and in a large size that is 580 MM. it's a very lightweight helmet that weighs only 481 Grams. It is made of sturdy material to keep you safe under a catastrophic event. it is scratch resistant and offers a quick buckle. The brand has a strong global presence in more than 35 countries with happy and safe customers.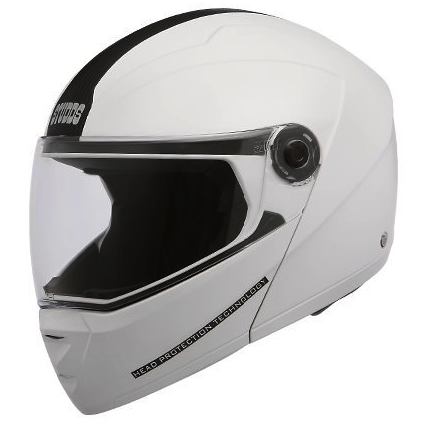 SHELL DESIGN (Outer and interior framework)
The material used to design the Studds Ninja Elite helmet is sturdy and hard, but light enough for a person to wear it without any burden. The high-quality UV resistant Polyurethane paints are used for the aesthetic enhancement which makes it not only safe but also stylish and good looking to wear. And, the outer shell of the helmet is injected from high impact grade of engineering thermoplastic.
COMFORT LEVEL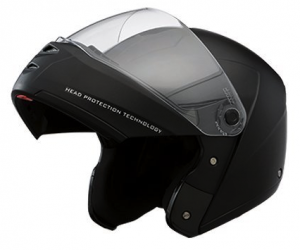 Studds Ninja Elite helmet offers a moveable chin guard with only a single button flip-up mechanism, which makes it easier to use. The inner framework of the helmet is regulated with dense EPS concussion padding lined with the specially treated anti-allergic velveteen for extra comfort while riding. The inner liners of the helmet can be removed (washed, and used again) and, also can be replaced. In addition, the quick release chinstrap mechanism for ease of operation and safety purposes.
Face Shield & Visor
For clarity of vision, the Studds Ninja Elite helmet has been given a Polycarbonate visor coated with hard silicon for scratch resistance properties. And, the helmet has spare visors which are clear, smoke tint, mirror, and rainbow. The helmet also comes with a good ventilation system to breath easy and is ISI certified.
STEELBIRD 33242 ADONIS DASHING FULL-FACE HELMET
Steelbird Adonis dashing full-face helmet comes with a compact design and well-designed interiors. The helmet weighs 1.16 KGs, comes in one size & color and is specially designed for youth. The helmet is very cheap for its price with all the high-quality features and benefits it provides to its consumers. And, its reflecting sticker comes in six different colors to choose from.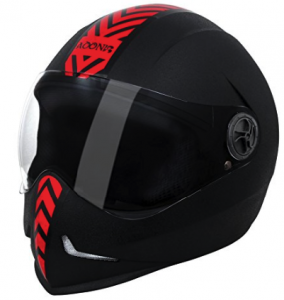 SHELL DESIGN (Outer and interior framework)
For the safety of the rider, the outer shell of the Steelbird Adonis helmet is made-up of high-impact ABS (Acrylonitrile Butadiene Styrene) which makes it stronger to resist the impact of a crash and is shock absorbance. Along with high-quality ABS, it also uses high-density EPS, i.e. thermal for extra safety of the rider is also used.
VENTILATION SYSTEM
The product Steelbird Adonis helmet comes with a flexible and dynamic ventilating system, which helps them to be able to breathe easily without any problem. The helmet provides front and back ventilation ports to boast air and block suffocation.
COMFORT LEVEL
The Steelbird Adonis helmet comes with carefully designed and styled interiors for the comfort of the rider. It offers extra-paddings for inner liners and a neck protector for extra comfort. And, the interiors of the helmet are designed with air-mesh fabric which would help to keep the interior cool and heat resistance.
Face Shield & Visor
To provide a clear and proper vision to the riders, the polycarbonate visor comes coated with Anti-scratch paint to resist any kind of scrapes and lines produced in ET-3113. It comes with an anti-fog and smoke resistance system for a clearer vision in bad weather. Also, the micro-metric buckle helps to keep the helmet on place even at a time of a crash.
LS2 FF-352 AIR FLOW FULL-FACE HELMET WITH MERCURY VISOR
The LS2 helmets are known for their excellent quality for the safety and security of the riders. LS2 is a very well-known brand famous for its amazing quality work and performance. It is a little expensive but is amazing at its job providing its consumers the high-level of protection and comfort with this helmet. The LS2 range with HPTT (High-pressure Thermoplastic Technology Resin ), mix of ABS, safe structure with three shells and lightweight. The weight of the helmet is 1350 Grams and is available different sizes and colors to choose from.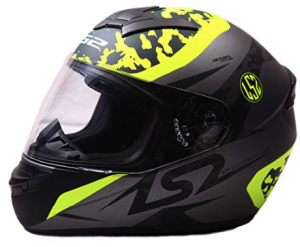 SHELL DESIGN (Outer and interior framework)
The outer shell of the LS2 FF-352 helmet is made of composite HPTT (High-pressure Thermoplastic Technology Resin) with for double protection for the riders, and resistible to the shock of the accident. The helmet possesses high strength and durability.
VENTILATION SYSTEM
The helmet comes with a in and out-front air intakes and with rear extractors which help recycle the air inside of the helmet, which help the breathing of the rider for comfortable riding. The helmet comes with nose guard and a chin strap for extra comfort.
COMFORT LEVEL
LS2 FF-352 offers a high-quality interior with padding of laser-cut foam for a perfect superior fit. The liner inside the helmet are moisture wicking, anti-odour, and anti-bacterial for the convenience of the rider. The inside liners are removable, washable and are quick to dry with the soft fabric.
Visor & Face Shield 
The visor of this helmet is ECE certified, a composition of 3d optically correct Lexan with a quick release system and easy mounting. And, it offers a smooth opening and closing of the visor, and the visor is UV and scratch free for a clearer and better view, while on the road. The retention system gives a quick release to the buckle for faster safety operations.
SMK MA200 Twister Pinlock Fitted Full Face Helmet
The SMK MA200 Twister Pinlock Full Face helmet is full face helmet that comes with ECE certification. This clear visor helmet offers Bluetooth compatibility and great ventilation for a comfortable ride.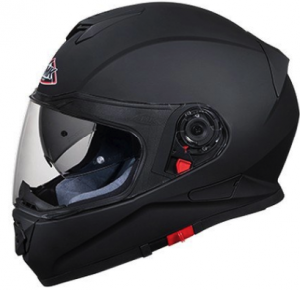 Shell
The outer shell is molded in EIRT or Energy Impact Resistant Thermoplastic that makes this helmet tough and resistant to high impact. The inner shell is coated with resil that keeps the fabric cool and dry. The hypoallergenic liners are fully removable and washable. The inner lining is made up of anti-allergic velveteen and provides soft cushioning.
Visor
The helmet comes with a scratch resistant visor. It is equipped with rapid release. It is ideal to use with Pinlock original. The extra wide vision offers good visibility and acts as a sun shield. The visor mechanism is simple to use and does not require the use of any external tools.
Looks and Special Features
The SMK MA200 Twister Pinlock Full Face helmet is a stylish helmet with a leather matte finish. The highlight of this helmet its Bluetooth compatibility. You can connect your phone to the via Bluetooth and enjoy wireless calls and music while on the ride.
Comfort
The helmet is extremely comfortable to wear. The ventilation system makes it a perfect match for long rides. The constant airflow does not make you feel suffocated or sweaty. The inner lining is soft and gives a cushioned feel to your head.
ACTIVE FAST FULL- FACE HELMET IN MATT FINISH WITH SMOKE VISORS
Active Fast is a normal helmet which gives you protection against any catastrophe event and will minimize its impact.  The sturdy and strong material of the helmet will keep its user safe and alive in an unfortunate event. The product is available in one size and color i.e. medium and while respectively. The helmet has been approved by ISI for its outer shield and safety standards.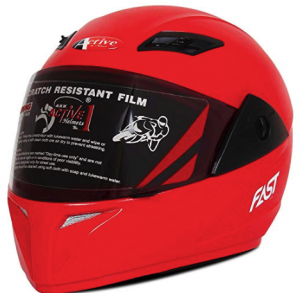 SHELL DESIGN (Outer and interior framework)
The hard ABS outer shell reduces the impact of the accident and offers extreme strength and toughness. It offers a perfect snug-fit, a compact design and is very lightweight. The helmet has been given elliptical design, combined with good looks and style.
Visor & Face Shield
The smoke visor of the Active Fast helmet is scratch resistance and guarantees a wide and clear view of the road. Impenetrable design of the helmet offers a safe and convenient ride to the user, and the design & snug fit of the helmet ensures that the helmet doesn't fall of the head during a disastrous event.
KINGSWAY ARMEX SERIES AIR HUBER FULL-FACE HELMET
The Kingsway Armex has gained huge success on a global platform through its experience, creative and innovative ideas. They understand the value of life, and to give ultimate protection to its consumers. Its goal is to provide high-quality, comfortable and protective helmets. The helmet offers both high-quality as well as high-comfort level in his Air Huber series.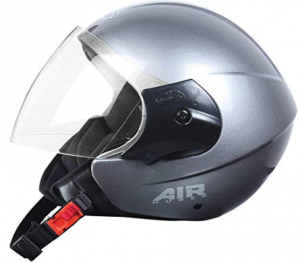 SHELL DESIGN (Outer and interior framework)
The Kingsway Armex Air Huber series has been very aerodynamically and aggressively shaped for giving it a high-level of strength to endure the accidents. Exterior frame-work is an injection molded composite shell, which has been aerodynamically shaped for riding through the air with less buffeting and without wind noise, resulting in lessening the stress of the rider. Kingway comes With a sleek, lightweight, and unique design which reduces the wind noise, leaving no space of distraction. These new features were not available in old models of Kingsway Armex.
The helmet weighs around 1.4 Kg.
VENTILATION SYSTEM
For proper breathing and better air circulation inside, Kingsway Armex Air Huber helmet has ventilation ports keeping in mind the comfort of the rider. The optimum circulation system keeps on recycling the air inside the helmet and keep supplying them with fresh air.
Visor & Face Shield
Kingsway Armex Air Huber has an anti-scratch and anti-fog visor with a clear and wide view. the visor made up of polycarbonate, which is strong as well as light. The visor offers you wider and taller visibility levels and for safety purposes it comes with quick release visor mechanism. The helmet also comes with double D-ring straps which will keep the helmet on its position and help to tighten the helmet.
Things to Keep in Mind While Buying a Full Face Helmet
With so many options given to choose from it might confuse the person, and in that situation s/he might make a wrong decision. Following are the essential points to consider before you go to buy a helmet online.
First, the helmets outer framework (also goes by the name of shell) should be of hard but lightweight material such a polycarbonate or thermoplastic. So, the helmet would be able to sustain the impact of the incident and wearing the helmet will not weigh you down. it should be comfortable to wear and the outer frame will prevent the penetration of the pointed objects in the accident.
Second, the inside frame should be of soft but thick good quality padding foam from materials such as polypropylene which would protect your head from any kind of injuries.
Third, a D-string strap that would be the helmet on its place, so it won't slip away while in a catastrophic event. Before, picking a helmet for buying you should go through its reviews, quality, and safety standards i.e. how much safety it is offering because nothing could be more precious than your own life. There are diverse amount of safety standards for a helmet and are certified by ISI (Indian statistical Institute), DOT and SNELL approvals. This could be pretty confusing to choose a helmet which will provide you ultimate protection.
Fourth, is the visor and the level of visibility it assures. The helmet should be scratch resistance, anti-fog and smoke, so, that the visibility level is nit compromised in a bad weather condition.
Fifth, you should always verify if the helmet has been certified for its safety or not. All the brands offering you helmets will assert that the helmet will provide you the best protection, but a helmet marked with ISI, DOT OR SNELL logo will ensure the same and the quality standards of the helmet.
Lastly, the helmet should have an optimal ventilation system which will help you breath properly inside the helmet, and keeps on recycling the air through vents ports.
Important Faq's Related to Full Face Helmets
Why do you need a full-face helmet?
~ A full-face helmet covers not only your head but also your face and neck giving you double protection, in case of an accident. Although, all kinds of helmets will protect you but a full-face helmet will give you absolute protection. It will also keep the wind, and bugs out helping you to solely focus on the road.
What is the safest motorcycle headgear?
~ There is no way to determine that this helmet is the safest motorcycle headgear, in the large number of varieties available to choose from. You can choose a helmet on basis of safety standards certified by ISI, DOT, and SNELL etc to choose the best option available and keeping in mind other things in consideration while buying a helmet.
Is it important to wear the right size of the helmet?
~ Yes, it is extremely important to wear the right size helmet. Because the helmet is the safety you have while you're riding, if it is not a perfect fit, then is it really going to protect you? What if it comes down while you are in an accident? Wearing the right size of helmet is absolutely necessary for your own protection.
Would a cheap helmet be able to protect me in an event of accident?
~ The helmet should be capable enough and of good quality to save your life. It is not a matter of being cheap or expensive but of your life. Investing in a good quality helmet will keep you safe and alive.
Does wearing a helmet lead to hearing problems, or neck injuries?
~ No, infact helmet helps to block noises from the engine. And, wearing a helmet will save your neck from getting neck injuries during an accident.