When we talk about safe bike driving, helmets are the first thing which strikes our minds. It is highly significant for an individual to wear a helmet while going on a two-wheeler journey. A quality helmet can protect our life in some severe situations and accidents. Helmets are a form of a cushion protecting our head from an injury and also assist in guarding the human brain.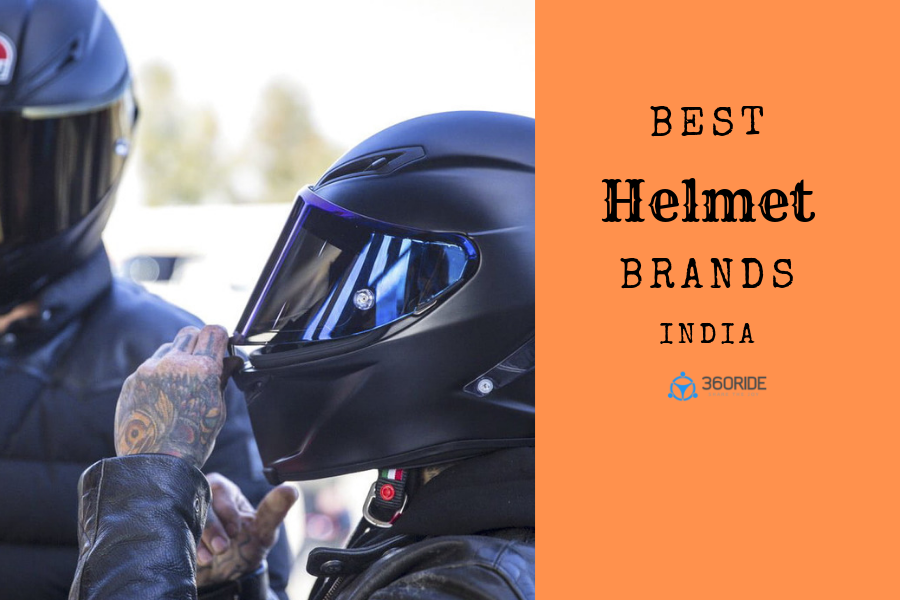 Why You Need a Helmet?
Protecting your head from any serious injury is crucial. The helmet guards your brain against any substantial injury in case you get involved in a road accident. In such circumstances, most of the initial damage is taken by helmets, and it acts as a shield for your head. It absorbs most of the pressure. Therefore, it is always advisable to purchase a good quality robust helmet so that it does its duty when needed the most.
Best Helmet Brands in India 2020
There are numerous helmet brands in India which offer some excellent quality, stylish, and premium helmets.
Vega
Undoubtedly, Vega is the most popular helmet brand in India. It is a leading helmet manufacturer with its headquarters located in the Belgaum City of Karnataka. A person can assume its popularity in the nation when almost sixty percent of the nation's population is wearing the helmet of Vega. Since 1994, it is producing durable and stylish helmets in its factory situated in Ningbo, China for the people of India and overseas. The variety in its products is honestly very good as you can get a helmet suitable for all types of bikes. It offers different designs of helmets without compromising its quality such as Modular Helmets, Full Face Helmets, Off-Road Helmets, Open Face Helmets, etc. whichever suitable for the buyer.
Also, the company is famous for manufacturing the helmet accessories such as shields, parts, liners, head wraps, bungee nets, and many more to name. The range of price varies from 1K INR to 4K INR as per the quality and model of the helmet as well as the demand of the customer. Vega also deals with the production of various apparels such as raincoats, snowsuits, snow men's jackets, and other similar goods.
Steelbird
Steelbird is the oldest surviving company in the helmet production industry. For the last fifty years, it is taking care of people's protection by making high-quality helmets with stylish designs. Steel Bird Hi-Tech India Limited, often shortened to SHBT, was founded on March 13, 1964. It is an old-school helmet manufacturing company which is still preferred by the people due to its availability of reliable helmets at low budget prices. Also, it deals in the accessories of motorcycle such as bike jackets, gloves, shoe covers, pants, instant cooling towels, leg guards, knee guards, and guard kits. Being the oldest and a trusted manufacturer in the country, Steelbird sells its products to a few government agencies in massive quantities. Moreover, it offers a variety of helmets such as open face helmets, full-face helmets, modular helmets, flip-up helmets, motocross helmets, and many more.
Studds
Next on our list is one of the most popular and powerful helmet manufacturing brand, Studds. They are well-known in the nation for its helmets' quality and their designs. Also, their helmets are shipped overseas, and currently they are sold across thirty-five countries including the nations from North and South America, Europe, Africa, and the Middle East. Studds work under two flagship brands known with the names of Studds Helmets and SMK Helmets. They offer various type of helmets such as flip-up helmets, flip up full face helmets, full face helmets, open face helmets, flip off full face helmets, off-road helmets, sporting helmets, industrial helmets, and much more. The sole purpose of the brand is to manufacture the product which fulfils the need of a customer and sell reliable products. The price range of Studds Helmets initiates from INR 870 varying from model to model.
LS 2 Helmets
Another premium helmet manufacturing brand in India is LS 2 Helmets. It is a well-known brand globally, and it is quite famous for its stylish and premium kind of helmets. It is producing some greatly designed helmets for the past twenty-five years. The company was found in 1990, and since then it is giving its best to the people worldwide. LS 2 Helmets' primary aim is to offer luxurious products without compromising its performance at a decent price. The production of the helmets takes place in three different ways – polycarbonate, carbon fiber, and composite bars. LS 2 is quite famous in India. Therefore, multiple duplicate brands are selling in the name of LS 2. So, it is always advisable to purchase their helmets from a reputed seller. Depending upon the variety of models and designs, the price range initiates from INR 4600 to INR 10,000.
THH Helmets
THH is a company based in Taiwan, and it stands for Tong Ho Hsing. The brand is there in our country for the past few years, and it has gradually started making a name for itself in the helmet manufacturing industry. It utilizes high-level technology apparatus such as carbon fiber kevlar to make sure the outcome is excellent. Other than India, their helmets are sold in various other countries and areas such as the United States of America, a few parts of South America, Japan, Europe, as well as Australia. THH is well-known for its stylish designs with some class quality and durability. Their designs are usually made from the latest 3D modeling and Finite Element Analysis. The price of their helmets starts from INR 1099 depending upon the quality and design of any model.
Wrangler
Wrangler is an American brand dealing in the helmet producing industry of India. Originally, Wrangler is a clothing brand of the United States of America. However, over time, it started making helmets and achieved a bit of success in creating some excellent quality goods. Moreover, to meet the demand of their customers, Wrangler offers premium top quality helmets at affordable prices. To produce their helmets, they currently make use of modern casting methods and customized product development facilities. It has a vast variety of premium helmets such as open visor helmets, open face helmets, head protection helmets, safety helmets, Zach helmets, riding helmets, secure helmets, bulletproof helmets, and many more. The price range of Wrangler helmets begins from INR 600 and end at INR 5000 depending upon the various models and designs.
Royal Enfield Helmets
If you own a Royal Enfield bike, then a Royal Enfield helmet is a must buy product for you. These stylish and comfortable helmets give a classy look, and there is no doubt in matching with the Royal Enfield motorcycle. To provide a royal look, they mainly produce open face helmets. Royal Enfield is a United Kingdom-based company, and it is spreading its roots in the Indian market at a rapid speed. They manufacture other bike accessories as well. Most of their products are for the existing royal Enfield owners as the designs are as such to suit the bike and the rider. According to their official site, the price range of these Helmets starts from INR 1800.
Aerostar
Aerostar is a well-known Indian brand with its industry located in Bhiwadi Industrial Area, near Delhi Airport. It has made a name for itself in the Indian market in a short time due to the high-end quality of their products. Aerostar is the best option to consider if you are looking for a good quality product at a low price. Moreover, it is an ISO certified company which allows them to put ISI hallmark on their products. You can easily rely on their quality, and the prices of these helmets initiate at just INR 400. Since 1995, it is protecting the lives of people of India. Other than helmets, the brand also offers bike accessories such as helmet locking devices, side boxes, and much more. These items are also available at a decent price which is affordable for almost every person.
HJC Helmets
For the past fifty years, HJC is there in the global market as one of the top sellers for helmets. They are well-known on the International level for their innovative ideas, experience, as well as affordable rates. Their helmets are currently sold in various parts of Europe, India, North and South America, and Korea. In North America, it is the top selling helmet brand since 1992. They have a massive variety of designs for every model. If you are looking for a stylish as well as a comfortable helmet, then HJC helmets are tailor-made products for you. As said before, they are known for their designs, the Marvel series helmets of the company are becoming popular among Indians. The pricing of the brand helmets begins from INR 3,499 if you buy it from an online store.
Shoei Helmets
Shoei is a Japan-based helmet manufacturing brand producing stylish and premium helmets for the bike riders since 1959. It is one of the oldest helmet producing brand in the world. Their helmets are well-known for their safety levels and the classy looks. The Shoei helmets are manufactured in Japan and sold over different parts of Europe and America. Also, it has established a stable market in the Middle East nations as well as India.
In the mid-1970s, Shoei was one of the first brands to produce carbon fiber helmets. Also, one of their helmets was the first to use carbon fiber and Kevlar. Even though they are highly popular, it is a relatively smaller company with only 500 workers to produce new products. It has a couple of variants of helmets such as full face and open face helmets. The helmets are unisexual which means that they are fit for both men and women. Their helmets' pricing starts from INR 4,500, depending upon the type of model and design.
Agv
Agv also a popular brand famous for its dirt bike helmets. But only professional riders prefer this brand because it's too costly.
Full Face vs Modular Face Helmets: Which one is better?
A helmet is one of the most significant equipments which protects you from any injury while driving a motorcycle. This is the sole reason why the helmet brands offer different types of helmets to cover up the needs of every customer.
There are two different types of helmets which tend to appear the same to some people, but they are not similar. There are a few differences between them.
Modular Helmets
These helmets are specifically designed keeping in mind the comfort level of bike rider. It incorporates a hinge to form an open face helmet when needed. Modular Helmets are a combination of both, open face and full face helmets. While you are driving these helmets are used as full-face helmets, whereas when you are parked or stopped at a light, then you can open it to inhale some fresh air.
Full Face Helmets
The main objective behind the production of these helmets is the protection of the bike rider. The head of the rider is protected in some unwanted circumstances. Even at high speeds, the driver feels secure, and these helmets are quite comfortable. In dense traffic areas, these helmets are more useful as they protect you from the dust particles and air pollution.
When we compare the two, modular helmets lack the safety features which are there in full face helmets. However, modular helmets allow the driver to have a conversation with the fellow rider at a stoplight or while warming up. The built-in sun visors in a modular home are highly effective while driving on the open roads. Meanwhile, the full face helmets protect riders from rain, dust, and other such natural activities. Overall, it depends on the comfort level of the rider, their desire for open air as well as the protection and safety standards you want in a helmet.
Conclusion
Helmets are not only for wearing on the head while riding a two-wheeler but it also protects the rider from any severe or serious injuries caused due to any road accident. It acts as a cushion for our head and works as a protecting film to it. However, many people do not care about themselves and opt not to wear the helmet while driving bikes and scooters. If anything happens to them, the whole family has to suffer. So, it is advisable for everyone to buy a helmet and do not be lazy in wearing them.