When we talk about safety while riding a motorbike, we always talk about a helmet. However, the head is not the only part which needs protection during a road crash or an accident. Most of the times, joints of our body such as elbows, knees, and shins suffer damage in such unwanted incidents. Well, you can minimize the impact of a bump or a crash for these joints by wearing their protectors. Motorcycle knee guards are crucial for every motorcycle rider as they are part of necessary protective gear.
There are numerous knee pads available on the offline and online stores which are looking for customers. In today's time, there are several reports of fraud and duplicate items daily. So, it is always essential to pick the item with proper care. Also, with so many alternatives and choices, the customer always finds it challenging to choose one which fulfils its need. In this post, we cover the best five knee guards for motorcycle riders in India. Before that, we must know why is it important to wear knee guards while riding.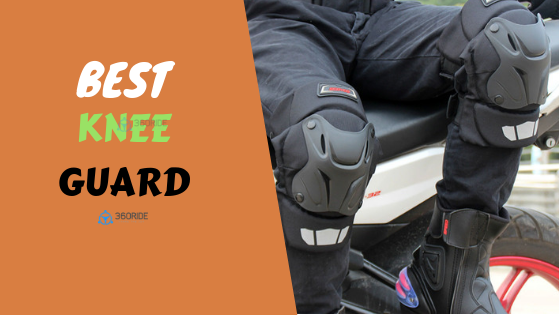 Why you need knee guards?
There are several reasons why you should wear knee guards while riding a bike. First of all, the primary reason why you need knee guards is that it is for the protection of your knees and shins. Usually, whenever you face a crash, you hurt your knees and elbows. Well, you can minimise the impact of a bump or an accident if you are wearing knee guards made of good quality. Secondly, the skin on the knees is not that durable. Therefore, wearing knee pads has become a necessity these days. Even though the future is uncertain, you can minimise the devastating effect of any unforeseen event.
Moreover, a lot of money is spent on the healing of your broken knees and torn muscles. However, you can avoid such expenses, if you ride the bike with proper protective gear and carefulness. Also, the stitches hurt and if there is a severe injury you will be enforced to stay off the bike for many days or weeks or months in the worst scenario. Motorcycle enthusiasts cannot afford such risk, and this is one of the reasons why road bikers usually wear knee guards while driving. Furthermore, the knee pads provide comfort to the individual riding the vehicle.
Nowadays, people are becoming more aware of their protection and safety. It is only in your hands and a matter of choice, whether to ride safely or drive without any precautions. The latest designs of the knee guards are brilliantly put forth so that it looks perfect on the rider and matches its motorbike suit.
Best Motorcycle Knee Guards For Pro Riders in India
If you have made your mind on purchasing a new pair of knee guards, then you do not need to walk down any store as we bring you a list of the best five knee guards in India. Without further ado, let's read about them. Only then you will be able to make a decision about this.
Scoyco Motorcycle Bike Racing Riding Knee & Elbow Guard (K11, Black)
Since its launch in 2014, Scoyco K11 has been on the lips of Motorcycle enthusiasts all over India. These come as a set of both knee and elbow guards. It is a versatile set as you can use it for your daily rides as well as on the tours. This pair of knee guards are great for off-road drives. Also, it is quite comfortable to wear and lasts for a long time. The adjustable Velcro closures ensure a great fit with assistance from the elastic straps. It takes care of proper ventilation so that the rider feels comfortable while wearing them. The inner part of the guards is made of foam which lets the air pass through and backs for breathing ability.
Moreover, these knee guards do not cause any hindrance in your movement. You can relax and chill out while wearing them. This flexibility nature of these guards is crucial on a long ride when you are taking breaks on an ongoing journey. The flexibility does not compromise with the protection system as it does its job entirely. The centre areas of knee guards are there for protection while the side part is made of plastic to offer comfort as it is softer. Side plastic is helpful for custom fitting depending upon your size.
Pivalo PVPBKG4 Pro-Biker Knee Guards
These knee, shin, and elbow guards are a must have if you are into pro motorcycle riding or love to go on rough rides. Pivalo PVPBKG4 offers the utmost protection to the rider's knees, elbows, and shins in case of any fall of accident while riding a bike. Also, it provides comfort to the rider so that he or she can drive smoothly without any difficulty. These are multi-purpose pairs of guards which you can also use them while motocross, cycling, skating, skiing, cross-fit, snowboarding, and other similar extreme sports.
An individual can easily rely on its protection claims as the knee guards are specially designed using the most exceptional quality stainless steel. In addition to stainless steel, other durable materials are used while manufacturing them to make it last longer than other knee guards and act as a safety guard in any mishap. Furthermore, to enhance the level of comfort, it comes with adjustable elastic quick-release straps which make it easier to remove and fit. These guards are always appreciated for their performance and its ventilation system. The gear includes foam inside to eliminate moisture and heat to keep the rider's body cool and cosy without taking any mid-break. The armour shells include various massive vents to offer maximum ventilation.
Alpinestars Bionic Black Universal MX Protector
Alpinestars Bionic Black Universal MX Protector is safe to protect your knee. When it comes to safety, people often forget about knee guards because most of these are not comfortable. However, this knee protector provides protection as well as comfort to the bike rider. Especially, when you are driving on an off-road, these are helpful to avoid any damage to your knee joint in any unwanted situation. It comes with adjustable hook and loop straps. These are placed in such a manner to prevent your skin from abrasions.
The internal padding of the knee guard is made of impact resistant bio-foam. Also, this padding is detachable, and you can wash it whenever you feel. The padding features a comfortable liner making it an essential knee protector while going on a long trip. The hinges are durable, and you would not feel like replacing it soon. Also, you can easily clean the whole knee guard, then assemble it without facing any difficulty. However, there is only one problem that it is a bit heavy to carry. You may feel tired after wearing it for a long time, but the adjustable straps make it a bit easy. Overall, it is a great pick to consider if you are looking for a long lasting pair of knee guards.
Scoyco Motorcycle Bike Racing Riding Knee Guard K12
Another product from Scoyco makes it to the list of the best knee guards for the Indian Motorcycle enthusiasts. Scoyco K12 is considered as an upgrade to its previous version Scoyco K11. We have already discussed regarding K11, now let's talk about Scoyco K12. This pair of knee guards come with an extra level of comfort for the biker. It is the best option for you if you are planning for motocross or going for a long ride for holidays or tours. Like Scoyco K11, it also allows free movement to the bike rider. They do not act as an obstacle for the driver while riding the bike. They allow the rider's legs and knees to move more freely in comparison with other knee guards.
Also, the price is quite low and comes under the budget of almost every Motorcycle Rider in India. The ventilation system is remarkable and allows proper breathing for the rider. The individual would not ever feel like removing the knee guards or taking a break to relax because of wearing such guards for an extended period. These guards are durable and long lasting because of the material used to make them. The internal foam is quite comfortable and prevents skin abrasions. When it comes to buying, Scoyco products are worth it because of their decent quality at a reasonable price.
AllExtreme EXPBKG4 Pro-Biker Alloy Steel Knee Guard
AllExtreme EXPBKG4 comes in a set of pair of elbow guards and knee guards each. An extremely light weighted stainless steel is used in their manufacturing process. This steel provides a significant level of protection for your knees and shins in case of an accident or a bump. To prevent crash or bump, the knee armour is moulded with steel knee padded plates. In addition to Protection, it provides extra comfort to the biker rider while riding motorbike or motocross. This set of knee guards offer maximum ventilation. The knee and shin pads come with several vents for proper circulation of air, and it keeps you fresh and cosy during hot summer days.
AllExtreme EXPBKG4 knee protectors are good enough for a long ride. They are not easily torn or broken as they are made of solid material. As mentioned before, the outer shell is strong enough, but the internal part is made of foam to make the biker feel comfortable while riding. Moreover, these are multi-purpose knee and elbow guards. Other than biking, you can use them while skiing, skating, snowboarding, cycling, paintball, softball, and many other similar activities. For optimum fit and easy removal, these guards come with adjustable elastic straps.