Bike gloves are a demand for bikers worldwide not just in India. These gloves are specially fabricated to provide grip to the hands as well as resist vibrations. Nowadays, bike gloves are also a part of a fashion statement and a lot of variants with different colors can be seen in the market. People do not leave a chance to flaunt and thus the demand for such styles keeps on increasing. Bike gloves are indeed a necessity for longer usage. It helps in maintaining the balance as well as protects hands just like helmet protect head. However, high-end bike gloves are usually quite tight on the budget and thus are limited to only a few people. The overall performance of the bike glove is certainly defined by the type of material used. You do not want to invest in low-quality ones and compromise with performance. Nonetheless, you can get the same performance with some cheap bike gloves in India. The quality is not an issue and these are specially crafted to give you the best by being lighter on budget.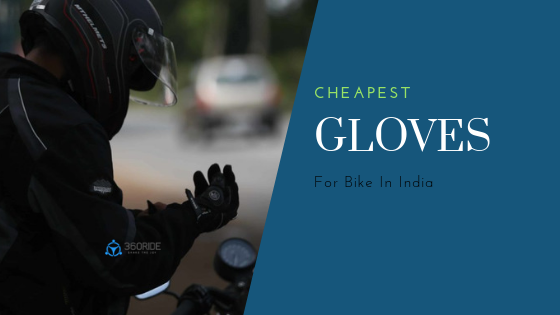 Best Cheapest Gloves For Bike in India
Probiker Synthetic Leather Motorcycle Gloves
If you are looking for a cheap and the best pair of gloves for riding your bike, then you must go for Probiker Synthetic Leather Bike Gloves. Probiker is one of the most popular brands in India for selling bike accessories. They are well-known for the sale of their gloves at a cheaper rate than other brands while offering high-quality products. These gloves are quite comfortable, and they are pretty long lasting too. There are dots on the palms to provide a better grip to the rider. Also, it features superior protection, in case of a crash, your hands are least likely to get damaged if you are wearing these leather gloves.
Probiker Synthetic Leather Gloves are heat and tear resistant. You can use them without any doubt on a hot day. Also, the pre-curved fingers are perfect for riding. Moreover, these gloves are available in different sizes. You can look for the size of your hand and then decide which size fits you the most.
Scoyco Mc08 Motorcycle Riding Gloves
Scoyco Mc08 is a top-level riding glove which is manufactured from composite fabric and protective plastic materials. The gloves come with an exclusive grip enhancer on its lower end which offers the perfect riding grip to the driver. Handling the bike with the help of these gloves is easy. They do not hinder the movement of biker's hands, so it is quite comfortable. Also, you can use them in any weather condition. Apparently, they are water, dirt, as well as oil repellant. The waterproof ability of the gloves makes it the most prominent choice for people living in coastal areas.
This pair of riding gloves is well-known for its reliable performance. The leather used in the manufacturing process is quite durable, and the design is fantastic. So, a good buy or you can say it is worth checking out.
AutoStark Pro-Biker Bike Riding Gloves
If you look for the gloves which ensure full protection of your hands, then these AutoStark Pro-Biker Bike Riding Gloves are tailor-made gloves for you. This pair of gloves comes with a unique ergonomic design with hard shell protection. The ergonomic and protective hard shell ensures better safety than usual. It takes care of the security of the individual riding the bike in case of any mishappening. Also, the shock-absorbing foam is crucial in contributing towards better than general positive effect.
The pre-curved fingers are quite helping in fitting the riding style. The material used is made of synthetic fabric which allows a room for ventilation and the silicon dots help the air to pass through. Furthermore, the TPU finger armor is secured by Velcro fasteners. Overall, it is an excellent pick at a reasonable price. Don't miss out on it.
Probiker PROBK03 Full Racing Motorcycle Gloves
This is our second recommendation from Probiker brand. Probiker is well-known for its quality, and this pair of gloves is no less. It is a delightful purchase for all the bike riders who want to own a pair of racing gloves. The black colored gloves give a stylish look and match with any riding suit. It is undoubtedly a must have for all the ardent bike riders. The durability of this product is unquestionably, and it ensures the pair lasts for a more extended period. It also features a knuckle guard which protects the finger joints as well as bring a bold look to the gloves.
Due to its premium quality making, it comes with a higher functionality than usual. Also, the price comes handy and fits everyone's budget. This is one of the key reasons why Pro Biker equipment are considered the best sellers on various e-commerce websites. Even though the company is there for years, the product's finish matches the current trends. Moreover, the gloves are easy to use and perform really well. If you are a racing motorcycle enthusiast, you will for sure love them.
AVBA Men Black Solid Leather Warm Winter Riding Gloves
Next on our list is a pair of gloves which fit in the cold freezing weather of winters. The stiff breeze in the winter always causes a problem while you are driving your bike without wearing a pair of gloves or wearing a sparse quality set. These AVBA winter riding gloves are made of pure leather which is quite thick to keep the rider's hands calm in the winters. Also, the usage of furs is brilliant, and it gives an attractive look. If you wonder how to clean it, then you can just do it with the help of a damp cloth. Always remember, the product is not meant to be washed under any circumstance. It is advisable to dry clean it instead of throwing it in your washing machine.
Furthermore, these gloves are available at a very decent price which is affordable for almost everyone. The winter gloves are crucial and highly recommended when it is freezing outside, so if you are a rider who loves going out on such days, then it is a must-have pair for you.