To be safe is to be alive. And helmets play a very significant role in keeping us safe and secure while we are on the road. Studds is one of the well-known and prominent manufacturers in helmets and other two-wheeler accessories coming out with new innovative design and graphics every year. One such wonderful helmet is Studds Downtown made for providing people best safety and protection while they are on the road. Before, buying a helmet make sure to measure your helmet size correctly and then pick a correct size helmet. Because only the right size helmet will keep you safe and alive.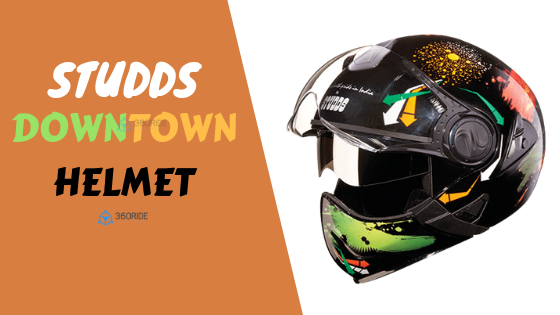 Studds Downtown Helmet Review 2019
Studds downtown is a standard helmet designed by Studds manufacturers for using high-quality technology for safety reasons along with maximum comfort for the riders. The Studds downtown weighs around 1.6 Kgs approximately and is available in three sizes Medium, large (58 CM), and Extra-Large (60 CM).
Shell Design (Outer framework)
Studds downtown's outer shell is made up with high-quality Polyurethane thermoplastic for lessening the impact an unfortunate event. In addition, it is also injected with a special high-impact grade of engineering thermoplastic for extra safety and protection. And, for better aesthetics and look the outer shell of the helmet is painted with UV resistant Polyurethane paint enabling protection from harmful sun rays.
Another feature that makes Studds Downtown stand out among all other helmets is that it offers a fast and quick release detachable chin guard allowing the rider to use this also as an open face helmet. The dual mechanism of the helmets helps to save some bucks and buys you two things at the price of one.
Inner Shell Design
The interiors of the Studds downtown are designed with elevated density EPS concussion foam padding which is sheathed with specially evaluated anti-allergic velveteen offering the rider the best comfort.  The High EPS foam padding helps to flitter away the sweat easily without allowing discomfort to take over you while riding. Moreover, the foam padding liners can be detached and washable anytime you want.
Ventilation System
The experts have provided the Studds Downtown helmet with a dynamic ventilation system for increased air boasters allowing the free flow of air to keep the rider comfortable while wearing the helmet even for a long time.
Visibility and Face Shield
Studds Downtown has been equipped with a multi-positioning articulating with an optically injected polycarbonate visor. Also, the visor is hard coated with silicon that has scratch resistance property blocking any kind of distortion in the view of the rider.  Furthermore, the helmet comes with a second spare visor which is made from tinted polycarbonate giving the consumers a dual option to choose from.
Comfort Level
The compact design gives an amazing fit to the rider even while riding at high-speed's. The great dynamic system helps a great recycling airflow inside the helmet.
Overall, the Studds downtown helmet is a wonderful product offering all these amazing features keeping in mind the safety and comfort of their consumers. I hope this article will help gain some insight of the Studds Downtown helmet and help you pick the right helmet for you.