There is no doubt that there are many motorcycles available in India, today. In fact, the motorcycle industry has grown in leaps and bounds in the last twenty years. Along with an increase in the number of motorcycles and other two-wheelers, there has also been an increase in the need for good helmets.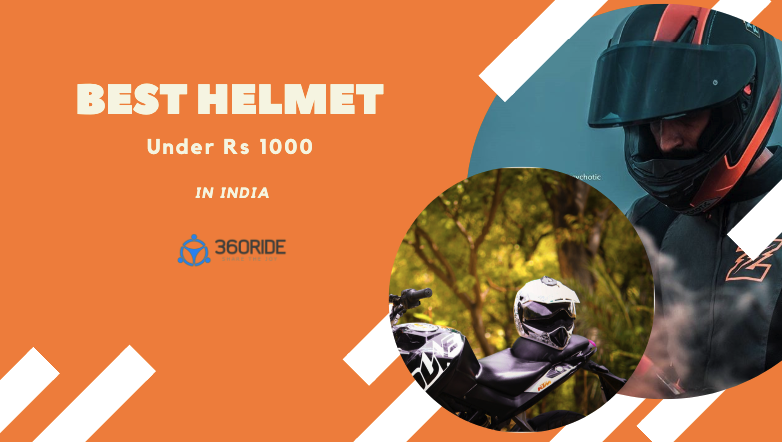 Riding a two-wheeler in a place like India is not exactly easy. Our roads are not always flattering. Most cities in India still do not have proper roads and highways. We have an extreme climate that may not always be favorable for two-wheeler riding. The rate of accidents in the last few years has risen alarmingly. All these factors make having a helmet extremely crucial.
Best Helmets Under Rs 1000 in India
But buying a helmet can sometimes be expensive, which is why many people end up buying low quality, non-certified and non branded helmets from roadside kiosks. These helmets do not guarantee your safety and can be very dangerous in the unlikely event of an accident. This is why we have put together some helmets that you can buy for less than Rs 1000 in India.
These helmets are manufactured by reputed brands. They are certified, affordable, and they guarantee your safety at all times.
Vega Cliff CLF-LK-M Full Face Helmet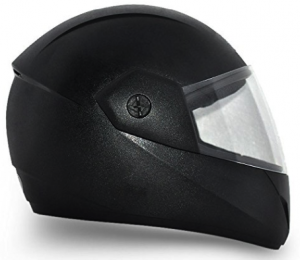 The Vega Cliff CLF-LK-M Full Face helmet is an ISI certified helmet. This full face helmet is perfect for city commutes and small rides. Vega is a known brand for helmets and offers some of the best helmets in the market. Here are some specifications of the helmet:
Shell: The outer shell is made up of Acrylonitrile Butadiene Styrene or ABS material and can withstand extreme pressure during accidents. The inner lining of the helmet is soft, removable and washable. The helmet weighs 900 grams and is one of the lightest helmets available in the market today.
Visor: The visor is transparent and detachable. It offers a clear and wide vision. The visor glass is scratch resistant and provides a good shield from the sun. The visor does not fog up during rain and offers a clear view no matter what the climate may be.
Comfort: The Vega Cliff CLF-LK-M helmet comes with a single padding that makes it extremely comfortable to wear. It is because of this single padding that the helmet is ultra light. The only drawback of the helmet is that being extremely light in weight, it may seem to fly off your head at high speed.
Price and Looks: The Vega Cliff CLF-LK-M Helmet is one of the most affordable helmets in India. It comes in a matte finish and can be purchased for an approximate price of Rs 850 to Rs 900.
This is a good product for those of you who want a lightweight helmet. It causes no pressure on the head and the single padding keeps the helmet away from your skin. You will never feel suffocated, but the helmet lacks a firm grip and can fly away with the wind.
Steelbird SB-50 Adonis Dashing Black with Plain Visor
The Steelbird SB 50 Adonis helmet is another helmet that comes with a plain visor. Steelbird is a pioneering brand in the helmet industry. They have many helmets available in the market today. The SB 50 Adonis, in particular, is their attempt at introducing an affordable helmet to the market.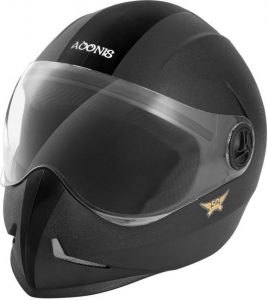 Shell: The outer shell is made up from a special high impact engineering thermoplastic. In addition to this, the Acrylonitrile Butadiene Styrene or ABS material on the outer shell guarantees a tough exterior. The outer shell will protect you from high impacts and pressures and ensure safety. The inner shell is made up of regulated density EPS padding. The fabric used for the lining is made from anti-allergic velveteen for a hygienic experience. You need not worry about bacteria and unwanted sweat dwelling inside your helmet.
The Polyurethane paints offer resistance from U.V rays and does not let the color fade. The chinstrap is also easy to operate.
Visor: The visor is UV resistant. It is transparent and made up of hard-coated polycarbonate which makes it resistant from scratches as well. The visor glass is clear, wide and it offers good vision.
Ventilation and comfort: There are multiple air vents on the helmet that ensure that you enjoy a comfortable and breathable riding experience. The multiple air vents recycle the air and do not let sweat, stale air and humidity get trapped inside the helmet. The helmet weighs 1.16 kg, and causes no undue pressure or weight to the head. This is an average sized helmet that may seem tight in the beginning but it will adapt to the shape of your face within 10 days.
Price: The helmet can be bought for an approximate price of Rs 900, that makes it an affordable and good value for money.
Vega Crux Half Face Helmet
The Vega Crux Half is a half face helmet unlike the previous two helmets in this section. It is an ISI certified helmet that ensures good quality and durability. Moreover, the helmet is equipped with a great ventilation mechanism. Many people prefer wearing a half face helmet instead of full face ones. If you are one of those then you should consider buying this helmet.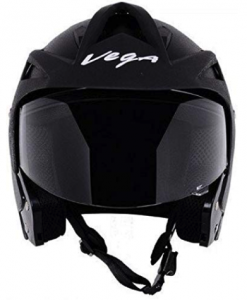 Shell: The outer shell is made up from Acrylonitrile Butadiene Styrene or ABS material. This is the best material for helmets. It protects the skull against high pressure or high impact jolts. The inner padding is soft so your head feels cushioned. The inner lining is detachable and can be washed.
The helmet is lightweight and weighs 1.34 KG.
Visor: The Vega Crux is an open face helmet with a clear and scratch free visor. The visor glass is transparent and it fully covers the eyes, nose, and face. The visor also acts as a shield from the weather. It also provides protection from UV rays.
Ventilation: The open-face design of the Vega Crux helmet ensures good ventilation. Vega Crux has two air vents in addition to the open face design. There is one air vent on the top and one at the back of the helmet. The overall experience of the helmet is very comfortable. You will not feel suffocated or nauseous at any point.
Price: The Vega Crux half face helmet can be bought for Rs 900, approximately. This is a great option, for those of you who prefer an open face helmet. However, keep in mind that an open face helmet is not as safe as a full face helmet. If possible one should always wear a full face helmet for absolute safety and protection.
JMD Graphic Full Face Helmet
The JMD Graphic Full Face helmet is again a very lightweight helmet. In fact, it is the lightest helmet in this segment. The helmet weighs only 898 grams. It is ISI certified and offers a superior look and fit.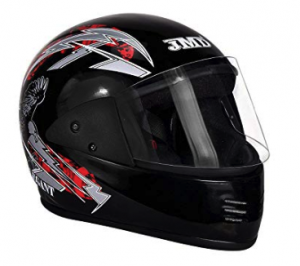 Shell: The helmet offers great comfort and durability. The shell is made up of regulated Density EPS concussion padding for a cushioned fit. The inner padding is also further lined with anti-allergy velveteen. This keeps the helmet clean and hygienic. It also does not let bacteria dwell inside the helmet and cause bad odor. The lining can be detached and washed.
The outer shell is silicon coated and scratch free. The chin guard is easy to use. It works with a single lever mechanism and can be operated even with gloves on.
Visor: The visor is made from polycarbonate and is scratch free. It also protects your eyes and skin from harmful U.V rays. The visor is multi-positioning and can be adjusted according to your face and preference. The visor glass is transparent and offers great clarity. It is also easy to clean.
 Ventilation: The JMD Graphic helmet offers good ventilation. The visor can be pulled up or pulled down anytime to increase the air flow to the head. Moreover, the multiple vents are helpful in recycling the air and increases the airflow within the helmet.
Price: The JMD Graphic Full face helmet is the cheapest helmet in this segment. You can purchase it for an approximate price of Rs 600. However, just like the Vega Cliff CLF-LK-M, it is extremely lightweight and can fly away with speed and air.
If you are looking for a lightweight helmet then this is the best option to go for. However, you will not be able to use it for long rides or highway driving. This helmet will be ideal for city riding or pillion riding.
Is it Good to Buy a Cheap Helmet?
The idea of buying a helmet is to ensure your own safety. Whether you buy an expensive helmet or a cheap helmet, what is important is that you pick a helmet that is manufactured by a known brand and comes with a certification. These days, there are many affordable options in the market. You can easily buy a helmet for under Rs 1,000. Brands like Steelbird, Vega, etc, offer many Full Face and open face helmets at different price ranges. These helmets are all ISI certified. In fact, many of them are ECE certified also.
You can pick a branded helmet for any budget. While there is nothing wrong with buying a cheap helmet, the important thing to note is that you should not pick a helmet just because it is cheap. A helmet is a guarantee to your safety. Buying a helmet without considering its brand and certification can be catastrophic to your safety and well being.
Always make sure to invest in a certified helmet. And don't worry! With so many options available in the market today, you can easily buy an affordable, good quality branded helmet.