It is always fun to ride a motorcycle and go for a long ride with your friends or partner. However, there is only one issue with such drives that you cannot carry enough stuff on a motorcycle. It is always tiring to carry a bag on your shoulders for the whole journey while driving a motorbike. Especially, if you own a heavy-duty bike such as Royal Enfield, it is not possible to go on a long trip with a sling bag. This scenario turns your dreams of writing your motorcycle diaries into the trash.
At such a moment, saddlebags come for the rescue. Good Saddle Bags act as lifesavers for motorcycle enthusiasts. They let them carry their luggage on-the-go. If you are one of such Motorcycle enthusiasts, you can use such saddlebags on either side of the rear wheel adjacent to the bike seat. Saddle Bags are considered as must-have stuff for a long motorcycle trip. So, if you are planning on going on such a road trip on your Royal Enfield, then you need a saddle bag to carry your precious items.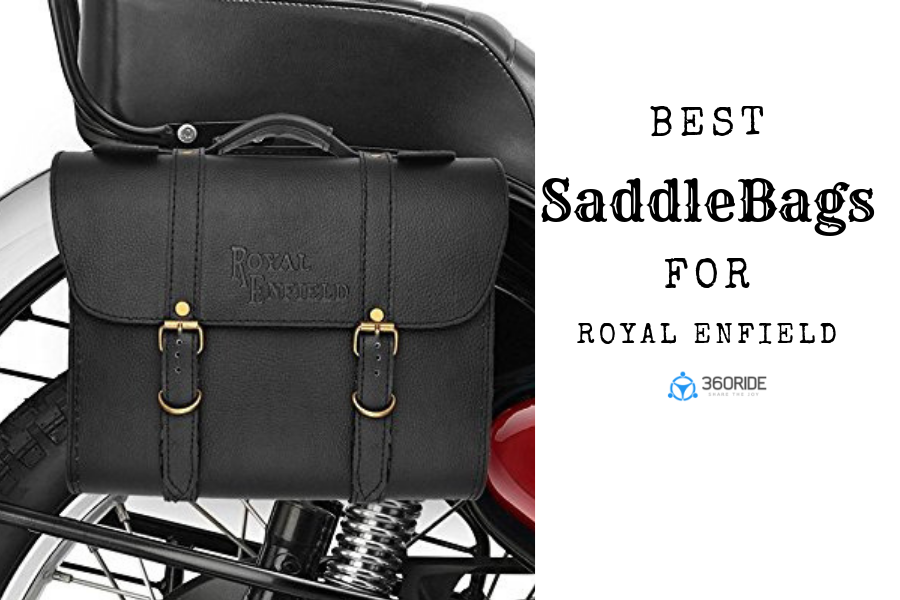 Why Do You Need Saddle Bags Royal Enfield?
It is always a pleasure to ride Royal Enfield and a long trip riding it is an icing on the cake for the riders. There are a lot of essential items which you need to carry along with yourself. As a biker, you need a tool kit, tripods, flashlights, cameras, laptop, camping tents, and other similar items if you wish for touring venture. Well, these are the items necessary for a road trip. If you are going out for a more extended period, then you need to carry multiple pair of clothes as well as shoes with you. These items can be carried in saddlebags easily.
A good quality saddle bag with sufficient space for carrying your necessities is a must-have item for your bike. Even if you are not fond of frequently traveling on your motorcycle, then also you need to have a saddlebag attached to your bike. You may buy a smaller one which has enough space for your gloves, arm and knee guards, and other riding equipment. There are some saddlebags that are capable of storing a helmet depending upon the size.
Best Saddle Bags For Royal Enfield
Well, if you own a Royal Enfield, then there are a variety of options available for saddlebags in both, offline and online stores. It is always a challenging task to decide what fits you the best. We have shortlisted best saddlebags and sidebox for our readers. Without further ado, let's begin with a list of best saddlebags for Royal Enfield.
Rynox Nomad v2.1 Saddle Bag with Rain Cover
Rynox Nomad v2.1 is a reliable saddlebag which lets you carry your essentials along with you while driving your Royal Enfield. The saddlebag comes with some quality rain covers. The whole saddle box weighs around 2.9 KG and gets plenty of room for carrying essential things. Well, the rain covers act as a protective shield for your belongings and makes the sidebox a waterproof carrier. The bag comes with dual compartments with each compartment having a capacity of 32 liters which makes it 64 liters in total. The bag dimensions are 47 x 36 x 32 cm.
If we talk about the quality, it's top-notch as the bag is made from EVA laminated industrial polyester with PU coating. In this bag, you can easily fit in a full face Royal Enfield helmet. It is incredibly spacious coming with a wide top opening and pockets in front of the bag. In these pockets, you can store water bottles. The bag comes with heavy-duty YKK zippers, so be safe about your things. Also, it features quick-release buckles and wide Velcro straps along with a D-ring mechanism for the purpose of mounting.
Furthermore, two shoulder straps are attached to the bag for storing documents and toolkits. This saddle bag offers belts for carrying vital things like tripods, tents, and sleeping bags which are large in size. It comes with an inclusive super strong PE sheet for forming the stiff base. It is an easy to carry saddle bag for the long trips. Also, it is durable and you will not need to replace it soon.
Golden Riders MINI48 (48 Liters) Double-Side Motorcycle Saddlebag
Golden Riders MINI48 is a light weighted compact-sized double side motorcycle saddlebag. If you want to mount on your Royal Enfield bike, then it is a perfect saddle bag for storing your belongings. It is a waterproof bag which can keep your essentials safe from water. The Golden Riders MINI48 Sidebox comes with a laptop pocket along with two pockets made specifically for carrying bottles. Also, this Motorcycle saddlebag has backside straps and shocker safety bags to enhance its durability. As mentioned before, the bag is extremely light in weight and weighs only 1.5 kg. You can easily detach and again attach it when you want.
Each side of the Golden Riders MINI48 Double-Side Motorcycle Saddlebag comes with a capacity of 24 liters making it a total of 48 liters which is enough for any journey on your Royal Enfield. Not only Royal Enfield, but this saddle bag is also compatible with most of the cruisers and sports bikes. The bag comes with a rainproof covering. Also, 3M-reflective taping is done for poor visibility conditions. If we talk about the outer side of this saddlebag, the outer part of the bag is made of heavy-duty ballistic nylon along with polyester fabric. The polyester fabric used makes it a rough and tough back while being resistant to abrasions.
Rynox Navigator V3.0 Tank Bag
Next on our list is another entry from Rynox. This time, it is another model of their Motorcycle saddlebag series, Rynox Navigator V3.0 Tank Bag. As the name suggests, it is a perfect fit for navigation. The bag includes a separate pocket for fitting your GPS or mobile phone. This pocket is a transparent map pocket which makes it easier for the bike rider if he wants to explore a new path or learn about the right direction. The bag is capable of maintaining its actual shape even when its containing a total of 15 liters of the load. The shape of the bag looks the same when empty or 15 liters filled. It is extremely light in weight and comes with a maximum capacity of 15 liters without deformity of its shape. The bag is highly protected with YKK zippers.
It is a compact sized bag which is perfect for the solo riding when you wish to head towards a long journey. Even if you are going on a short ride, it works perfectly fine for you. It comes with a shoulder strap so that the rider can carry it on his shoulders if he or she is carrying something sensitive or more personal for the consent of their safety. Also, the bag with shoulder straps can be used as a sling bag. There are pockets attached to the external side of the bag in which you can store small items such as wallets, ID proofs, and credit cards. From inside, it comes with an excellent quality material used to form it.
The internal part of the bag is well organized, and you can store your essential items such as headphones, chargers, iPods, and other electronic items safely in a proper manner. Well, these items are fully protected from the water as this navigator bag from Rynox comes with a 100% waterproof rain cover.
Sahara seats Square Saddle Bag
Sahara is one of the oldest companies in India manufacturing goods at a reasonable price while maintaining the excellent quality of the product. This saddlebag of Sahara is not different from their products. SaharaSeats Square Saddle Bag comes at a very reasonable price which is affordable for almost every Royal Enfield owner. It is compatible with every model of Royal Enfield, so if you own a Royal Enfield, it is essential to own such bag for carrying valuable items. Also, the quality of the saddlebag is top-notch. The whole bag is made of using high-quality fabric and waterproof material. You can safely carry your essentials in the rain by keeping them in this bag attached to the side of your motorcycle.
The measurements of the bag are 12 x 11 x 5 inches making it perfectly fine for a Royal Enfield. It makes the use of a belt to attach this bag to the bike. Also, the bag is extremely light in weight. It weighs less than a half kg making it go with the heavy duty bike such as Royal Enfield as well as Avenger. Also, It is an easily accessible bag as it comes with a hidden clip which can be used to open and close to safely place your vital things such as documents, files, and much more inside. It not only lets you carry stuff but also makes your bike look more classy. The product is available in the brown color which gives an attractive look to any bike.